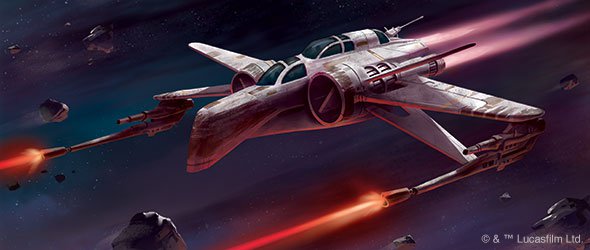 Fantasy Flight Games has unveiled the rest of the pilots for the ARC 170 & more cards!
Hey BoLS Readers and X-Wing Aces! I'm back with some more exciting X-Wing news – FFG has shown off the other two pilots for the new Rebel Bruiser of a fighter. We've already talked about this ship and some of the options it has available. But now we've got a better look at all four pilots and can gauge just what the heck we're we can do with them.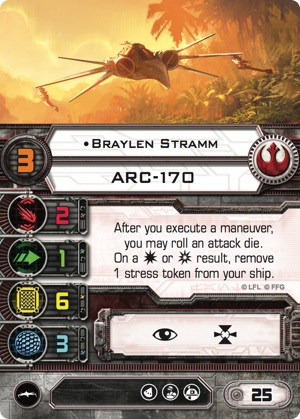 Braylen Stramm's ability can randomly help you ditch stress. It's probably not something you want to create a list around, but for the starting pilot for this fighter it's just icing on the cake.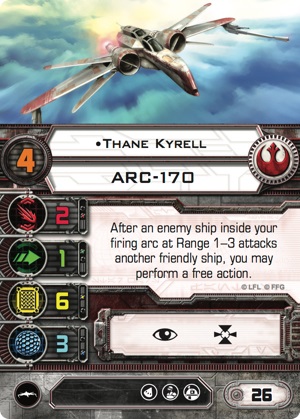 This is an interesting pilot – if you put Vectored Thrusters on him and paired him with Biggs Darklighter, he could be fairly slippery to get a shot on. Sorry Biggs.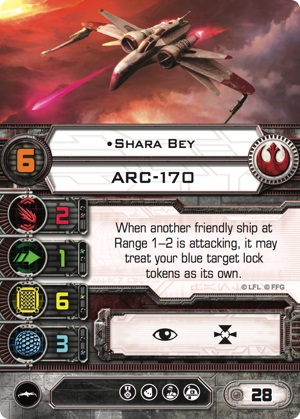 I still like Shara Bey's ability paired with other ships and homing missiles. You don't spend that lock and they keep firing. Also, with that crew slot the Weapons Engineer could be a great fit in that role.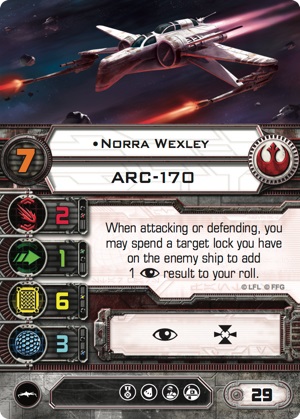 Norra Wexley is a ship that can really crank out the damage. I alluded to some of that damage potential last time but if you're wanting to push the damage to the theoretical maximums you could run a build like this:
Norra Wexley
Alliance Overhaul
Expose
Experimental Interface
R7-T1
In my other build I also ran with Kyle Katarn for the extra Focus, but you can add a crew member as you'd like. If everything goes right on the turn you want to blast something at range 1 you're effectively rolling 6 dice! How?
2 base shots + 1 (range) + 1 (expose)  + 1 focus result (pilot ability) + 1 (Alliance Overhaul) = 6 dice!
I think I would still rather run with Predator vs Expose even if it means loosing an extra attack dice – it's still effectively 5 dice and now you have some re-rolls!
But if you REALLY wanted to push that to the max, don't forget about Jan Ors in that HWK-290…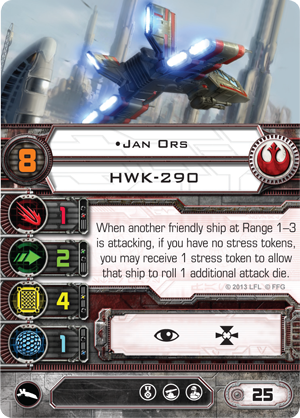 Fantasy Flight also showed off some other cards that are coming in the expansion as well: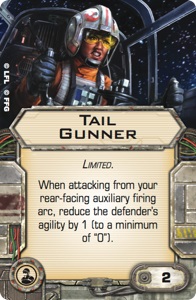 The Tail Gunner seems to be a boost for ships like the Fire Spray. I'm not 100% sure but I think it could also work with the upcoming Shadow Caster. Based on the wording it's up in the air because it's a "Mobile" firing arc vs an "Auxiliary" firing arc…but it would be rear facing! I'd like to see the rest of the rules for that mobile arc before any final verdicts come in on that one. Also here's a fun combo: Crackshot + Tail Gunner = "What agility dice?"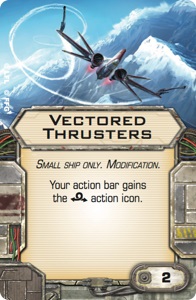 Vectored Engines is a card I'm probably more excited about than I should be. I LOVE being able to Boost/Barrel-Roll with ships. In fact I ran a Y-Wing build with BB-8 and Engine Upgrade JUST so I could do both in a Y-Wing! There are lots of ships I really want to slap a Barrel Roll on just because and now I finally can!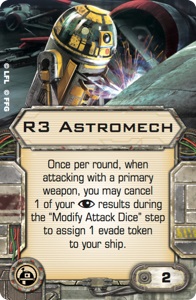 The R3 Astromech seems like a waste at first. But I was thinking about all those times I shot at a ship and had overkill or excess Focus dice. That got me thinking that maybe this little droid could be useful after all. Plus this opens up the door to give ships that don't even have access to an evade action a way to get an evade token – that seems like something worth experimenting with!
Now that we've gotten a better look at the ARC 170, I'm genuinely more excited for it that I already was. I really think this ship is going to have some neat synergy with the rest of the rebels. I love the options that are opened up by having a droid and a crew slot – plus lots of ways to generate focus results or extra dice. It's also unique in the fact that we haven't seen ANY generic pilots for this ship. You won't see this ship spammed like a lot of the others.
I really like the utility, damage potential and staying power this ship will bring to the table. I don't think it's going to be the "next big thing" or at the top of the net-list pile, but I'm going to have a blast with this new brawler/support in my lists!
She may not look like much, but she's got it where it counts, kid.