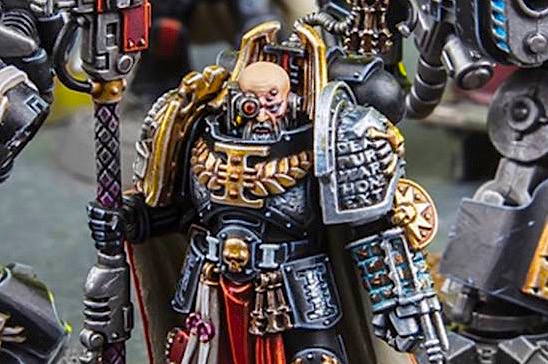 Today we look at the lord of the Deathwatch codex – with plenty of dirty tricks to go around!
We've been seeing all kinds of leaks and teasers leading up to this weekend's Deathwatch release.  Today let's take a look at the big bad boss – the Deathwatch Watchmaster and his bag of dirty tricks, and put to rest any remaining mysteries of the new black flyer zipping your way.
images via Spikeybits Forum 8-10-2016
The Watchmaster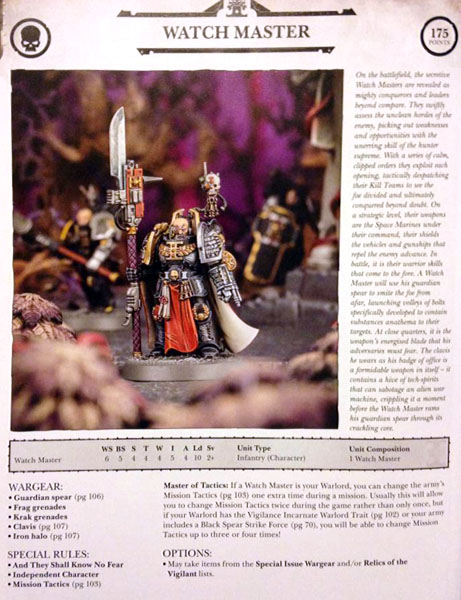 Ok, this guy is clocking in at 25 points more than a Space Marine Chapter Master with Artificer armor (so they both have a 2+).  For that those 25 points you lose Orbital Strike, but you gain some nasty tricks of your own.  Here's what the Clavis and Guardian Spear do: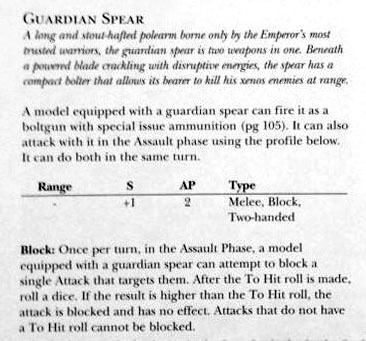 Yup, that sure looks like an Adeptus Custodes spear to me – described with rules for the first time in 40K history.  Special issue ammo, then 4 WS:6 I:5 S:5 AP:2 attacks with Block is nothing to sneeze at.  Block is such a fun rule as well – I love the fun and drama of roll-offs.  Having problems with the machines out there.  Well the Watch Master has something for that too.  Behold the Clavis!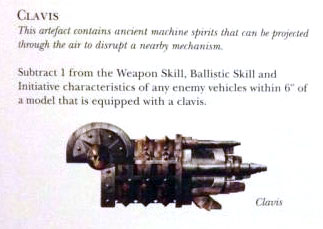 I can't even begin to think of the enemy vehicles that are going to hate this guy the most… the Watchmaster is full of fun and games!  Oh, and don't forget he can also take Deathwatch Relics and Special Issue Wargear and let you alter your Deathwatch mission tactics an addition time per game.
~What's your favorite combo?