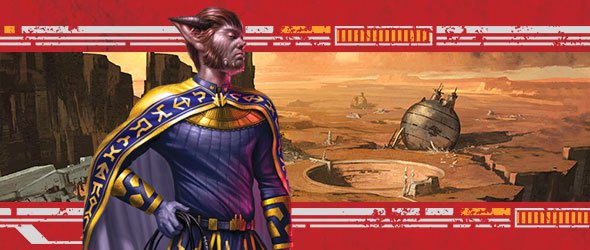 The Empire is closing in on Xorrn and you have 48 hours to organize a defense. Will you answer the call?
Fantasy Flight Games has announced a new adventure for the Star Wars RPG system: "Friends Like These" takes place on a planet on the Out Rim called Xorrn. The system is about to be attacked by the Empire and the players are tasked with organizing the defense. However, not everything in war is as clear as black and white – especially in this system. Will you compromise your morals for victory or will you try to skirt that grey area and find another way?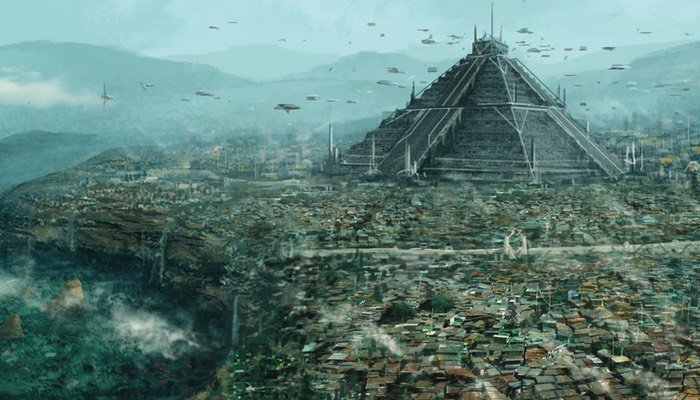 Why is this system so important? Well it's home to a major droid foundry that has been able to skirt regulations and supply the Rebel Alliance with ships for starters. It's lawlessness has certain benefits after-all. There is also a major research station coexisting with slavers who are back by the royalty in the area. And there is also a major port where the businesses run so smoothly that these slavers (and other smuggler types) are rarely noticed.
It's a very interesting setting for a party that must raise the defense against an encroaching Imperial Armada. On top of that, the clock is ticking – players only have 48 hours to organize a defense and seek out allies to assist with the battle. Which forces will you turn to for help? Which factions will you try to protect? Can you even trust them? All of these questions will be necessary for your players to figure out in this adventure supplement.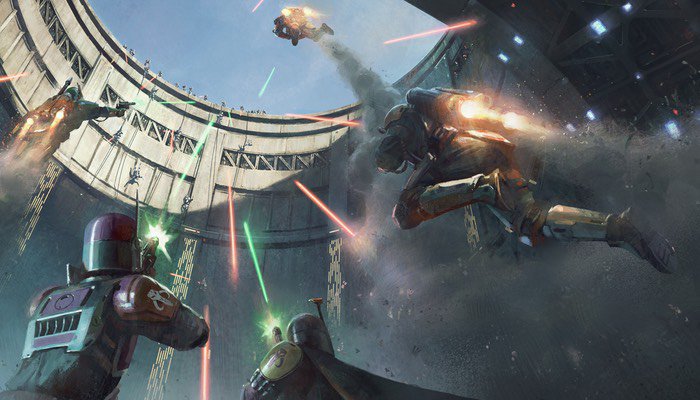 What makes this adventure so interesting (aside from all the new and different NPCs and Races you'll encounter) is that players of any career types will find something to do. Commanders will have to spend their time organizing those meager defenses while Aces and Soldiers prep for the oncoming battle. Those who prefer a more diplomatic approach (or perhaps have a certain level of subtlety) will want to broker deals and secure allies for the fight. And those characters who prefer support-type roles (medics and engineers) will be able to find plenty of work to do.
On top of that, this adventure could easily be adapted for Force and Destiny or Edge of the Empire players as well. The high pressure situation of shifting morals and an impending Imperial attack is enough to get everyone blood pumping! If you were looking for a political thriller mixed with a huge battle then be sure to keep an eye out for "Friends Like These" coming in the 4th quarter later this year!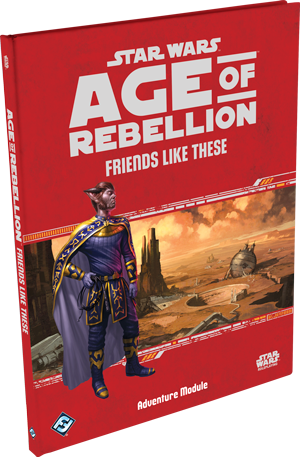 Time is running out for the planet Xorrn in Friends Like These, an adventure supplement for the Star Wars®: Age of Rebellion™ roleplaying game. When intelligence reveals that an important and secret shipyard is under threat, the player characters have two days to arrange the planet's defense and recruit allies in the region before Imperial forces arrive. Friends Like These takes players to a new sector where they encounter Mandalorian culture and face a brutal moral decision regarding who the Rebel Alliance should call friends.

Within the 96 full-color pages of this supplment, players and game masters will find gazetteers for three new planets, countless NPCs, and directions for creating playable human characters of the Mandalorian culture. Although designed primarily for Age of Rebellion players, because of its Outer Rim focus and balance between warfare and diplomacy, Friends Like These is ideal for groups incorporating characters and material from Edge of the Empire™ and Force and Destiny™ as well.
Yes…Let's make a deal.