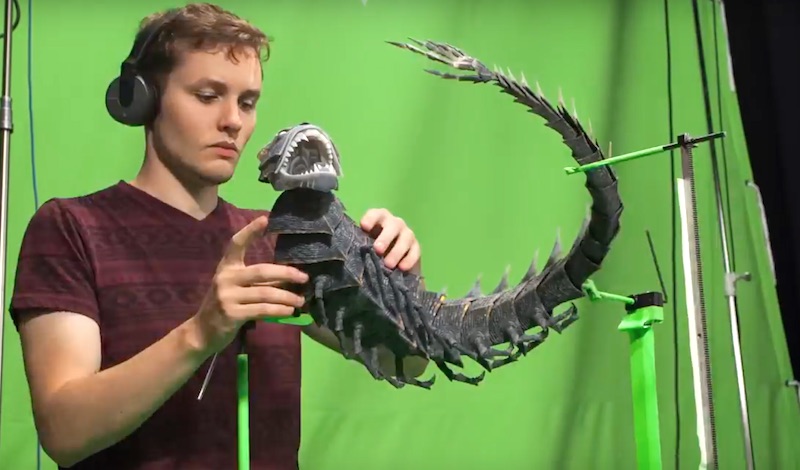 The miniatures built for this movie are gorgeous – and you have to see how they move.
With all of the giant blockbusters – and flops – that came out this summer you may have missed this one that came out last week.
Young Kubo's (Art Parkinson) peaceful existence comes crashing down when he accidentally summons a vengeful spirit from the past. Now on the run, Kubo joins forces with Monkey (Charlize Theron) and Beetle (Matthew McConaughey) to unlock a secret legacy. Armed with a magical instrument, Kubo must battle the Moon King (Ralph Fiennes) and other gods and monsters to save his family and solve the mystery of his fallen father, the greatest samurai warrior the world has ever known.
It may look like another unassuming family film, but the animation is flat out brilliant. It's a mix of a little CG layering and a bunch of intricate stop motion work. All of the character puppets are made of a steel armature that's covered with a 3D printed silicon skin, that are then given cloth costumes or fur. Motion is created one frame at a time.
In an interview with NPR production head Travis Knight talked about creating the grand scope of the film – particularly the big wave you see in the trailer – with practical effects in stop motion:
You know, at the beginning of the movie, you know, we recognized what this film was, which was it's a big, sweeping epic. And that's something that's really difficult to tell in animation, specifically in stop motion because the way we make these things, they're effectively shot on tabletops in a crummy warehouse in Portland, Ore. And, you know, we want to make it look like it's an endless, majestic vista, which is kind of absurd on its face. And so, you know, for things like the water, we ended up using panes of rippled shower glass that we would shoot, you know, a frame at a time. We had torn bits of paper that we'd use for cresting bits of water. One of my favorite things was we had this metal grid, and we covered it in garbage bags. And we moved it a frame at a time to give a sense of the motion of the waves going through the scene. And then we give that information to our visual effects department, and they start to blend that stuff with computers and with computer simulations. But when you see it on screen, it behaves like water, which is important for the audience to understand what they're looking at, but it has a stylized look driven by classic forms of Japanese art.
In this time lapse video you can watch the characters move at normal pace while the puppeteer moving them zooms by (note the clothing changes) at a break neck pace. And, no, it's not just you – there's no sound. If you want to see more of the animation process, the puppet creation, and the general makings of the film check out this video – just be aware that Charlize Theron will start talking at you about 13:20 in.
Stop motion artist Daniel Alderson of Laika gives us an insider look at the grand plan behind the intensive project.
If you want to keep going down the rabbit hole check out these on Puppet Making & Costume Design
Kubo & the Two Strings is in theaters now.
Help keep movies like this alive – GO SEE IT THIS WEEKEND!