Come for the bunny – stay and read as the mystery unfolds…
Illustrator and author Jennifer Potter has been publishing Echo's Rift a page at a time for about a month – one page is published every Monday, Wednesday, and Friday. The art is gorgeous and the story is "an epic adventure that spans many worlds and encounters monsters, aliens, telepaths, mad scientists, and the occasional adorable bunny."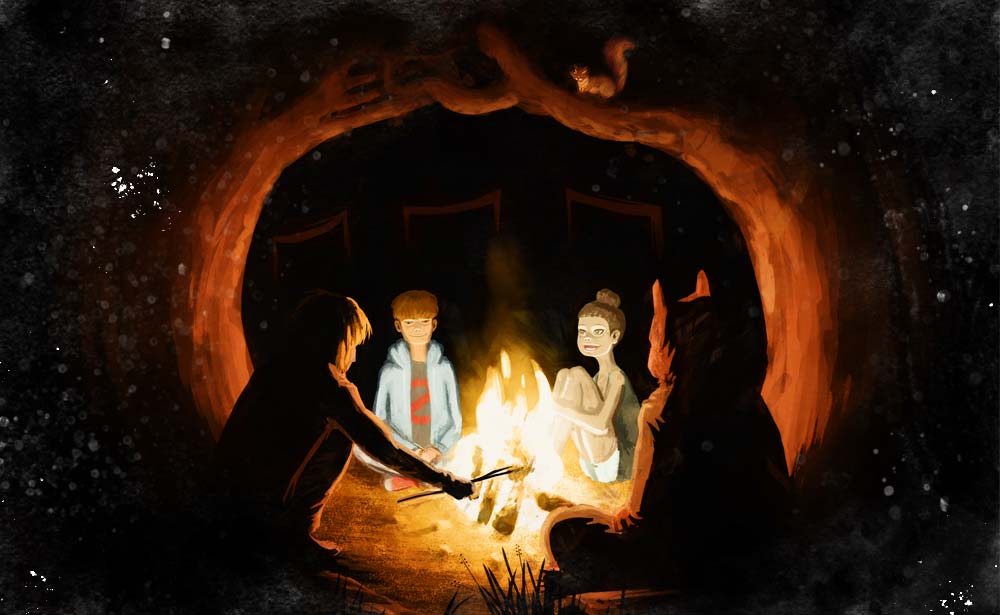 Mysterious disappearances, cryptic notes, and shapeshifting creatures ignite the adventure in Echo's Rift, a graphic novel that reaches across decades and beyond our own universe.

Raised by a paranoid father in the foothills of California's Sierra Mountains, 15 year old Eliot Emory has grown up in isolation with records and VHS tapes as his only connection to the outside world. When, starved for friendship, he takes in a stray, his father becomes irrationally angry, intent on escaping to a new hiding place with his son.

But when an otherworldly attack leaves Eliot in the hospital with no sign of his father and in the care of an aunt he never knew existed, he is forced to accept that perhaps his father wasn't so paranoid after all.

Relocated to eastern Massachusetts to his father's childhood home, Eliot finally gets a taste of the life he always wanted, but as he begins to make discoveries about his family history, he learns that he is tied to a mystery that spans not just generations, but parallel dimensions.

With the help of a few new friends, Eliot embarks on a journey to find his father and untangle the secrets of his lineage, but will he be able to navigate the new worlds, or will he disappear forever?
What are your favorite web comics right now?