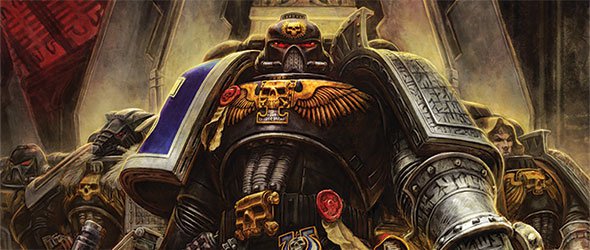 Goatboy time! – Today's brilliant bit of writing brings along the newest bit of 40k fun – the DeathWatch Codex!
Finally we got some new 40k that isn't some annoying FAQ with questions we all knew the answers too or some dribbling tidbits of rumor that most likely won't come to fruition.  This isn't to say that the DeathWatch release brings everything to the table – but it does give a nice bit of fun to an otherwise bland set of releases.  Let's begin this overview by looking at the Good, the Bad, and the Ugly.  Like I said overall I am pretty happy with the book as I think it does give some lists some help as it is a decent "fixer" ally for a lot of armies.  As a Stand alone army – it is playable just not nearly as good as some of the other "Marine" books filled with free transports and other game busting Chapter Tactic mechanics.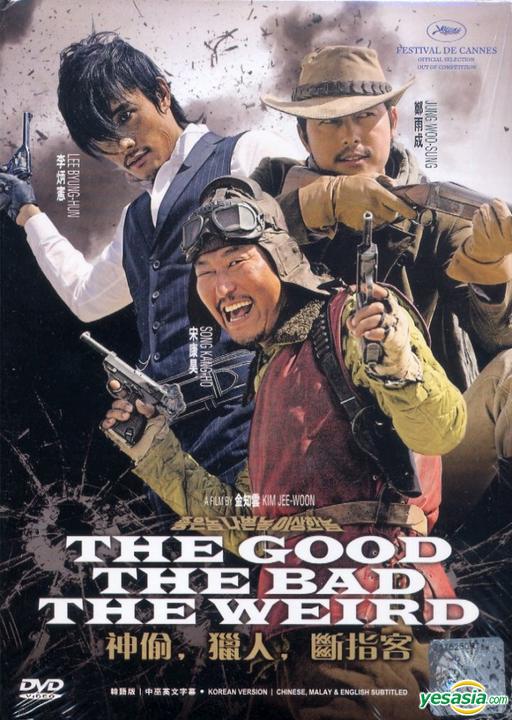 The Good
First of all this book can let you build a CAD.  I know in today's game full of Formations, Decurion/Battle Hosts/Gladius's, and other methods for army building – having access to a straight CAD is so 5th edition.  I love this as it lets you actually have more options in creating your army.  I think the Harlies could have been a much stronger release if they only gave you a true HQ to help build an actual Force that isn't locked into whatever "balanced" formation GW created.  This is the biggest thank goodness out of the book and I hope future "ally" style codexes go in this direction.  I know not every army should be a full fledged single choice but it is nice to let you have that option.  Now you can use an Ally too – which is great as we all know how all the different formations can be annoying.
Also – if you ever wanted an army full of Sternguard with a heck of a lot more cooler options – then this is the army for you.  The sheer amount of options you have to "fix up" your veterans means a massed Drop Pod army full of these guys might actually be good.  This is something extremely scary for Eldar to face as while the individual units themselves are squishy – they can really put out a ton of firepower.  You could also make them extremely nutty with crazy melee weapons.
The book is full of different options.  I love the fact that each "troop" unit can be set up pretty much any way you want it to be.  Do you want to use one of the best new guns in the game?  Sure you get to have 4 of them in a decent troop choice.  How about building a unit full of "heroes" and having all the cool guns you need?  Take a Kill Team or two.  Obviously gun option limits in units is for losers so how about making your Terminators pretty dang good?  Overall the book lets you build a custom force to help deal with whatever is bothering you at the moment.  This is good as it brings some much needed "customization" into the game as well as letting you create a few "personal" units based on what you need.
I love the idea of having a ton of Kill Teams with specialized guns, a bad ass Terminator guy, and a Librarian to throw out a Psychic Shriek or two.  This is the army if you want a ton of Libbies but don't want to take a conclave and feel like a cheater mc cheaterson.  I suspect there could be a massed Psychic Shriek list that could work and with some Frag Cannons or two, it would have enough extra abilities to help deal with a ton of stuff.  Heck the whole idea of only needing 1 model to utilize a unit is really pretty interesting.  Each little piece can give a great rule to the unit itself.  Are you worried about not being able to shoot that tank with your Cyclone ML terminator?  Add a biker to the Kill team.  You want to make sure your powerful assault Kill them is set up right – add a Vanguard Vet to the unit.  I think there is a lot of customizable play with this army and the way you build "units".  It reminds me how fun it was to mix and match armor with the Space Wolf army.
Thankfully we got a different gun that isn't some kind of Grav Cannon knock off.  Is the Frag Cannon better then the Grav Cannon?  No but it sure is different and does a heck of a lot of different things.  I consider it more like the Psycannon from 5th edition days.  It does everything you need it to do – gives you some flamer templates to remove some hordes, has a good Str/AP value for most other things, and lets you deal with Armor close range.  This gun alone will be the biggest help to a ton of armies needing decent allies to help shore up their weaknesses.  The biggest thing that sucks is that it is only one per Veteran box when they really should have had 2 on the sprue.  I think this design for a gun should flow into the Heavy Bolter – but will have to wait for a future edition/revamp to really get that change.
The Flyer is actually pretty decent too and depending on if the Flyer supplement gets to play with the big boys – we'll see if needing a flyer on the table is a good thing.  But still overall its set up is good, it is aggressively costed, and actually looks like something that might kinda work in real life.  It doesn't have the blunt force nature that you see in the Storm Raven and still has the "40k feel" with its iconography and overall shape.
The listed "Chaplain Cassius and friends" box is a great deal by the looks of it.  Coming in at less then half of the initial Deathwatch board game means you can it at a pretty good deal.  I also like how the bike box is 5 models for a cheaper cost then the older 3 man boxed set.  Even the combo'd Land Raider options and Rhino/Razorback set up is pretty dang good.  It makes me think that the new CEO's plan to make things better is to smash things together into a box and give a discount.  I like this as we all know buying locally will let you still play locally – so any form of discount – even when buying more then one thing basically – is a good thing.

The Bad
The Marines do cost a bit too much as while if you compare them to other chapters they fit within the "point" range for what they get – they should have had a discount a bit to make the army a bit better.  Its just me but the new edition is a heck of a lot more brutal so having less bodies on the table that are not any more "less squishy" doesn't help.  I was hoping they would run at 100 points for a unit with some of the options being cheaper.  Still I think it is a fair cost for the unit when compared to other options.
The Decurion/Black Spear formation build is pretty good – but it does have some rough taxes to throw in.  You need to get a Dreadnought in most armies as that is the cheapest Auxiliary tax. There is also the Command option you have to take but they are not terrible on their own.  I do wish the straight "Kill Team formation" was the actual troop choice as it could make for some cool armies that are a different form of CAD with Objective Secured Kill Teams.
The Codex isn't bad but I feel it will be regulated to an Ally choice in a lot of builds as while they have decent rules – their set up demands some kind of help.  I can really see them being good with a Knight based army as they help answer some things with bodies and decent weaponary.  A few veteran squads mixed with a Baronial Court seems perfectly set up to help you win games.  A Culexus sounds right and now you have the ultimate "Kill Team" that could win some games through decent weapons and some of its own Mission tactics.
I was hoping their Chapter Tactics like ability would be better.  Sure the reroll option is good – but it does feel a bit kinda meh when compared to some of the better "chapter" tactics you see in the Marine codexes.  Iron Hands can survive longer, White Scars can hit and run, and the Ultramarines reroll things forever.  I don't know what rule might be "better" but I am sure I will lose a few games to those strong Death Watch players that will come out of the wood work.

The Ugly
I don't find really anything ugly in the book.  I love the new "repackaging" of units with combo'd boxes full of every option.  I think the lack of 2 Frag Cannons in a veteran box is the biggest pain in the butt as this will be a hard army to get fully together.  I wish they would set up each box to be a full set of options for it.  They have moved from 10 man units to 5 man – so having all the options in there would have been great for the Veterans.
I also find the 3+ week release for this to be kinda annoying.  The Codex first is good – but having it show up with a big ole board game is a rough thing on the wallet.  I was hoping to see how much the "upgrade" sprue might cost by itself but will still waiting to see if it will be released.  It looks like it is just shoulder pads and a sword so again the ability to throw in an awesome Frag Cannon would have been rad to see.

Deathwatch Lists
Initial List thoughts that might work.
Knights + DW CAD + Assassin
Baronial Court
Knight Warden
Knight Gallant
Knight Gallant
DeathWatch CAD
Librarian
Veteran Squad X 5, Frag Cannon X 2, Drop Pod
Veteran Squad X 5, Frag Cannon X 2, Drop Pod
Veteran Squad X 5, Frag Cannon X 2, Drop Pod
Culexus Assassin
I am almost tempted to just go all Gallant's as it is different from other Knights and your DW can be your heavy hitters when it comes to shooting things.  You could always drop the Assassin to give shooting ability to all the Knights but I have a soft space for the Close Combat Wunderkind that is the Imperial Knight.  If you went with all 3 you could go with the Gallant Lance as it is another barely seen option.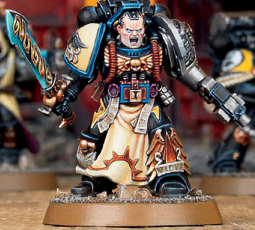 Black Spear Strike Force Idea
Command
Strategium Command Team 325
Chaplain, The Beacon Angelis
Aquila Kill Team
Librarian, Force Axe
Veteran X 5, Storm Shields X 4, Heavy Thunder Hammer X 1, Drop Pod
Core
Aquila Kill Team – 325
Librarian, Force Axe
Veterans X 5, Frag Cannon X 2,
DW Terminator X 1, Cyclone ML
DW Biker X 1
Aquila Kill Team –
Librarian, Force Axe
Veterans X 5, Frag Cannon X 2,
DW Terminator X 1, Cyclone ML
DW Biker X 1
Aquila Kill Team –
Librarian, Force Axe
Veterans X 5, Frag Cannon X 2,
DW Terminator X 1, Cyclone ML
DW Biker X 1
Aquila Kill Team –
Librarian, Force Axe
Veterans X 5, Frag Cannon X 2,
DW Terminator X 1, Cyclone ML
DW Biker X 1
Auxiliary
Dreadnought, Drop Pod 135
This one looks a bit janky but it has a lot of bodies and could do a ton of damage.  The bikers give the unit split fire so the Terminator could Cyclone ML something else as the bullets and frag cannons shoot something else.  I could drop that to an Assault cannon or maybe even a Melta Powerfist to shave off more points for different bodies.  The Drop pod on the Command option is to allow me to deep strike close, have my guys pop out, and then use the Beacon to drop the other Kill Teams off of it as nothing states it has to be on the board before hand.
Finally we have a really dumb "Death Star" idea that utilizes the fact the Mixing unit can have a ton of Storm Shields and other fun options.

Heroes of the Imperium
Death Watch CAD
Librarian, Lvl 2, Force Axe, The Beacon Angelis 125
Chaplain 95
Veterans X 10, Storm Shields X 5, Power Mauls X 5, Heavy Thunder Hammer X 2
Veterans X 5, Drop Pod
GK Nemesis Strike Force
GK Librarian, Lvl 3, Force Halberd, The Book of Extra Spell
GK Librarian, Lvl 3, Force Halberd
Strike Squad X 5
DreadKnight, Personal Teleporter, Hvy Incinerator, Nemesis Daemon Hammer
DreadKnight, Personal Teleporter, Hvy Incinerator, Greatsword
Draigo
Inquisitor – Xenos Inquisitor, Rad Grenades, Psychotroke Grenades
So basically you got a big fat unit of Vets – you can drop in your Librarian with the Beacon first turn, Gate your squad up there with Draigo, and get prepared to punch stuff and hopefully survive with 2+ Inv save guys who maybe could have veil or something else.  Your Power Mauls can get up to Strength 8 while your Halberds are hitting at Strength 7 with a normal initiative.  The Chaplain means you are double fearless and the Inquisitor means you fight dirty when going against other Death Stars.
The Dread Knights can float around the table, deep strike in off of the Beacon, and just be a pain in the butt.  Plus it feels very – anti Bad guy set up that comes in a big burst of light, gets set up to kick butt, and then provides said butt kicking at a fair and just price.
Overall I am pretty happy with the book.  I think it does a lot of cool things, gives you something different then the other Marine books, and I think can hang with most armies.  We'll see if events get taken over with the next easiest Marine army to paint right behind the Grey Knights.
~How happy are you to have the first new 40K codex in over a year?