Make the best of any strange situation with the contents of this new player's guide.
In a distant land polluted by an alien menace from beyond the stars, a great cancer grows within the earth. As its tendrils reach out through the dreams of those who learn and study its existence, a sinister cult grows more active in preparing the way for a devastation that will destroy more than the minds of would-be heroes. Can the adventures reclaim lost memories in time to stop the advance of a cataclysmic contagion that could threaten all of Golarion? Can they resist the mind-shattering truths revealed by the Yellow Sign, and the monstrous force it symbolizes? The Strange Aeons Adventure Path pits the heroes against the cosmic horrors of the Cthulhu Mythos, with new monsters, mind-shattering terrors, and explorations far beyond the known lands of Golarion.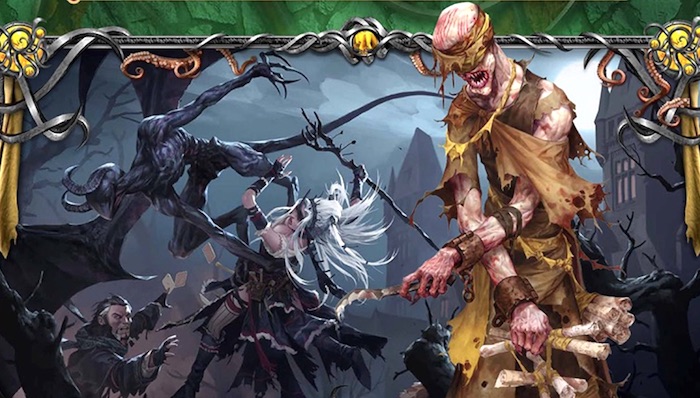 Paizo developer Adam Daigle gives us a look at what's in store…
Strange Aeons kicks off with 

Pathfinder Adventure Path #109: In Search of Sanity

 by our own Editor-In-Chief F. Wesley Schneider, who puts his own brand of horror on the Adventure Path right out of the gate. I cornered him in his office and got him to jot down a few thoughts about his opening adventure.

"As soon as it was clear that we were returning to Ustalav, I was pretty vocal that I wanted in. Pathfinder Campaign Setting: Rule of Fear established Versex county as Lovecraft country, and Thrushmoor already had dozens of threads dangling for cosmic horror plots, so I was instantly stoked that Strange Aeons was going to be playing in that sandbox. The fact that the first adventure was set in an asylum was just icing on a really big pile of also icing (I might have written a couple of fictional asylums in past works).

Now, it's been nearly a year since I wrapped up work on In Search of Sanity. I wrote it on something of a binge after finishing my novel, Pathfinder Tales: Bloodbound (also set in Ustalav), and the first volume of Hell's Vengeance, "The Hellfire Compact." As a result, "In Search of Sanity" features as few subtle nods to both. I won't give away too much, but if you're interested in learning more about Ustalav's royal accusers or about the tribulations of Longacre's Lieklan family, the first Strange Aeons has more to say.

You'll also have the chance to join an asylum revolt, surf a blood tsunami and give a ghoul a shower.

I seem to remember that some Lovecrafty stuff happens too.

Y'all like bholes, right?"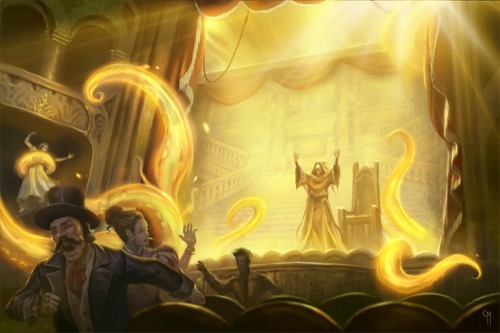 While this Adventure Path is perfect for experts on the Lovecraft Mythos, don't feel like Strange Aeons isn't for you if you're not familiar with or well versed in the literature that provides the inspiration for this campaign. If you enjoy creepy cultists, bizarre monsters, forgotten lore, and accursed locations, Strange Aeons is a good fit for you.

If you're eager to get into the right feel for Strange Aeons and want to do some reading, I've compiled a brief reading list of some of the stories that capture the feel of and have inspired the Strange Aeons Adventure Path.

"The Shadow Out of Time," by H. P. Lovecraft
"The Dunwich Horror," by H. P. Lovecraft
"At the Mountains of Madness," by H. P. Lovecraft
"The Call of Cthulhu," by H. P. Lovecraft
"Dream Quest of Unknown Kadath," by H. P. Lovecraft
"The Doom that Came to Sarnath," by H. P. Lovecraft
"The Repairer of Reputations," by Robert Chambers
"The Yellow Sign," by Robert Chambers
"The Great God Pan," by Arthur Machen
"The Wendigo," by Algernon Blackwood
"The Willows," by Algernon Blackwood
"The House on the Borderland," by William Hope Hodgson

If you are itching to play through or run the Strange Aeons and want to gather some associated materials to help spice up your campaign, consider checking out: Pathfinder RPG Horror Adventures and the Pathfinder RPG Occult Adventures.
Are you ready to start speaking R'lyehian during your games?