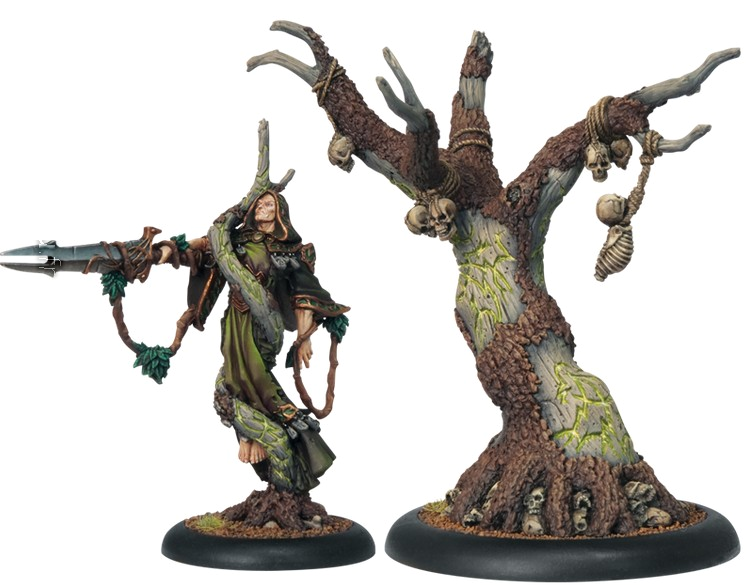 Circle misery is spreading by the minute.  Today see what makes Wurmwood tick and some ways to combat the forest powerhouse.
Circle misery is spreading by the minute. Today's tourney goers fear a tree in the woods and for good reason. Wurmwood and Cassius are trolling tourney players around the world with his scenario presence. Today I wanted to look at what makes Wurmwood tick and maybe some ways to combat the forest spreading powerhouse.
Why is Wurmwood Wrecking Homes and Taking Names?
Wurmwood has a very powerful feat in Black Roots. This puts a giant 14″ circle of woods on the board for a turn. Not only is it a giant pathfinder issue for the opponents army it also blocks line of sight for 99% of the models that don't have phantom hunter. On top of it , if you randomly get knocked down you take a point of damage, making tough kinda useless.
Wurmwood also has a soul mechanic that works off all models not just enemies. Combined with an armor buff for camping souls he will usually be armor 20+ and throwing out 10 fury a round for nasty spells.
Combine this with a very powerful spell list:
-Curse of Shadows
-Dark Path
-Hellmouth
-Rapid Growth
-Stranglehold
None of these spells by themselves are over the top. But, combined on the same caster they can soon get overwhelming.
Curse of Shadows makes a circle heavy with primal a very destructive force. Ghettorix can get up to P+S 23 if you count all the mods/debuffs.
Dark Path can let Wurmwood be ported up by shifting stones spell fling and then yoyo back to safety. The same can be done with Cassius after he runs into position.
Hellmouth is a multiple purpose spell. Not only is it a great way to kill low to medium armor infantry, Wurmwood can use it as a threat extender for his beasts. Putting a sacrificial model in front of a heavy and pulling it forward with little risk of damage with dice off 5.
Rapid Growth combined with sentry stones and woldwatcher fertilizers can provide a forest line of sight blocking line to Wurmwood's army. As well as difficult terrain.
Stranglehold is the icing on the cake. Even if your heavy can see, even if it has pathfinder, Wurmwood can boost a damage roll against it and have a good shot of making it forfeit move/action.

What to Expect From the Tree?
The tree has multiple play styles. He can play scenario, he can almost gurantee the alpha, can play board denial, and he can just surgically debuff parts of your army.
Some examples:
– Wurmwood might run his whole army 3+ inches away from yours and feat. If you don't have pathfinder or a way to see his heavies through the woods they are almost guranteed to get the alpha.
He can also accomplish a similar effect with Rapid Growth and sentry stones/fertilizer placing woods in key spots.
– His heavies will probably out-threat yours. Ghettorix is Spd6 charges 9″ has 2″ melee, combined with a hellmouth pulling him 2″ forward that is a 13″ threat. Remember he can hellmouth 2 times so he might pull your heavy 2″ forward as well increasing this threat to 15″.
– Your big nasty heavy might not be able to attack. Stranglehold is a cheap spell and with a boosted damage roll even an ARM20 khador jack takes 1 point on average making it forfeit something.
– If this wasn't all enough Wurmwood has prowl so if you can't see through it there is no reason to shoot him.

How Do You Fight the Total Package?
Your basic Warmachine/Hordes army probably is not prepared! But, all is not lost.
Here are some useful casters and models that will at least give you a chance vs the tree and his woods.
Lamentation, Bestial and Castigate casters are useful vs the tree. Lamentation makes the tree stay out of your control. If you can engineer a way to kill Cassius he will only be able to cast spells safely outside your control area and if he isn't in a shifting stone trianle he will have to pay big fury to move with dark path.
Castigate makes the tree do all the casting. This puts more risk on big rolls from stranglehold because if it fails the tree is range to be threatened.
Models that can't be targeted by spells or the spell banishing ward plopped on your heavy is a big deal.  Not having to worry about stranglehold is a big reliever. Gallant comes to mind merc/swan players.
Another useful spell to have access to vs Wurmwood is ghostly or easy rider.  This can get your key models through the trees to do damage.
Retribution has a lot of anti wurmwood tech with vyros ability to see through woods and Kaelyssa's spell phantom hunter.
If you aren't as blessed with access to some of these anti tree technologies there are some other models that may be useful to still bring along.
Orin Midwinter can stop a key stranglehold. A collosal or gargantuan has natural pathfinder so keeping it from being stranglehold is a big deal.  Haley1 and Issyria also have arcane vortex.
Rhupert Carvolo can put pathfinder are infantry where you need it. If you can kill Cassius you can put a big hindrance on the tree's plans.
What do you think BOLS do you have any answer for the tree of death?  Can it be beat?  Please share in the comments below.