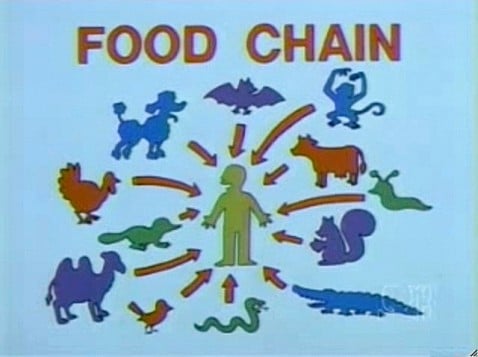 Pimpcron is asking fluff questions. He thinks he knows.
Hey kids! The Pimpcron Show is on! Gather 'round with your bowls of sugar-bits, a sheet of stickers, and a handful of jelly beans and be entertained! So I was wondering who might be the faction that finally beats all others in the end of 40k. The first way I look at it is in the form of a food chain where, either due to their abilities or technology, a race would completely beat another if given even footing. Then after we have people still standing, I'd like to see how they stack up. Ultimately I will judge all of the races versus the Tyranids' ability to literally drown their enemies in bodies, eat the bodies, make more, and repeat.
Humanity
For all of their zeal, hymns, and wax buttons of flair, they are physically not capable conquering the galaxy compared to others. And their technology is not so awesome that they can just pewpew all the enemies. I'd say we have no chance compared to the others. [braces himself for accusations of Heresy]
Tau
These guys don't stand a chance either, honestly. Their lack of physical prowess certainly doesn't help the fact that even though their tech is pretty good, they wouldn't win the fight. Their best chance of survival would be to stop researching weapons and find a way out of this galaxy with their technology.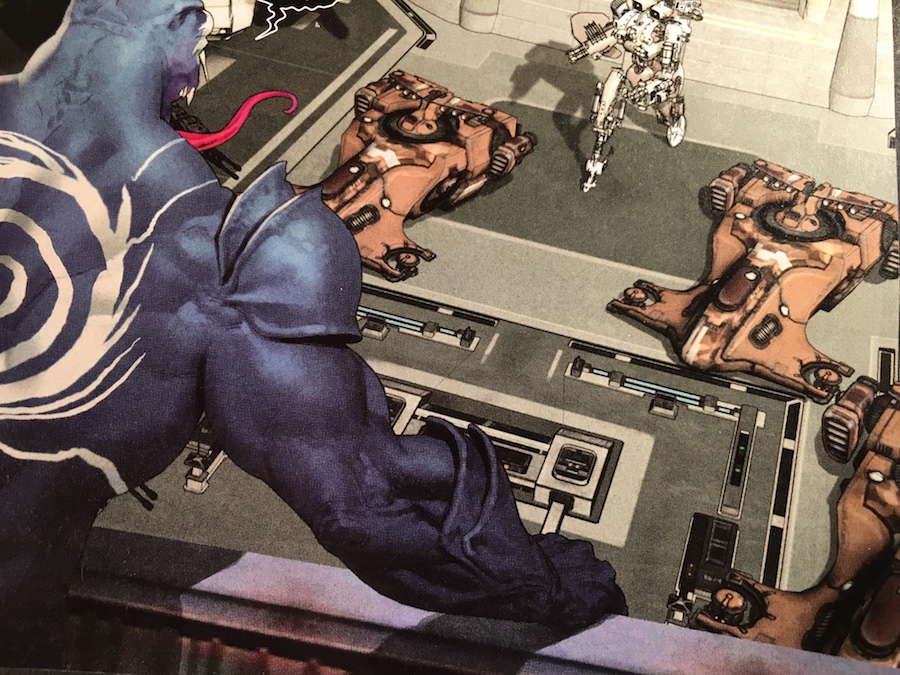 They've faced hungry aliens before.
Eldar
I don't care how Psychically powerful they are, their technology won't be handing them the galaxy and their numbers are far too few. I think their best bet would be to shack up with their leather-clad buddies in the Webway and wait things out while the galaxy goes to crap. Maybe after the real winners have conquered everything and moved on out of boredom do the Eldar pop back out of their hidey-hole and maybe take back the galaxy.
Necrons
These sleepy-heads (might) have the numbers to conquer the galaxy, and they are resilient, but there is no way of knowing how many of them are still Cryptflix and chilling at the moment. And while their technology may be ancient and terrible, I don't see them wiping everything out based on those two factors. I think they'd be more of a nuisance to the winner after everyone else is dead.
Orks
Damn. This is a hard one. Their numbers and rate of procreation is only rivaled by the Tyranids, and they don't wander around aimlessly if there are out of Synapse Reach. They just wander around aimlessly looking for something to poke with a stick. And they do have decent tech, even though it is a wonder that it works. For those of you who don't know, Orks are a race that spread as spores, and it is pretty much impossible to wipe them out once they infest your planet. How does a Tyranid eat a spore? I can imagine they would invent some sort of Tyranid-Clam Hybrid that has huge feeding tubes and filters the air for spores. (Clams are filter feeders, come on man, read a Snapple Fact once in a while.)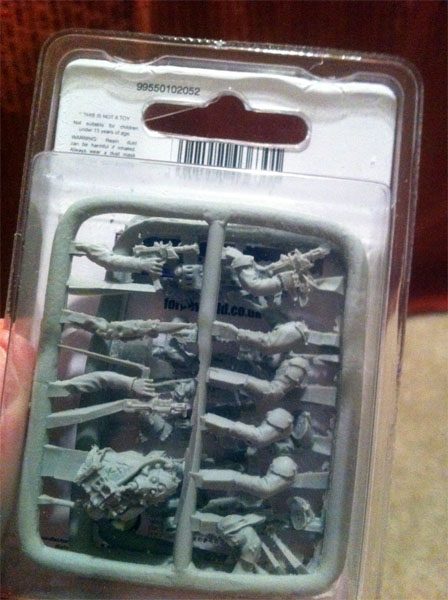 Not this type of clam shell
Chaos Daemons/Marines
So I think that Chaos Marines are still mortal, so besides being able to hide in the Warp like sissies, they have all of the frailties of Humanity. Oh, and daemon possessed shin guards. AND HORNS! Maybe the horns will somehow save them.
Chaos Daemons, on the other hand are a much better candidate for galaxy-winners. Their numbers are pretty much limitless, and they don't really die. They are like telemarketers: they can never really be beaten, they just go to Hell and regroup. But here is the problem with our naked scaly minions: They have a hard time getting into our realm and when they do, they often can't stay for very long. They have to be summoned, with the more powerful ones being really complicated to summon. Or they have to find a Warp rift, which is kind of like a tear where we get our dimension's chocolate in their dimension's peanut butter. But those are few and far between.
Tyranids
Presumably, they squirt out babies the fastest, can eat anything, can't be possessed, and don't need to waste time on things like building cities or homes.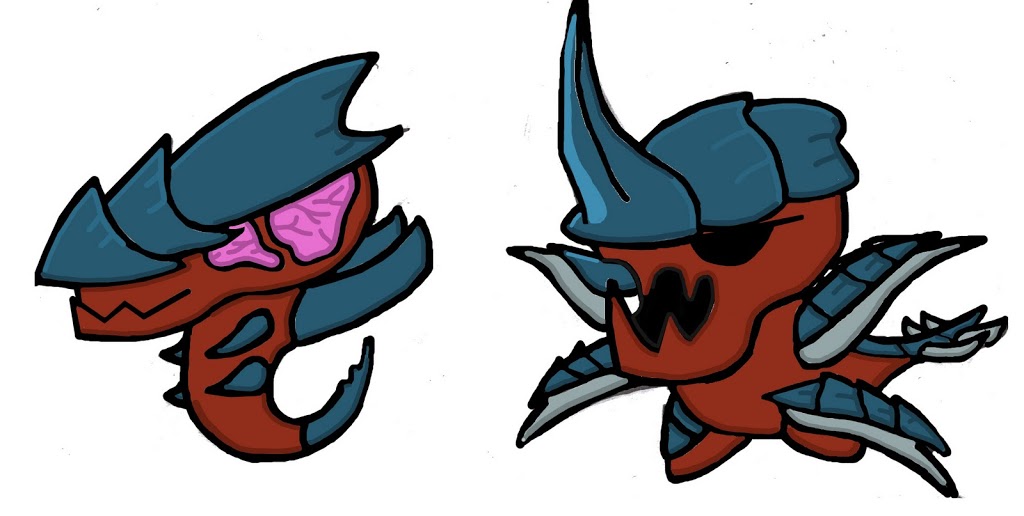 [Gaunt to the Hive Mind]
Gaunt: Hey, it's kind of cold on this Ice Planet, would you mind if I just kind of scythed up some ice into blocks and formed a bit of a shelter? Ya know, just to-
Hive Mind: You're fine. Don't worry about it.
Gaunt: Oh, yeah. I can't feel my hooves, but I guess it's supposed to be this way.
Hive Mind: I don't need your attitude right now. I'm trying to multi-task in like 27- Trillion different directions. Start eating stuff.
Gaunt: All I'm asking for is a little- [gets eaten by a Carnifex, later processed into a less sassy Gaunt]
It has been said that they might have entered our galactic plane because they may have stripped their other one to the bone. I'd believe that.
Verdict?
So the way I sees it, is that Eldar run and hide, Humanity and Tau are eaten by Nids, and Necrons don't really do much except bother people. Daemons would be the best contender against the Nids but as Humanity is eaten, they start being summoned less and less frequently. And being that they are solidified emotions basically, they begin to weaken as fewer and fewer beings in our galaxy actually feel anything. The Orks and Nids would have a bloody, long drawn-out war for probably eons, but I think eventually Nids would win due to drowning their enemies in blood. Then drinking that blood and making more babies to fight.
The Orks would keep reproducing, and basically be the worst thing anybody could ever hope: They become a level-grinding mechanism for Tyranid Bio-mass. So in the end, the Orks doom the entire universe, because they keep Nids supplied with a steady, never-ending stream of Bio-mass. The Nids wouldn't have to kill all Orks, they could actually keep areas of solar systems for Ork farming while they clean up the rest of the tid-bits of races and move onto to the other galaxies. But they would theoretically end up being so bloated with Ork Bio-mass, that the majority of their DNA would end up being Ork. Leading to more and more Ork-like tendencies. Could it be that the Ork's wild nature and crazy genes take over the Tyranid genes and become a super-duper-Ork race that nobody could ever beat?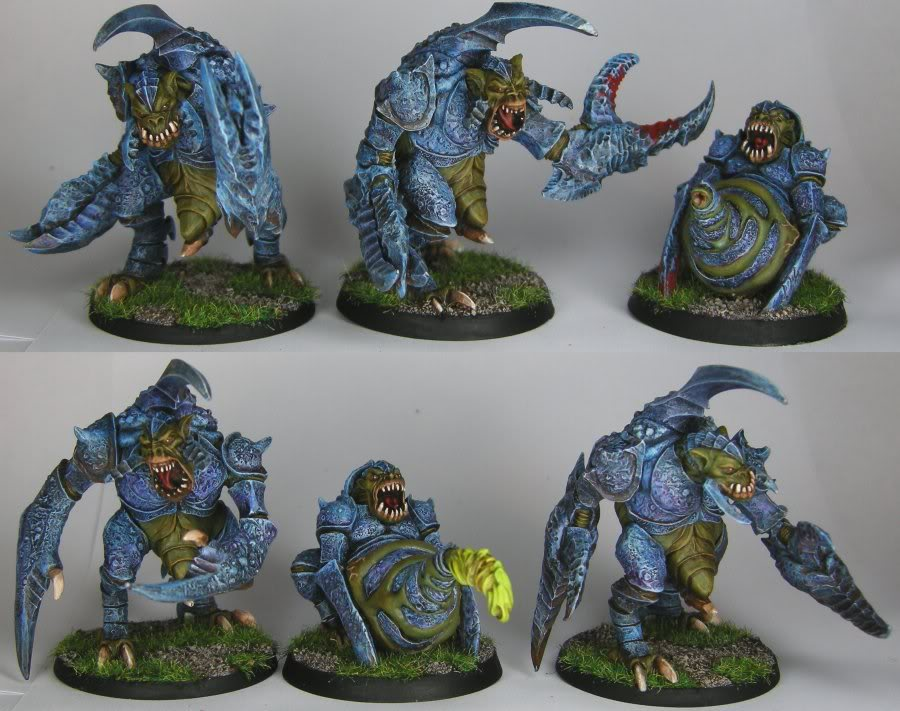 Meet the Orkanids. Could the Hive Mind actually repress all of those chaotic Ork traits? Hmmm. There is no knowing I guess. It could lead to the downfall of the Tyranid race as they fight among themselves and fall into ruin.
If that happens, Eldar pop out of the warp and find a barren galaxy covered in Nid poop. I guess they just live on their Craftworlds. They win … I guess.
What about Chaos? I think Tzeentch is the real winner here. I don't know how, but being that he can see the strands of fate and pull them to his whim, I would not be surprised at all if he manipulates things as times progresses. Maybe he is the one responsible for the Ork-take over of Nid genes.
The question is: is it worth ruling over a barren galaxy? Maybe Tzeentch locks the door on the Webway and Eldar don't get out. Then the Daemons could use a couple Warp Rifts to spill into and take over our realm for good. But without mortals to torture, that doesn't seem any fun at all. I guess everybody loses. Just like in real life!
So what do you think?