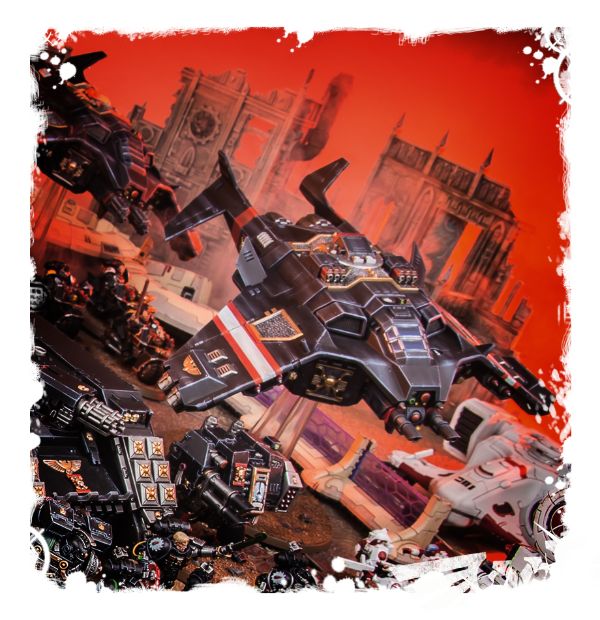 The Corvus Blackstar is here to deliver the Deathwatch to battle – but what's in the box? Come check it out!
When you're the Space Marine, you're already getting access to some of the most advanced gear the Imperium has to offer. When you're a member of the Deathwatch you get the cream-of-the-crop! The Corvus Blackstar is one of the most advanced Imperial Aircraft in the skies (according to the lore). It's also one sweet Multi-part plastic kit:
When we first saw pictures of the Corvus, I wasn't 100% sure about it. It looked like a cross between a Stormraven and an Astra Militarum Valkyrie. Fortunately, I thought it looked better than both in a lot of ways. Not as boxy as the Stormraven and not as fragile looking as a Valkyrie, still clearly an Imperial Flyer, but something new altogether. It looked sleek and generally more stealthy as well. If it had borrowed from a real world counter part, I would point to the F-117 Nighthawk. Those Air intakes and sharp angles look like distant cousins to me.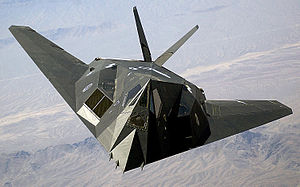 Now, as far as the kit goes Games Workshop is at it again: This entire kit is only two sprues! They managed to pack and condense this entire thing down to an impressive level. From a technical standpoint it's very impressive. The plastic is the same high quality stuff we've come to expect from GW and the details are sharp and crisp. Even if you don't like the model you can't deny the casting quality or sprue layout that Games Workshop has managed to produce.
via Games Workshop
Rules wise, it's an interesting mix. It can transport every type of Deathwatch member/kill team into battle – including bikes! I'm sure creative commanders will find a way to use that to great effect. Also the different type of firepower this thing can bring to the table can surprise your opponent. I won't get into all the loadouts, but it can hit hard by delivering more than just a troop payload!
And speaking of rules – If you're digging Stormcloud Attack then Games Workshop has the rules for the Corvus Blackstar available on their website as well: Stormcloud Attack Rules.
Overall it's an impressive kit – Deathwatch players should be glad to have this as an option. If you want to stretch yourself tactically and avoid obvious Transport choices like Drop Pods then give this flyer a chance. If just might surprise you as well.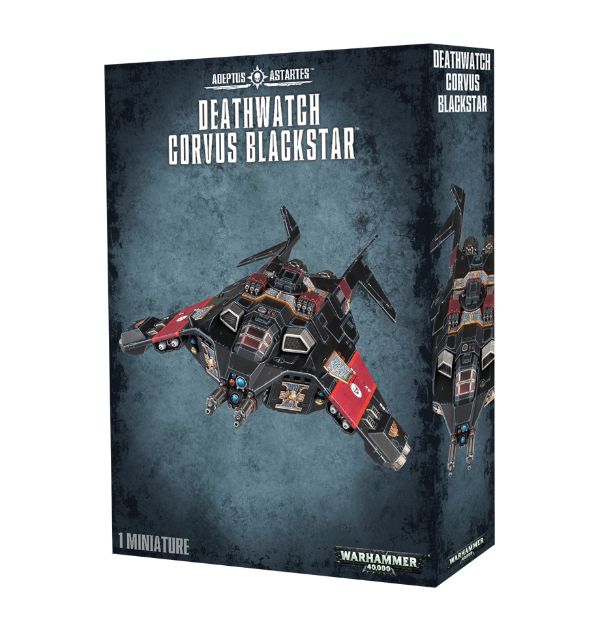 Far, far more advanced than the other Imperial craft which it resembles, the Corvus Blackstar is truly worthy of ferrying a Deathwatch Kill Team to their brutal mission. Optimised for alien hunting, surprisingly agile, its heavy weapons scream death from the skies as it descends toward its mission-critical targets. Halo-launchers fan out and blur the Corvus Blackstar's outline as the twin hatches slam open, pouring out its cargo of specialist Deathwatch from within to charge directly into the fray.

This multi-part plastic kit contains all the components necessary to assemble a Corvus Blackstar, armed with a twin-linked assault cannon (replaceable with optional twin-linked lascannons), stormstrike missiles (replaceable with a twin-linked Blackstar rocket launcher), an anti-air ballistics suite and protected by ceramite plating. 83 components make this kit, and it comes supplied with 1 Citadel 120x92mm Oval Base with flyer stem.
We're in the Pipe – Five-by-Five.