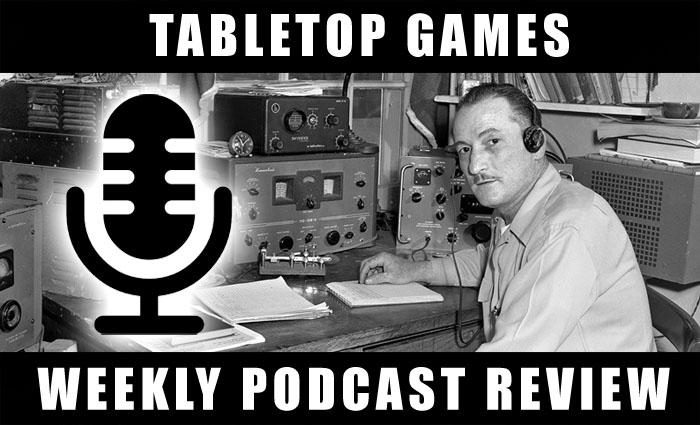 Bahkara here for this week's reviews!
Hey all, Bahkara here for this week's reviews!  This week we have more ETC coverage, and an in depth review for the Age of Sigmar game. that being sad, let's  get started!
Allies of Convenience ETC Coverage – The guys continue to cover the ETC with their daily diaries. Its actually nice to get almost immediate coverage of the event. Hopefully they can continue this format in other large events. They also interview Tom Adrianry, Chairman of the ETC. This  was a very good talk. What I enjoyed about it was the frankness in the conversation. They discuss the problems they had with the event itself, venue, the hosts, among other things. They also talk about the future of the ETC and what they may need to do in order for the format to survive. Nice real talk about a very large and popular tournament format.
Garagehammer Episode 150 – This episode Dave, and co-host Alex, cover the Bonesplitterz book. As always, they go in depth about the book. They discuss the background, in comparison to previous incarnations of savage orcs by Games Workshop, the different units in the army, and the battalion warscrolls for the army. They always do a good look at the book and this one is no different. Again, the episode is a bit long, clocking in at over 4 hours, but if you thinking of doing an army of destruction, give this episode a listen.
Also Out This Week.
4 Man Meta Episode 2 (Warmachine)
Bad Dice Episode 146 (AoS)
Canhammer Episode 84 (AoS)
Chain Attack S2 Episode 8 (Warmachine)
Combat Phase Episode 157 (40K)
Combosmite Episode 123 (Warmachine)
Eye of Terror Episode 23 (40K)
Fully Boosted Episode 17 (Warmachine)
Glory & Coin Episode 16 (Warmachine)
Intensify Forward Firepower Episode 23 (SW:Armada)
Leyline Episode 33 (Warmachine)
Life After the Cover Save Episode 182 (40K)
Long War Episode 63 (40K)
Masters of the Forge Episode 62 (40K)
Mayacast Episode 95 (Infinity)
Mob Rules Episode 29 (40K)
MoM Episode 276 (Warmachine)
Murder of Crows Episode 22 (Warmachine)
Mynock Squadron Episode 29 (X-Wing)
News From the Front Episode 103 (General)
NGC40K Episode 20 (40K)
NOVA Squadron Episode 54 (X-Wing)
Overlords Episode 188 (40K)
As always, check out our blog, at TFG Radio, and give the podcast a listen. We talk 40K mainly but delve into other game systems. This week we talk about the cost of entry for 40K, Age of Sigmar, and Tyranid invasions in our homes!
Have a different opinion? Post in the comments below or email me at [email protected] and let me know!