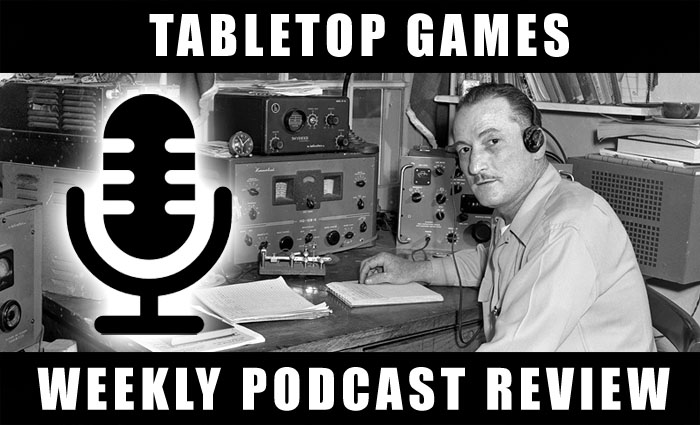 Bahkara here for another week of reviews!
Hey all, Bahkara here for this week's reviews!  This week we have a lot more Deathwatch talk and a look at Forgeworld's latest for Horus Heresy. That being said, on with the show!
Independent Characters Episode 138 – This episode the guys brings us part one of their look at Forgeworld's latest book for the Horus Heresy, book 6: Retribution. This part is focused mainly on the back story, with part 2 going over the rules. They talk about some of the new factions that have now developed, as the story progresses, and how these new forces interact with the rest of the narrative. There is even a "where are they at now" portion that tells you what all of the legions, loyal and traitor, are at right at this point of the heresy. Clocks in at a little over 3 hours, so  a little long but worth it if you are a fan of the Horus Heresy. Just a quick note that Carl was having throat issues so the quality of his voice is a bit off and is the only reason they had to stop.
40K Radio Episode 4 – This episode Matt and Ashley speak with both Mike Brandt and Phil Rodokanakis, from the NOVA Open. With Mike they talk about the origins of the, now, convention, the idea behind it, how it has grown from just a 40K tournament, and the charities they help with their raffle. Phil talks with them about the 40K Invitational and Open. They discuss how it started, the format that they use for both tournaments, the reasons, and player reactions to it. Nice information about one of the major 40K tournament in the country, if not the world.
Also Out This Week.
4 Man Meta Episode 4 (Warmachine)
9th Realm Episode 7 (AoS)
Bad Dice Episode 147 (AoS)
Chain Attack S2 Episode 10 (Warmachine)
Combat Phase Episode 159 (40K)
Combosmite Episode 125 (Warmachine)
Cripple System Episode 171 (Warmachine)
Crusader's Call Episode 5 (Warmachine)
Facing the Grey Tide Episode 43 (40K)
Forge the Narrative Episode 158 (40K)
Ironcast Episode 2 (Warmachine)
Life After the Cover Save Episode 183 (40K)
Long War Episode 65 (40K)
LRDG II Episode 7 (Bolt Action)
Masters of the Forge Episode 63 (40K)
Mayacast Episode 97 (Infinity)
Mob Rules Episode 30 (40K)
MoM Episode 278 (Warmachine)
Mynock Squadron Episode 31 (X-Wing)
NGC40K Episode 21 (40K)
SMG Wargaming Episode 36 (40K)
Storm Chamber Episode 1 (Warmachine)
Storm Chamber Episode 2 (Warmachine)
Storm Chamber Episode 3 (Warmachine)
TDH60M Episode 46 (Warmachine)
As always, check out our blog, at TFG Radio, and give the podcast a listen. We talk 40K mainly but delve into other game systems. This week we talk about the GW only model restrictions coming back in Age of Sigmar tournaments run by GW, our upcoming Oldhammer tournament, and our driving test hi-jinks!
Have a different opinion? Post in the comments below or email me at [email protected] and let me know!