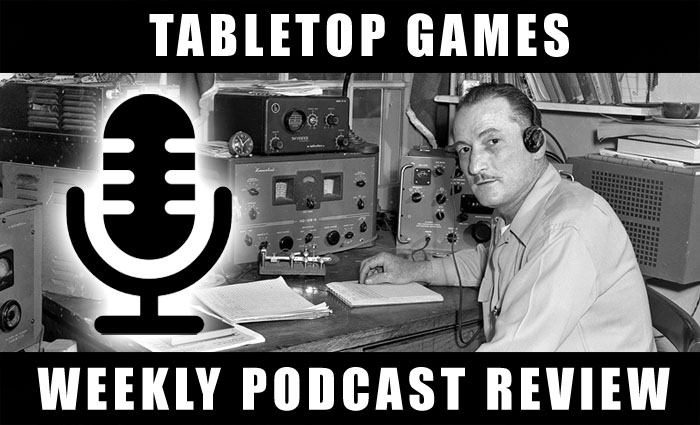 Bahkara here for this week's reviews.
Hey all, Bahkara here for this week's reviews!  We have a new game just released, helpful tips, and tournament coverage! With all that, lets get on with the reviews!
Allies of Convenience Episode 43 & ETC Specials – The guys are back with multiple episodes this week. They start off eith an interview with the captain of Team Happy, this year's winners of the American Team Championship, for the second year in a row. They go over the event in general and then their specific matches in their progress to the top spot. Also this week they have been releasing daily diaries of the European Team Championships. Only about an hour long each, it is a nice look into the tournament as it's happening. I really like the daily diaries and hope to see more of this. Hopefully they will expand their roving reporters to include non-European tournaments as they happen.
LRDG II Episode 6 – This episode they discuss the new ruleset Konflict '47. Built using the Bolt Action ruleset, they go over the changes and additions that were made to the rules for this game. They also discuss what the publisher will do once the 2nd Edition of Bolt Action is released since the game uses the 1st edition rules. They also go over the army lists for the four nations that are included in the book. If you are looking for an alternate World War 2 game, especially after the grease fire that is DUST, then you may want to give this a listen.
Battlehosts Episode 22 – This episode is part 2 of their coverage of the psychic phase. In this episode they cover the psychic trees of most of the factions of 40k. They discuss the power's merits and drawbacks while also discussing the possible uses for the powers on the battlefield. Nice coverage for those new to the game, but veterans can also pick up a thing or two that they may not have thought of before.
Also Out This Week.
40K Radio Episode 3 (40K)
Adeptus Infernus Episode 34 (40K)
Adeptus Terra Episode 23 (40K)
Age of Darkness Episode 34 (30K)
Behind Enemy Lines Episode 27 (FoW)
Chain Attack S2 Episode 7 (Warmachine)
Combat Phase Episode 156 (General)
Combosmite Episode 122 (Warmachine)
Crippled System Episode 169 (Warmachine)
Crusader's Call Episode 4 (Warmachine)
Facing the Grey Tide Episode 42 (40K)
Forge the Narrative Episode 155 (40K)
Fully Boosted Episode 16 (Warmachine)
Heelanhammer Episode 156 (AoS)
Imperial Truth Episode 48 (30K)
Ironcast Episode 1 (Warmachine)
Ley Line Episode 32 (Warmachine)
Long War Episode 62 (40K)
Masters of the Forge Episode 61 (40K)
Mayacast Episode 94 (Infinity)
MOM Episode 275 (Warmachine)
Mynock Squadron Episode 28 (X-Wing)
Personal Flash Paper Episode 14 (Infinity)
P+S Cast Episode 67 (Warmachine)
TDHM60M Episode 43 (Warmachine)
War Council Episode 33 (General Hobby)
Why We Fight Episode 4 (FoW)
Wrong Side of the Maelstrom Episode 15 (40K)
As always, check out our blog, at TFG Radio, and give the podcast a listen. We talk 40K mainly but delve into other game systems. No new show this week but a short outtakes episode. We'll be back with a new show next week!