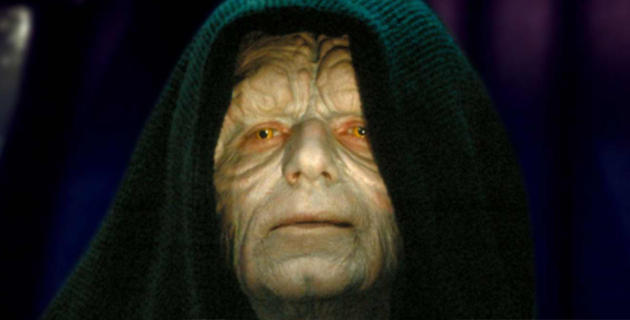 The Emperor is one busy guy. Why is Palp Aces so prevalent and what can you do against it?
Hello out there BoLS Readers and X-Wing Aces! I have a simple question for you: Why is Palp Aces EVERWHERE these days? The short answer is: Because it works. The long answer is…well longer. Let's take a look at one of the most popular builds for the Imperial Players.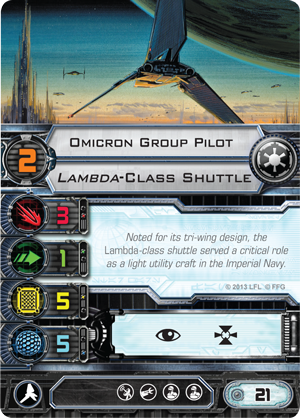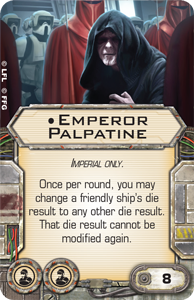 The Build starts of with this 29 point "combo" of fun. It's the Basic Omicron Group Pilot and Good Ol' Emperor Palpatine. So what's so good about this setup? Read his card:
"Once per round, you may change a friendly ship's die result to any other die result. That die result cannot be modified again."
At first glance it seems like a "meh" ability. But lets break that down and spell it out: The Palp player can change a friendly ship's die result once per turn. That's right, ANY result for a friendly ship. And it's not just a re-roll either, it lets you PICK the result. Did you need a Focus result for something to trigger? There ya go! Maybe you really need a crit right now – POOF. You got it! Did you need that one more evade to ensure your safety? No sweat. Palp has you covered.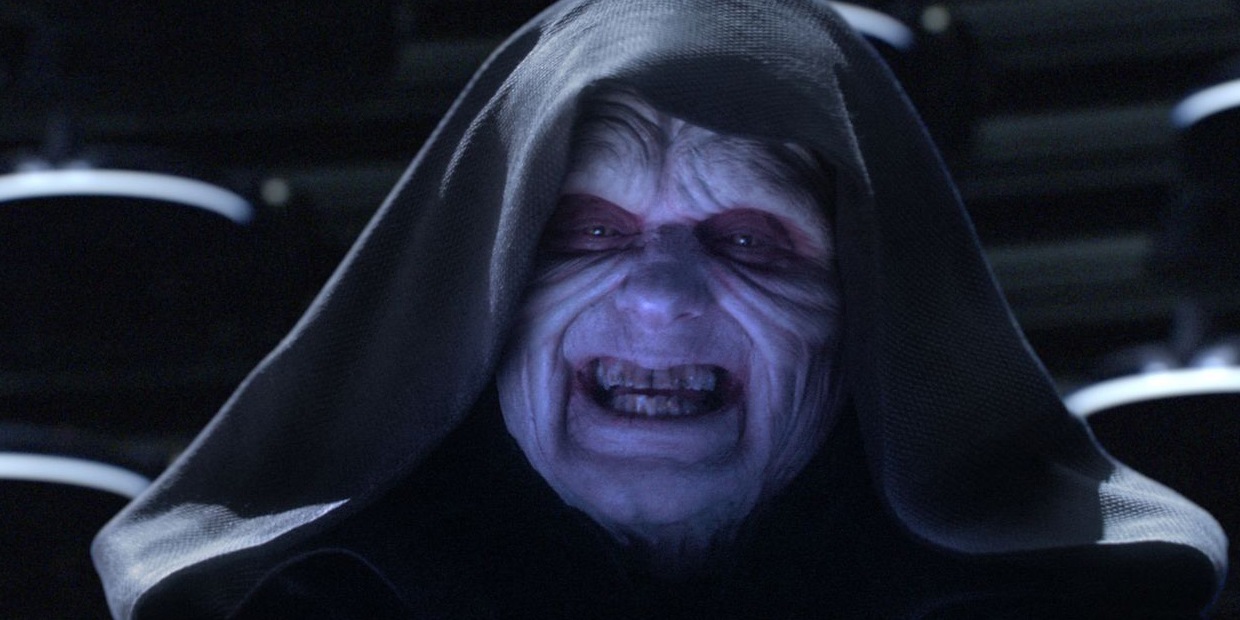 The look on Imperial Players Faces when they make you whiff because of Palpatine.
He's a bad man – but it's not just him that can crush your X-Wing hopes and dreams. For 29 points, you have a LOT of room to work with when it comes to list build. That's why the list is called "Palp Aces" and not just "The Emperor" – he's got to have some friends to bring the real damage.
The Inquisitor is very popular option to take: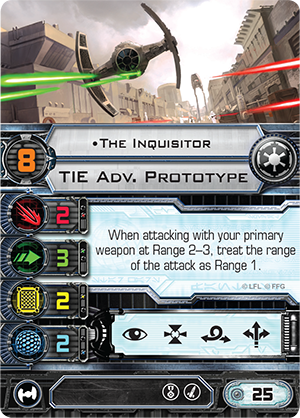 Typical builds have him with the Title Card, Autothrusters, Push the Limit. You can add Proton Rockets to flavor if you'd like. He's a strong Arc dodger and between Autothrusters, a free Evade from the Title and Palp's Protection he can be extremely hard to shoot down. Plus, this list has some serious firepower between the 3 dice Shuttle and the TIE Adv. Prototype kicking out 3 dice with it's primary, too.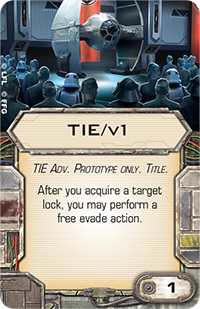 Vader is a great option too: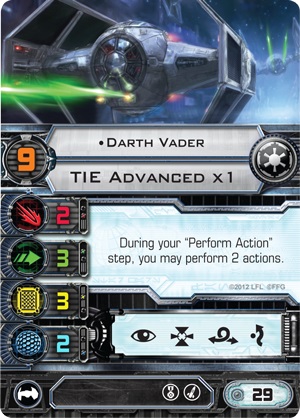 I have seen different versions of this build but Vader can be super devastating. Start by adding the Title card for the TIE/x1 and then pick either the Advanced Targeting Computer (which now costs 1 point) or the Accuracy Corrector (which is now free). Heck, I've seen one version where he had Sensor Jammer just to add that extra frustration at causing your opponent to flip a hit to a focus.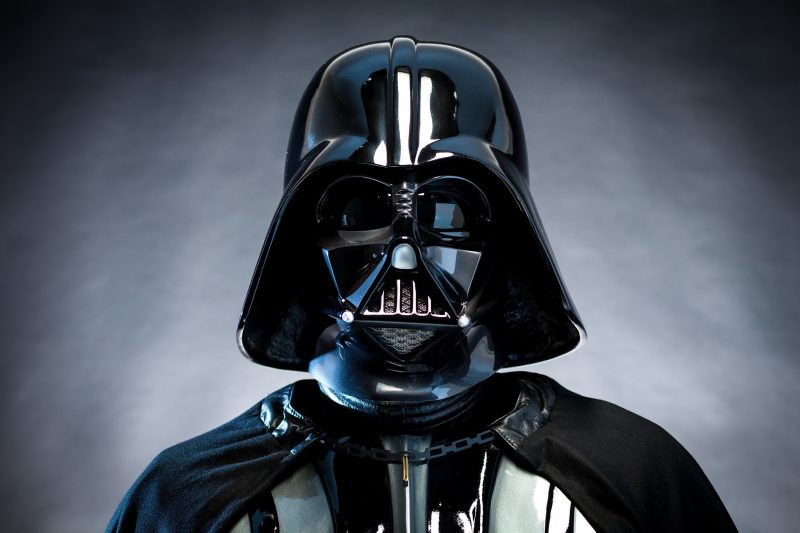 The look on Imperial Players faces when they flip a hit to a focus using Sensor Jammer on Vader.
From there you can look at things like adding Predator, Proton Rockets, Engine Upgrade or even Vectored Thrusters when that comes out – Although I heard Vader doesn't care for Barrel Rolling too much. He had a bad experience once.
The list goes on from there. It's called Palp Aces and you've got 71 stinking points to play with! Soontir Fel, Omega Leader, Carnor Jax, Echo, Whisper, Countess Ryad… it just keeps going. Seriously, pick two and you'll have a good shot at making a scary list. There isn't a ship out there that wouldn't benefit from having the option to get a free "you pick the result" die in the entire game (but there are better options than others, obviously).
So How Do You Stop The List?
That is the question. There really isn't a "weak" ship in this list – Palp in the shuttle can still kick out 3 dice (4 at range 1) and it's got 10 points to chew through. The Aces are…well Aces! It seems like you're caught between a rock and a hard place. If you go after the shuttle, it could cost you valuable time and the Aces will pick you apart. If you go after the Aces they are getting Palp's help the entire time. Decisions, decisions…
Unfortunately there is no magic "Just Kill X Ship" answer – You have to be a better player than that. You'll need to be patient and careful on your attack run. I came across this article a while back and it's got some great tips involving deployment and tactics dealing with Palp Aces. But it boils down to a few key things:
Play Conservatively – wait for your opponent to make a mistake and pounce. Don't go after the "bait" ship unless you can…
Maximize Your Damage – Palp's biggest weakness is that he can only change 1 die per turn. If the Imperial Player has used that ability on offense they are more vulnerable on defense. If they have saved it for a critical Evade, you've got to overload them. Pile on the damage and eliminate targets. That doesn't mean you ignore shots when they are open – just be aware of the shots you're taking. A low percentage pop-shot vs a fully armored Ace isn't as valuable as a high percentage shot vs a shieldless shuttle. Anything you can do to make the damage stick is important.
Split Them Up – If they are all flying in formation you've got to attack from one side and hit them HARD. If they have a ship "alone" make sure you can actually get to it and take it out before you commit your ships in that direction. Using a classic Refused Flank (ie, deploy your forces split to both sides with a gap in the middle) is a good way to get them to deploy divided. If they break off to go after a ship you may be able to get there to help it out. That's where slow-boating for the first round can really pay off.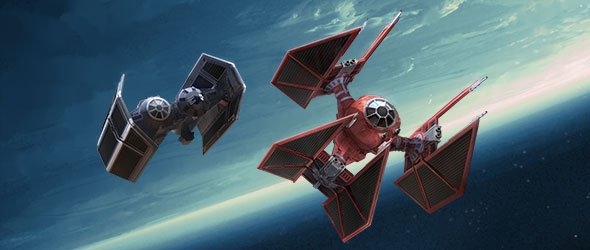 Deployment isn't just for ships, the author in the other article also mentions deploying the obstacles on the edges. I think this could be a good tactic if they don't know what you're doing. But basically this is so you'll be able to pull the Refused Flank mentioned above and hopefully they will have created enough space to essentially cut one of their ships off for a round or two. This also assumes that the Imperial Player will put their obstacles near their own deployment zone…
Don't be afraid to use a cheap ship to block them either. Causing a bump can really mess with Aces and their actions. Hey – it could even prevent the Shuttle from moving leaving it exposed for a round to take some serious damage. Once those shields are gone it's just a numbers game at that point.
When the time comes you've got to strike hard. You can't be worried about them rolling hot, it's a dice game – sometimes the dice help you out and sometimes they go ice cold on you. But smart flying and being patience will pay off vs Palp Aces. With good positioning (and some luck) you'll be able to overwhelm a ship and take it out of the fight hopefully tipping it on your favor. Good luck Aces, The Emperor Protects…wait a minute.
What do you think? How do you deal with Palp Aces in your area?