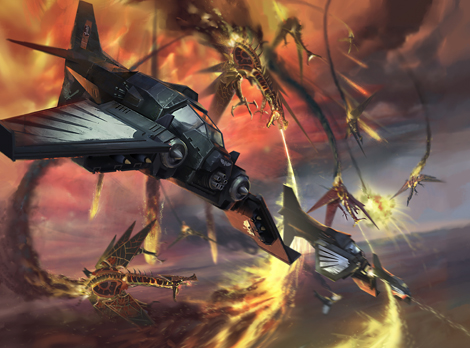 Fighters and Bombers in 40k are fundamentally broken – but they can be easily given a new lease on life.
Just gorgeous – never seen one on the table…
Let's all admit it – flyers are first and foremost really awesome models.  GW knew they had to start cranking out aircraft for every faction – and that they would … "fly" off the shelves (sorry, I couldn't help myself). But when it came time to write rules – things got all cattywampus fast.
It's not hard to see why:
Because fast aircraft in 40K are just silly.
It's not the flyers fault, or the game's fault – its just a simple case of mis-matched scales.  Just as having artillery with a 15 mile range trading blows in a skirmish game is dumb, having hypersonic fighters and bombers is silly in a game played on a board that is roughly 12 plane-lengths x 8 plane-lengths in size. They would be in and out of the board in a fraction of a second and pilots would be pressing their fire buttons 10 boards away to hit targets in the two competing armies.
Even at Flames of War's 15mm (equivalent to playing 40K on a 12×8 board), much lower tech (arguable in the case of Orks) WW2 planes barely work. At old EPIC's 6mm it just started to make sense.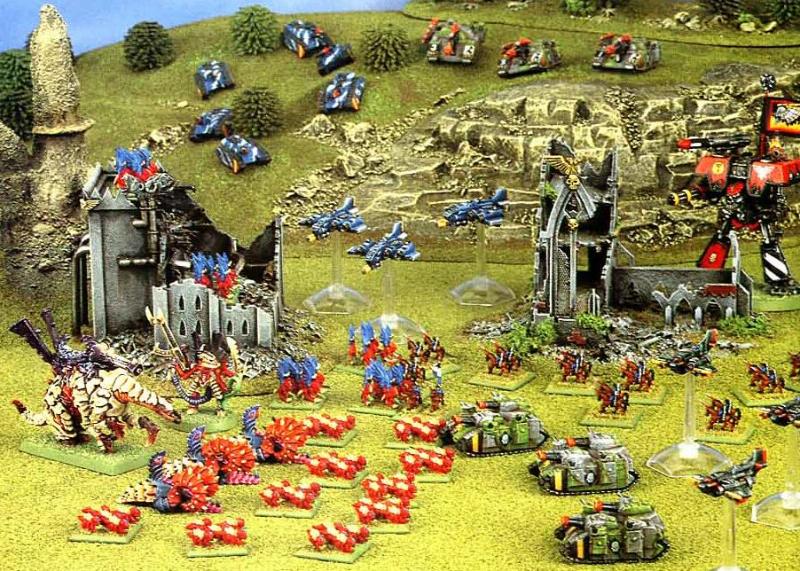 That's a little better – some room for maneuver.
We can't make our boards bigger, and we can't change our awesome models – but we can change what our flyer models represent. 
Air Support – Not Aircraft
OK, lets take this slow and I want you to stay with me.  Imagine if we break all existing flyers into 3 broad categories:
Transports/Close Support: These are the highly maneuverable, slow moving and very low flying vehicles that are designed to fight in-close to ground forces. They are the equivalent of modern day helicopters.
Fighters: Dedicated air-superiority vehicles that move very fast and are primarily designed to destroy other aircraft.
Bombers: Dedicated level bombing vehicles that move fast and are primarily designed to put LOTS of ordinance onto ground forces.
What works well in 40k are the first category – so we leave Transports/Close Support aircraft unaltered.  The rules work well as is to represent these aircraft fighting their way into the tabletop, and deploying troops, or supporting ground forces from very close range.
Fighters/Bombers Air Support:
For the last two categories, imagine if you could pay for these units at the following levels:
1/2 current point cost (tertiary air support)
current point cost (secondary air support)
double current point cost (priority air support)
Then, you rolled on the following Aircraft Reserve Table each turn per aircraft you bought:
1-4: no aircraft arrive
5-6: aircraft arrives
Modifiers:
+1 (secondary air support)
+2 (primary air support)
If an aircraft arrives, you place it and attack as normal. At the end of the turn, it is removed from the board in all cases. You roll on the reserve chart EVERY TURN, regardless of if the aircraft was destroyed any number of times in previous turns.

What you have here is a system that is not representing individual pilots of fighters and bombers maneuvering in a ridiculously tiny battlespace. What we have here is a system to represent your Warlord calling in air support from high command. The more points you pay, the more aircraft will be assigned to your sector and more they will show up over the course of a game.  The system doesn't care if individual aircraft are blown out of the sky, as there are always more around somewhere, but it gives you that uncertainly of forces on the ground hoping for friendly flyers to zoom in and knock out the bad guys, or that your fighters can keep enemy flyers off your back while you get your ground mission accomplished. I'm sure you all can devise a system for fighters to get thier attacks on bombers ahead of thier attack runs.
The next edition of 40K is being worked on – and flyers could certainly use an overhaul.
~Do you think this might work?