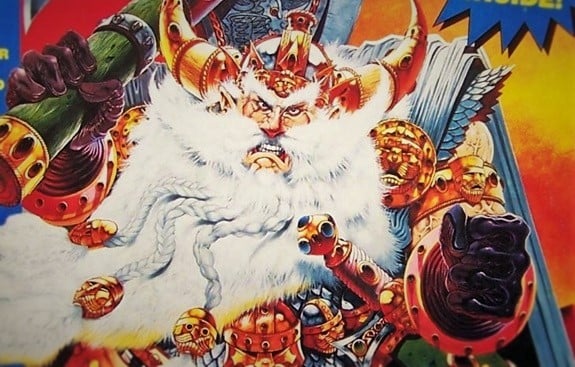 We are already seeing images pop-up from the October White Dwarf and it's got a "Cult" of personality this issue!
Well the Goliath Transport is here as we saw earlier and now let's take a look at the rest of those White Dwarf Pics that were spotted.
via ImAGeek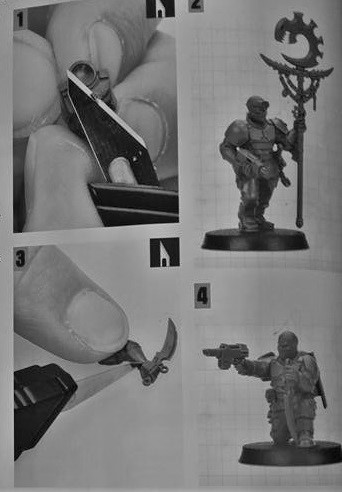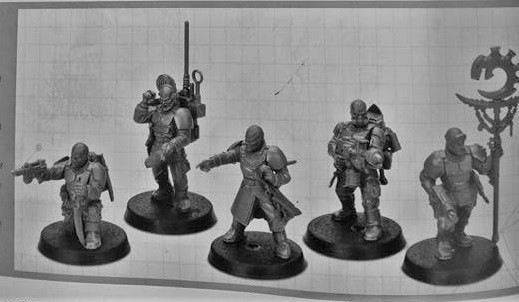 Here we have some quick modeling tips on converting Cadians into Genetealer Cultists. Now, are these going to be a actual "indoctrinated" Guardsmen or are these just going to be stand-ins as cultists? I have a feeling they could be used as both. If you want to go with a more military themed Genestealer Cult look then these converted Guardsmen would be perfect as Cultists. But depending on how the Allies Chart pans out for the Genestealer Cult you might be able to fill your ranks with Astra Militarum units. Time will tell.
Next up we have a look at the Genestealer Cult's Armory. I want to break these down row by row:

Seismic Cannon (?) – I'm guessing on the name based on the "mic" I can make out and the mining theme. It makes sense to me. This is also a new weapon in the arsenal.
Webber – it's BACK! I'm not sure what the heck it's going to do but another classic returns with the ascension of the Genestealer Cult.
Web Pistol – I had a feeling that's what that gun was when we saw it earlier. Again, super excited about this one!
Hand Flamer – Probably going to be used as a Web pistol in a lot of cases.

Rock Drill – Again with the Total Recall vibe. Maybe I WAS onto something. It's also common mining equipment so there is some common sense instead of crazy theories for ya.
Autogun – As expected. More Weapons from the Astra Militarum line.
Autopistol – Cultist's need their Gats!
Needle Pistol – We knew they had access to those based on the Overkill boxed set. Probably pretty limited in use – or maybe it's what they use to spread their genes around! Or maybe they just really like to party…

Rock Saw – This is the big "Buzzsaw" spotted earlier. I guess we can all retire "Buzzsaw" now too. Proper names > "names in quotes."
Flamer – These could be fun…
Mining Laser – We saw this from the Overkill box, too. It's a shorter range Lascannon. The Genestealer Cult has less trouble with armor than the Great Devourer does!

Heavy Stubber – Because More Dakka is More Better!
Shotgun – I'd like to find out the Cult's stats on these puppies. The could be pretty fun, too!
Blasting and Demolition Charges – The Cult loves creating explosions. I love watching explosions. I'm liking this already!

Rock Cutter – Jaws of life, eat your heart out? That thing looks pretty nasty!
Power Hammer – Yep, seen it before from Overkill.
Power Pick – More Overkill weaponry.
Bonesword – I don't know how the Cult snuck that one past customs!
Well there you have it folks. The first wave of Genestealer Cult is here. Are you ready for more?