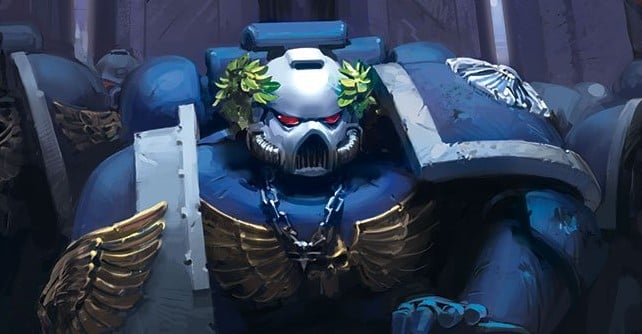 Games Workshop has more than just the Genestealer Cult hitting stores this weekend – Check out the new Battlemat!
We already saw the pricing and products teased for this weekend and now we have confirmation pics to show off as well.
via Spikey Bits
Battlemat City Ruins
$85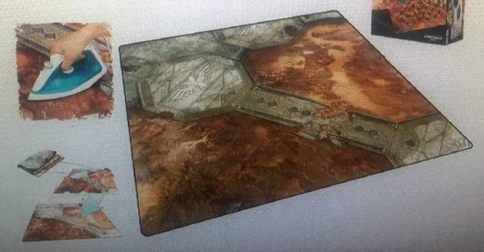 Space Marine Strike Force Ultima
$250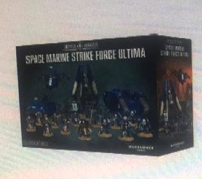 The Battlemat looks to be made of cloth (hence the use of an Iron to smooth out those wrinkles). Plus it's square so probably not going to fit over a "standard" size 6×4 game table. The design looks pretty neat for Kill Team or games under 1000 points. I'd like to get an up close look at before I make any final decisions however.
Strike Force Ultima pic is a little hard to make out. However, I can tell that there is a squad of Terminators, a Land Raider, a Drop Pod, and a Stormhawk Interceptor. I can also spot a vehicle that is a "Rhino Chasis" as well – I think it's a Razorback but I'm not 100% sure. In front of the "Razorback" is a unit of Marines with Tabards – I'm assuming it's Sternguard Vets. There is also something in front of the Drop Pod which I can't make out. The final mystery is the model front and center. It looks to be on a Terminator Base and has darker armor. That sounds like a Chaplain to me but It's really hard to tell.  If we get a better pic we will certainly update this post with the current info.
Let's do some quick number crunching to see how close we are:
Land Raider – $74.25
Drop Pod – $37.25
Stormhawk – $55
Razorback – $41.25
Sternguard Squad – $50
Terminator Squad – $50
Character? – $30?
Total: $337.75
If those units are correct and the Price Point of $250 is accurate then this could be a pretty sweet deal.
Back in February I wrote up my impressions of the Start Collecting! Kits. I had an idea for Games Workshop to basically take those one step further. Double or triple the price of the kits but stick with the same discount structure. It looks like they went one step further. If you purchased a Space Marine Start Collecting box then this kit would be a natural fit as a "next step" to expand your force. And based on the contents (and a lack of basic troops) that very well could be the plan from Games Workshop.
Guess we'll have to wait and see how this one pans out!
Could Strike Force Ultima be another excellent box deal from Games Workshop? Are we going to see MORE of these in the future?