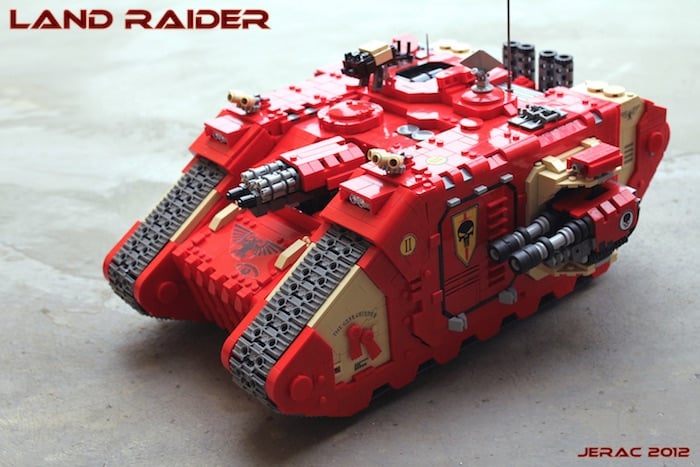 It's AV14/14/14, fully motorized and ready to tankshock every minifig that gets in its way. Say hello to the LEGO Land Raider!
Jerac is a lego builder out of Poland with a penchant for 40K – he's built Space Marine and Ork forces out of Lego. Including tanks – that Land Raider is not just awesome looking, it moves.
"The biggest, heaviest, most badass Power Functions – powered vehicle I have ever built. During the development this little beastie managed to grind through no less than sixteen gears, hence the nickname "The Gear Grinder".  All turrets are rotated in both X and Y axises, with each function controlled by a single M-motor. This gives it a nice average of 1 motors per 3 functions, if not counting the drive system… which needs four XL motors to drive. Altough it was planned to have speed-increasing gearing, in the end I settled on 1:1 to give it a little more power, required to push chairs, roll over Ork bars and so on."
SUCK IT LEGO Orks!
To see the rest of his lego armies check out his Flickr page.
~I think I want this more than my car!