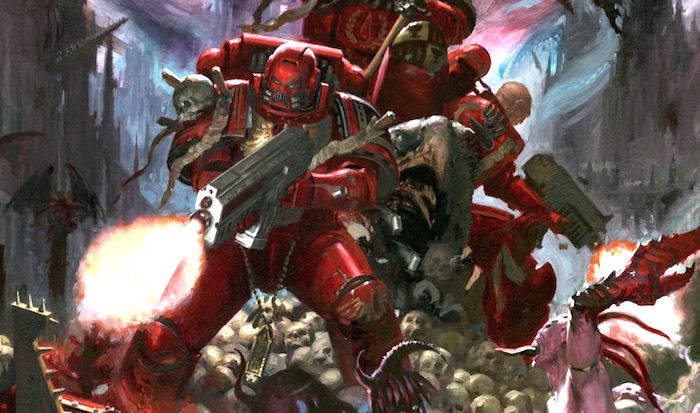 Our Red Grail runneth over in this episode.  We are all about the Blood Angels and the new Angel's Blade expansion book!

Hey Guys, Episode 161 is here!
I go ahead and get my apologies out of the way in the first few seconds of the show.  Not only is this episode almost completely about Blood Angels but its very possible we didn't have 100% reliable information during the recording of the show.
I feel like we got most of it dialed in and pinpoint the things that we think are the most powerful with the book.  There is some pretty good value here.   The formations give people some pretty exciting new ways to units they love.
The Golden Host is the top of the heap here.  You get to assault out of deepstrike with some of the hardest jump troops in the game plus the Lord Commander of the Blood Angels himself, Dante!  This guy hits like a truck.  He's been a favorite of mine for years and adding this new utility to him is amazing.
Dreadnoughts get a buff  here too along with Blood Angel Terminators.  This is why I say that everyone's favorite units may be hitting the table soon.   Its a shame this doesn't apply to Contemptors or dreads out of the FW books but maybe that is coming down the pipe from Forge World.
I am not sure where to even start with the Death Company.  The D-co got a neat decurion style formation and some pretty powerful relics.  The Death Company Chaplain is now an even bigger force multiplier and you get to hear why near the end of the show.
The Warlord Trait allows you to turn your Chaplain into a mini Fateweaver.  The Relic that allows you to re-roll FnP rolls of a 1 is bonkers.  This is one of those things that I actually approve of the high tax on.
The Blood Angels should be feared on the tabletop and this book does a lot to get them back into that position.  I can't wait to see all the builds that come out of this.
Thanks for listening!
FTN mostly focuses on Warhammer 40k, but again you will see in the first few episodes we take a severe deep dive into nerdom. These have been a blast to record and I hope they help pass the time for you.

Credits:
Paul Murphy – Host
@warmaster_tpm
Panelist:
Justin Troop – troopsmash
Christopher Morgan – captain morgan
Adam Abramowicz – Beyond the Brush Studios
Andrew Whittaker