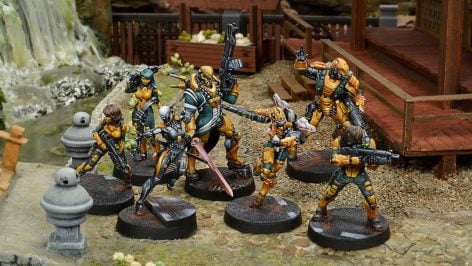 Here's what you need to know about all those sweet Yu Jing models in the new Infinity Red Veil set.
So maybe you've been looking at all those sweet models in the new Red Veil set, thinking the Yu Jing starter would be a great way to finally get into Infinity… Here's what you need to know.
The Yu Jing force you'll find in Red Veil is an even match for the Haqqislam one with 7 models and around 185 points. A lot of the models in the box work for different sectorial armies – if they work for one at all. If you want to go with this starter, plan on expanding into "vanilla" Yu Jing rather than Imperial Service or the Japanese Sectorial Army. There's nothing wrong with this of course. You won't get to use Fireteams, and the FA on some models will be lower. Perhaps most importantly, it won't have that sectorial "flavor." In exchange you'll have about twice the models to choose from, along with some combos exclusive to those choices. Once you've collected a serviceable Yu Jing force, you can branch out into a Sectorial if that's what you want. Now let's go ahead and move on to the models.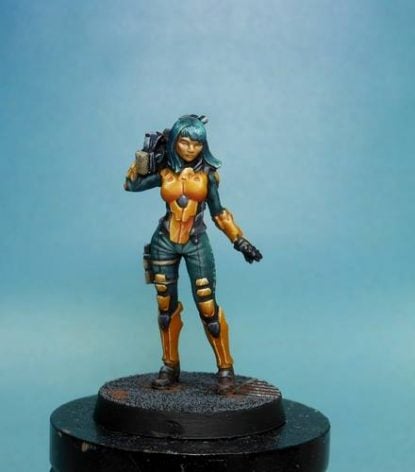 We can start with the Zhanshi. These guys will be your cheap orders, so what they do isn't too important. Unfortunately their higher than average CC score adds about a point to their cost. 11 points is still pretty cheap though. I'd go ahead and upgrade two of them to Forward Observers to help score objectives, and make the third the lieutenant. They have decent WIP score (13) so they will be pretty good in these roles.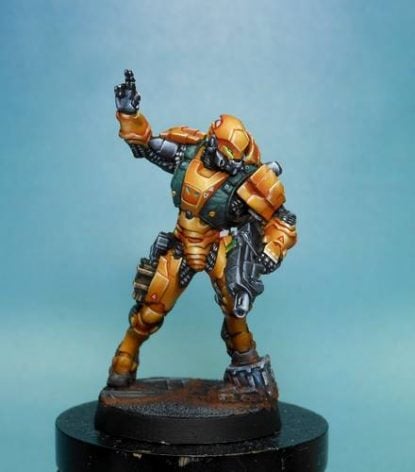 The Zuyong is indicative of the kind of cool tricks Yu Jing have at their disposal. First, he's one of the cheapest Heavy Infantry in the game at 28 points. He has BS 13 which is pretty good, even though his only armament is a plain old run of the mill combi rifle. ARM 3 is as low as it gets on Heavy Infantry, but that doesn't mean it's bad, and with the extra Wound he's still quite durable. To top it off, he can also be taken as a Forward Observer. Since Objectives can be very important, having such a cheap durable Specialist at your disposal is very good. You could also try him with the Paramedic option: another important specialist that would be useful to have as a nice durable HI. Not to mention the fact that it would let him heal his buddies.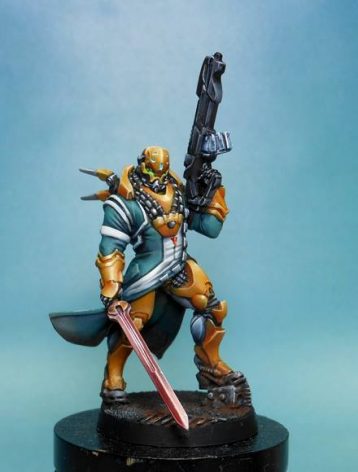 The Hsien is Heavy Infantry from the other end of the spectrum. At more than twice the cost of the Zuyong, he has better stats almost across the board – excepting wounds which are almost always 2 for HI. He's armed with everyone's favorite weapon, the HMG. While the Hsien's stats and equipment alone make him a great piece, he has an extremely useful piece of gear that is nearly indispensable in any army. I am of course referring to the Multispectral Visor Level 2. These handy things will make it much easier to deal with any CH troops sneaking around. Because visors are so good at what they do, they tend to make their wearers walking targets. Since you'll probably want some kind of visor regardless, it's good to have it on this durable model.
The Hsien has some other tricks as well. He also comes equipped with a Nanopulser. Honestly, I can only imagine a few situations where this template weapon might be useful over his HMG. I guess if a model was close enough, you might want to use it in ARO for a guaranteed hit rather than risk a Face to Face roll. Finally the Hsien's high CC combined with Martial Arts L1 may help him survive against some of the cheaper melee focused troops that can sometimes overwhelm Heavy Infantry. Still, it's pretty situational, and a dedicated CC specialist like say, a Hassassin, will still probably win the fight most of the time. All the cool abilities give the Hsien a price tag to match at 61 points.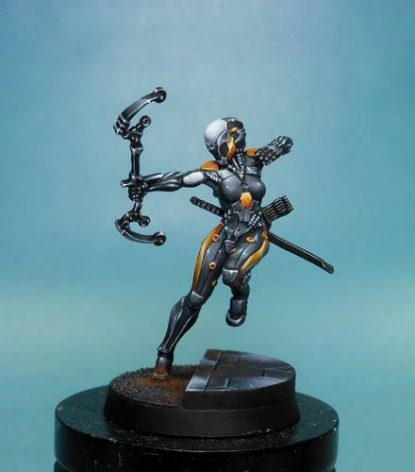 While we're on the subject of dedicated CC Specialists, let's do the ninja. Ninjas are good at exactly what you'd expect: killing less skilled opponents in CC. Sadly, they're only Martial Arts L3 – just one level shy of getting that extra burst that makes CC attacks so much more reliable. But they can still be great for sneaking up on expensive enemy pieces with their TO Camo. This one has a Tactical Bow, making her a little more interesting. This silent weapon will not allow any models you kill to alert their comrades. This means, if you're sneaky enough to get your ninja well behind enemy lines, she may be able to pick your foes off one at a time. While this is a possibility, the Bow's low Burst value makes it very uncertain.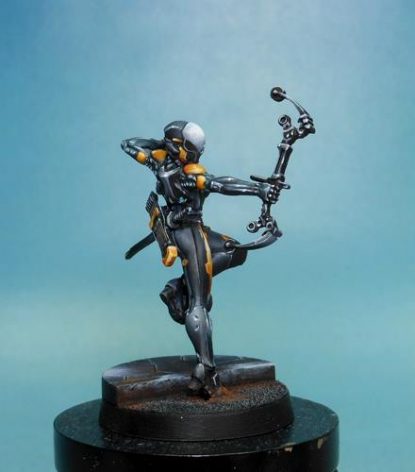 This ninja can also be taken with a Killer Hacking device for only 3 points more. This piece of gear allows her to use Hacking Programs that can be used to outright kill other Hackers. Interesting, but I have to admit it seems just a bit too situational for my taste. While I'm interested in trying out this bow Ninja, I'm very Lukewarm about her rules Still, at 26/29 points (depending on whether or not you choose to make her a killer hacker) she has the potential to more than make her cost back. Even if I only use her a couple of times, I don't regret owning such a cool sculpt.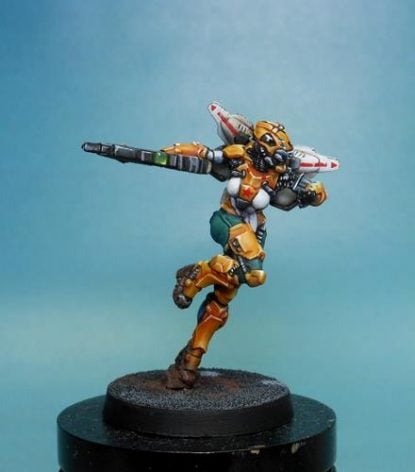 I've saved my favorite model for last. The Tiger Soldier with an Assault Hacking Device is an amazing piece. While I don't play Yu Jing (yet), I use a very similar model in my Combined Army force pretty much every game: The Fractaa. I can tell you from experience that having a Hacker that can drop out of the sky wherever she is needed most is an immeasurable asset. Mastering Hacking is mastering Infinity. Hackers are often introduced to new players as the counter to TAGs and Heavy Infantry. This is in no way wrong. With my Fraacta I have taken control of Tags, Isolated them, and Immobilized them – and I've done equally nasty things to Heavy Infantry. But there is still more you can get out of an AD Hacker. First, they are useful for secondary objectives, being able to achieve both Data Scan and Telemetry. Second, there are multiple missions in ITS 2016 that involve hacking things; terminals, and consoles mostly. Finally, there are also other missions where Hackers get bonuses to achieving certain objectives.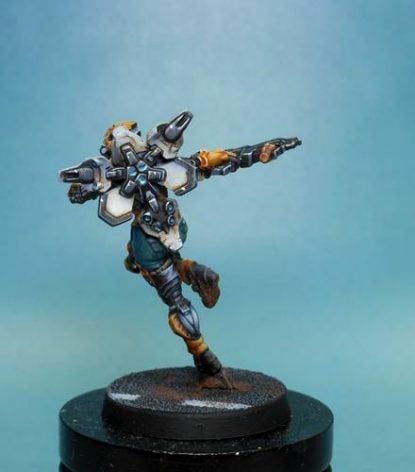 Of course for every time my AD Hacker has won a game for me, there's been one where she failed her Physique roll when entering the table and landed somewhere… sub-optimal. I am more than happy to spend the points and order for an extra Hacker to help guide her in given her importance. But even a net PH of 15 (which is what the Tiger will have if you use Controlled Jump) means she'll still miss her target landing zone 25% of the time. Better have a backup plan is all I'm saying.
All in all these are some great models for any aspiring Yu Jing player. There's really only one in the set I have any doubts about, and I could end up being wrong about her. Then there's the fact that all these pieces clearly look great. Infinity models are the kind that people would buy even if they didn't have a game to go along with them.
~Hope you enjoyed the article. I plan to return shortly with some of the ways I might expand this starter to 300 points. If you liked looking at the models, head over to Angel Giraldez' Facebook page where I found these pictures.