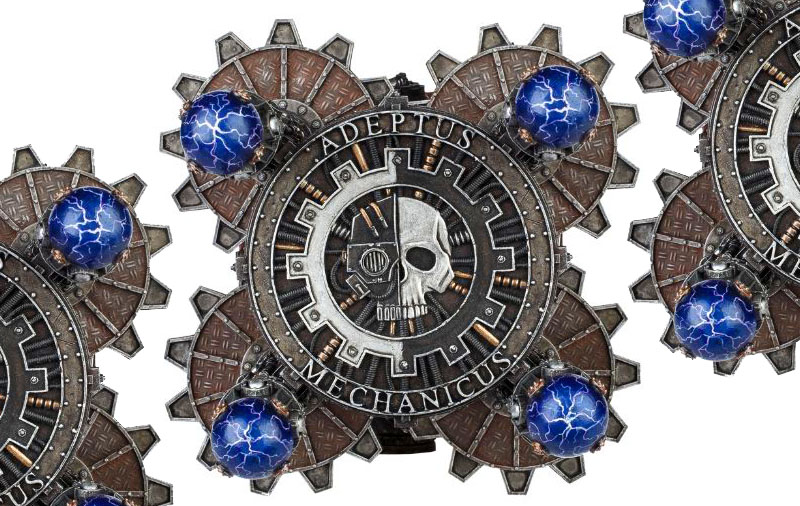 Come get your first look inside the box of two of this week's new 40k Releases by Games Workshop.
It's official we have two great new models both in plastic for the first time ever!  Kharn is checking in after 20 plus years in metal,  the VSG after only two years in resin, and both are looking great in their new sculpts as well.
Kharn himself is a great looking resized clampack model that sits on a 40mm base. His separate bits include his backpack, plasma pistol, and Gorechild, while his main torso and head are connected.
I love his new styling and he even comes in a custom slide out tray for all you collectors out there.
Don't forget these little datasheets that come with the instructions are great for using in game for quick reference as well!
This week's other release, The Void Shield Generator is another great release in a new material that allows all the customers that missed out on the resin one a chance to own it now.
Plus from the looks of the instructions it's fully functional too, with rotating gears and towers. Pretty neat little kit IMHO that should be a staple of everyone's tabletop, even if you don't use it with it's datasheet abilities.

Kill! Maim! Burn!

This is Khârn the Betrayer's mantra, and it has become infamous across the Imperium as a harbinger of carnage to follow. Khârn embodies the eightfold path of Khorne; friend and foe alike are left broken, twitching and torn apart in his wake. As he sprints into battle, his bellowed war cries boom from the vox-grill of his helm, striking terror into the hearts of even the bravest. His plasma pistol spits bolts of destruction almost indiscriminately into his enemies as he closes in, as his screaming chainaxe Gorechild rips apart any survivors with utterly inhuman speed. Even before his last victim has hit the bloodied ground, Khârn has charged off in search of more blood for the Blood God.

This multi-part plastic kit contains the components necessary to assemble Khârn the Betrayer, a single-pose model armed with a plasma pistol and his chainaxe, Gorechild. Supplied with a Citadel 40mm Round base.

A brooding tower of pipes, cables and forgotten technology, the Void Shield Generator is the epitome of Mechanicus architecture. Able to project up to three void shields, it is an impressive defence system, aiding the warriors of the Imperium when hunkering down against alien assaults.
The generator plinth houses an eclectic mix of old and new technology, from steam-driven cogs to plasma cores and beaten brass reactors. The corners of the structure have four towers topped with energy globes that project the void shield around the building.

This multi-part plastic kit contains all the components necessary to assemble a Void Shield Generator. Completely compatible with the Promethium Relay Pipes, it makes an incredible centrepiece for your gaming table!
That's it for this week folks, here's looking ahead to the big Blood Angels release that's coming soon!