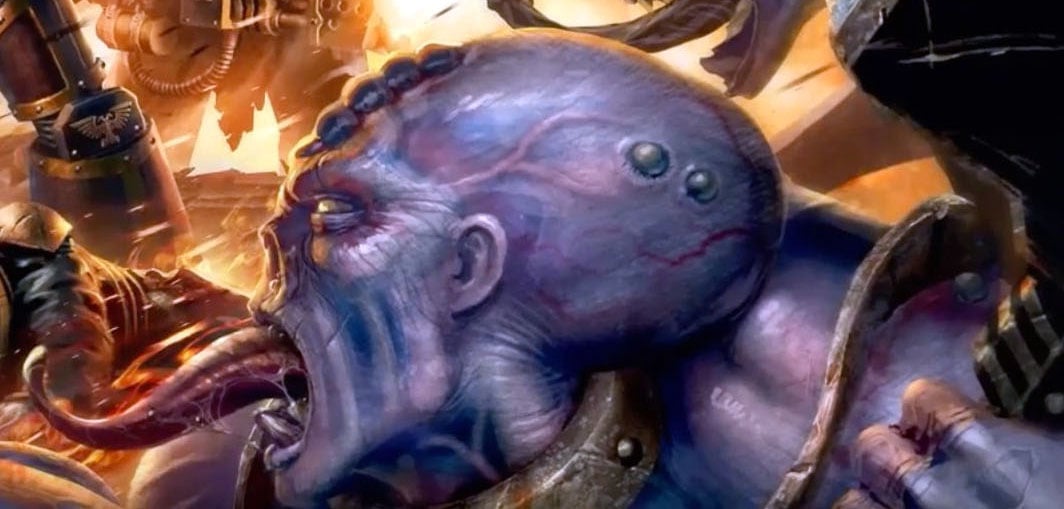 BoLS will be bringing you Genestealer Cults coverage all week. today we talk about the special rules that make the army tick:
Ok, let's get started…  Earlier we said that while the Genestealer Cults don't have high durability infantry, they do have a LOT of movement tricks up their sleeves.  Here is what we meant.
Cult Ambush
 Almost every non-vehicle unit in the army has the Cult Ambush special rule.  Here's the chart to give you perhaps THE core mechanic that makes Genestealer Cults tick.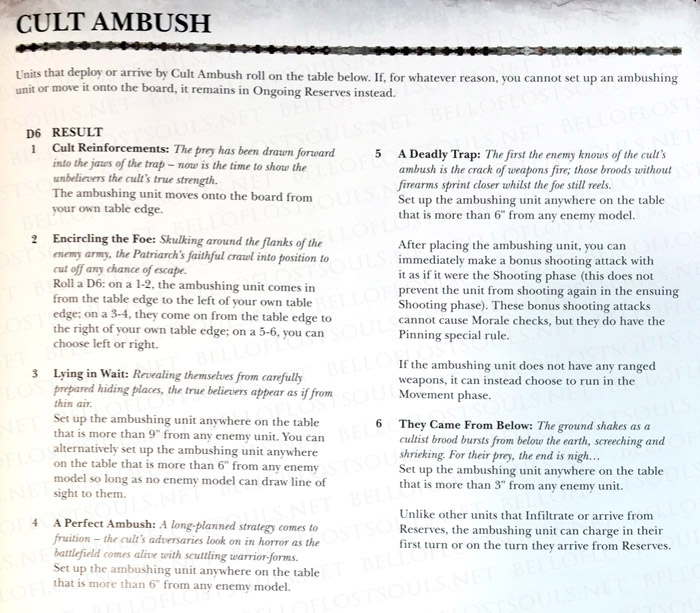 Ok, some points to get everyone on the same page:
You can put any of your units (not in vehicles) with this special rule in reserve at the start of the game and they will arrive from reserves using this table
This table is NOT Deep-striking. There is NO deviation, the models are placed any place legally based on the chart's restrictions – mid game.
The chart is basically a worst-to-best chart where a 1 gives you a standard reserves friendly table edge arrival, while a 6 gives you a best case arrival 3″ away from a target and lets you charge that turn!
Note that the higher you roll, the closer you can place your reserving unit and the higher results give you free shooting or charging when you arrive.
This will give you the ability to very opportunistic with your good rolls.  If you roll a 5 for example with a unit with guns, you will have time to look around the board for most vulnerable enemy unit caught out of position who needs to get shot up out of nowhere. Likewise if you roll a 6 with a unit with decent assault ability, you can savor the moment of shopping around for that key enemy unit who will be easily overwhelmed no matter where they are on the table.
Also note that this will make the army excellent objective grabbers.  There will be no such thing as a "safe objective" anywhere on the table if the Genestealer Cult has any units in reserve.  They might pop up anywhere…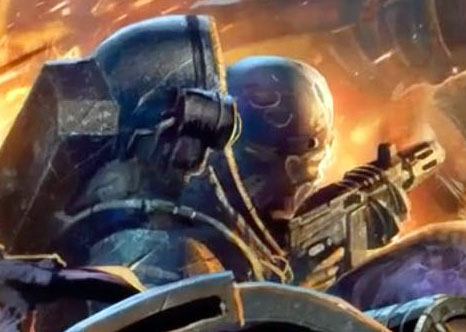 Return To the Shadows
This the other half to the Genestealer Cult's tricky movement.  Pretty much every non-vehicle unit has "Return to the Shadows". This means the unit can be pulled from the table into reserves if there is no enemy model within 6″.  Combine that with Cult Ambush and you have a mean recipe for tabletop trickery. For example…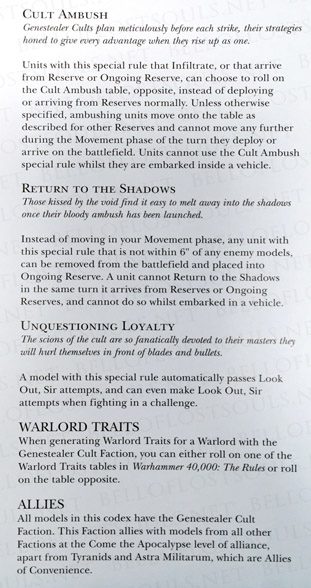 You will be able to project feints like no other army in the game.  A set of Genestealer Cult units can deploy or advance on a flank, pulling enemy models towards them, then disappear into reserves – leaving the enemy high and dry.
You will be able to shuttle troops rapidly from flank to flank over the game. The Cult player could saturate a vulnerable area or set of enemy units caught unsupported with his reserves and overwhelm them. Afterwards, he can pull his units off the table and redeploy them anywhere else on the table as needed. Tricky tricky!
Formations and Unit Special Rules
 If you are asking if there are ways to modify the Cult Ambush results or make Return to the Shadows even better – the answer is yes. But you'll need to buy the codex to get all the details on just how nasty the Genestealer Cults can be.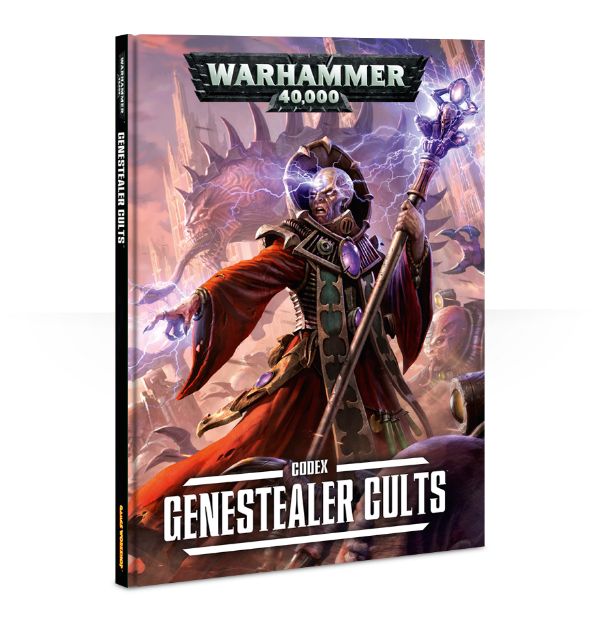 Vile chanting fills the air, marked by blood-chilling shrieks of alien beasts – the xenos creed shall rise! Thousands of cultist voices are raised in prayer to their Patriarch, a living god from beyond the stars. Shadows in the distance become a seething tide, a living wave of hybrid creatures that boils out from dank and slimy lairs. Vehicles modified with whatever weapons can be cobbled together careen around the horde's flanks, delivering yet more terror. Sinister, charismatic leaders cast dominion over their enemies as well as their underlings. The Cult has long-prepared for this day of reckoning, and its swollen ranks will surely conquer the world.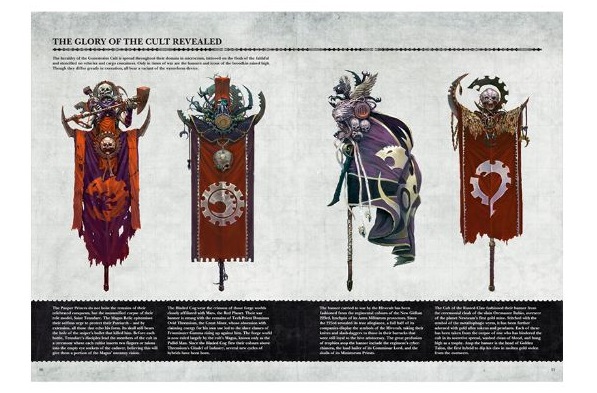 This 104-page, full-colour hardback Codex features a wealth of gaming content:

– comprehensive information on the Genestealer Cults, the gruesome and frankly unsettling story of their rise from a single organism to unstoppable, planet-devouring insurrection;
– rules for Genestealer Cults miniatures, the scavenged weapons they use to slaughter their victims, and army-building lists allowing for Hybrid and Brood Brother cultists drawn from the Astra Militarum;
– formations that make use of both the Genestealer Cults and Astra Militarum ranges, with notes on the wargear that Genestealer Cults scavenge and use for their own sinister ends;
– 6 new Tactical Objectives and the complete Broodmind Discipline: new Psychic Powers used by Magi and Patriarchs;
– the Cult Ambush rule: dependent on a dice roll, Genestealer Cults units can set up anywhere on the table, deploy and charge in the same turn, and burst from their hidden lairs to surprise and engulf the enemies of the Cult;
– a showcase of beautifully-painted Citadel miniatures, presenting the colours and icons of the Cults that lurk below.
~Have fun folks, and check back all week for more Genestealer Cults reviews and more.