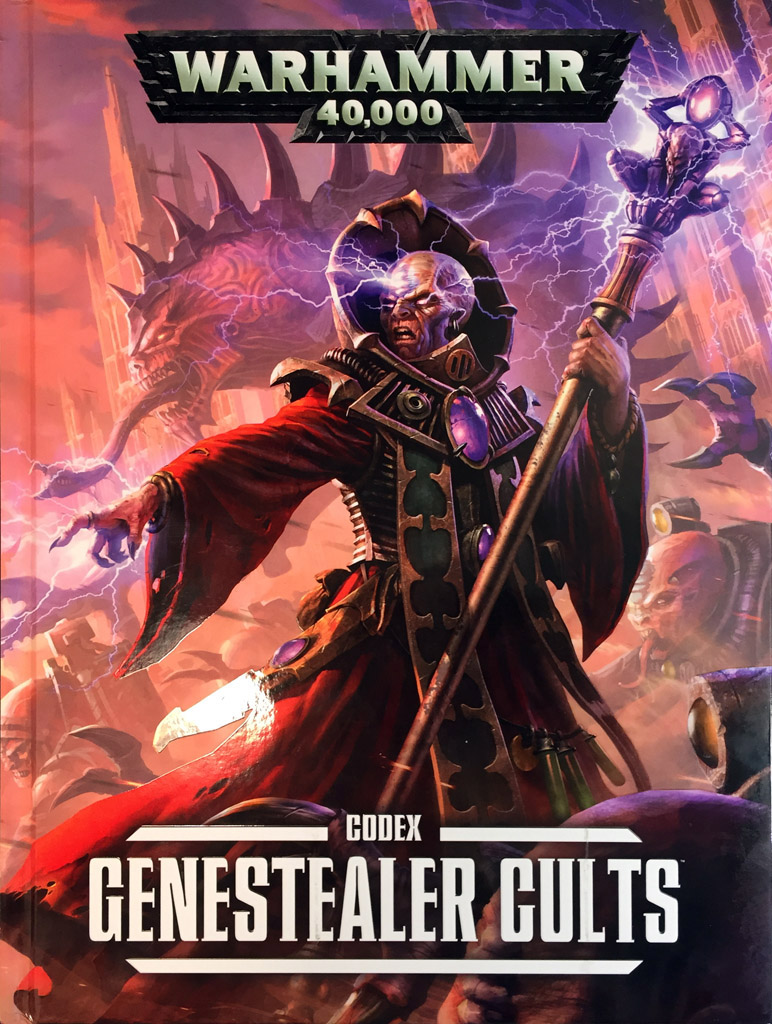 Join us as we take a first peek at the Genestealer Cults Codex!
Hey BoLS Readers! We have a special treat today – Codex: Genestealer Cults landed in front of our studio cameras and we got to take a peek inside. We cover a lot of the Lore in the book as well as some of the awesome new art and Cult Armies. We also tease a few of the key new things we've all been waiting for like the "Decruion-style" Detachment.
The Genestealer Cult is going to a very different army to play than Tyranids or Astra Militarum. Based on what we've seen (and we've got the Codex, remember) they are going to be able to have a lot of cheap units, some pricey-er elites, and some serious armored support.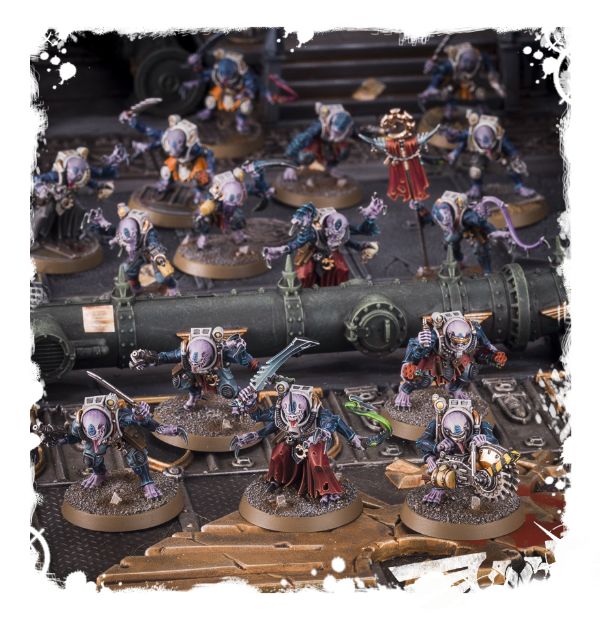 The Metamorphs and Acolytes are going to be your more "assault" focused units with their short ranged fire power and their access to tons of rending claw attacks. Plus all the unique wargear you're going to want to put on them. Watch out for the  "Snip" Rule…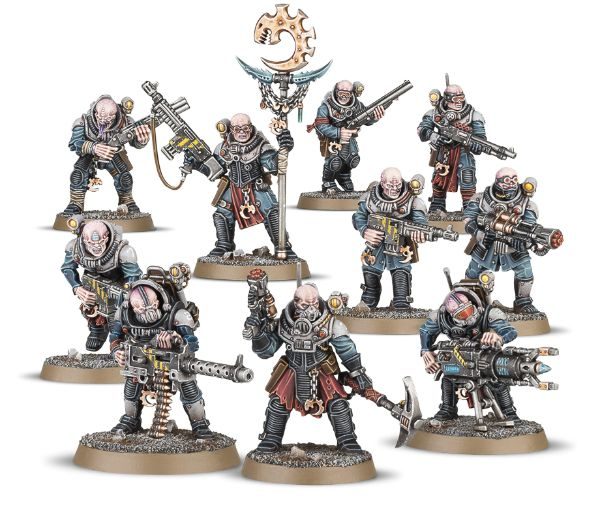 Neophyte Hybrids are your cheap bread-and-butter ranged units. They have some decent ranged options, very similar to Guard. But they also have access to all those cool mining lasers. I wouldn't be surprised to see more than a couple of these units pop-up in transports like the Goliath and flood the table. Chaos Cultists, eat your heart out!
We've already teased the Goliath so I won't get into that too much. But it's a cool looking transport and I can't wait to get my hands on one. There are two versions of that the "basic" Goliath and the Rockgrinder Goliath. These are very similar to the Rhino/Razorback. You trade transport capacity for fire power.
Now for a few extra bits that we didn't show off but I wanted to confirm for you fine folks:
Astra Militarum Units include:
Sentinels
Armored Sentinels
Chimeras
Leman Russ Tanks
Tyranids and Astra Militarum are Allies of Convenience for Genestealer Cults. For all other armies they are Come the Apocalypse.
There is no new "Flyer" in the Codex. You'll have to get that air-to-air support from one of your allies conveniently.
There are no other ground transports listed in the Codex. Just to confirm – No "Limo" at all. Sorry folks.
The Genestealers in the Cult book are going to make regular Genestealers very jealous.
Genestealer Cult has a LOT of access to pulling units off the table and putting them back into Ongoing Reserves – be prepared to cover your objectives when facing them…
And the biggest rule coming from the Codex is the Cult Ambush Table. Blood Angels and Chaos Marines aren't the only army getting access to assaulting after Deepstriking.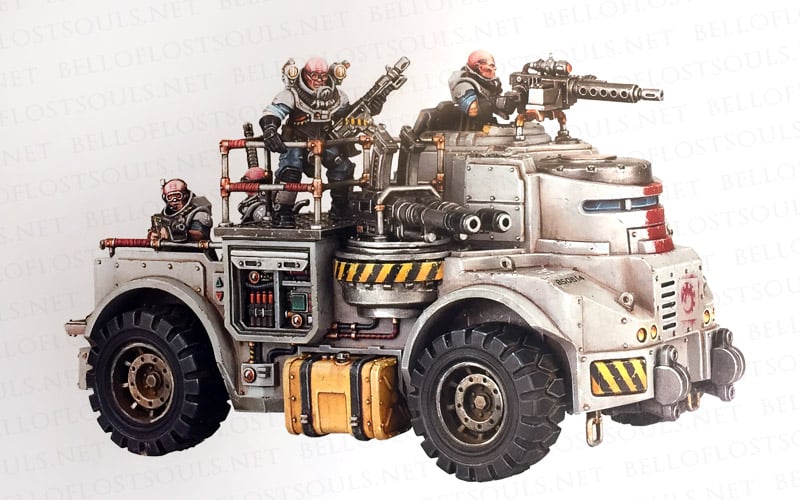 That's all for now. We've got lots more teasers and coverage all week! The Genestealer Cults are HERE!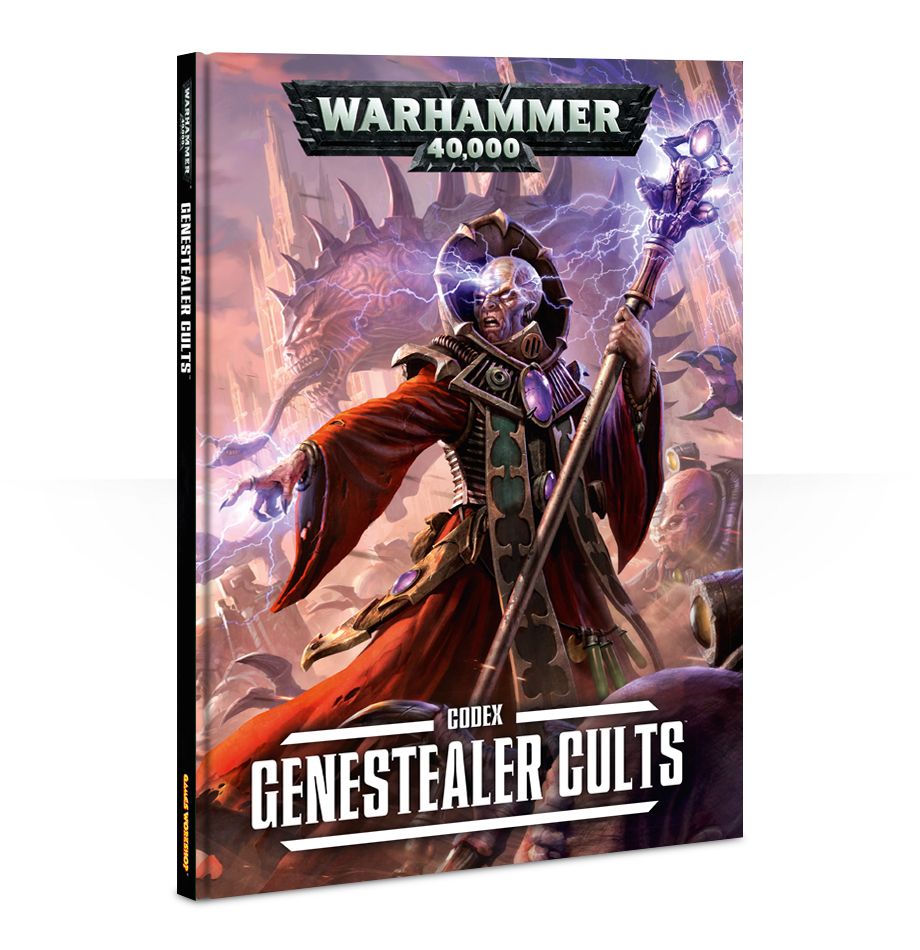 Vile chanting fills the air, marked by blood-chilling shrieks of alien beasts – the xenos creed shall rise! Thousands of cultist voices are raised in prayer to their Patriarch, a living god from beyond the stars. Shadows in the distance become a seething tide, a living wave of hybrid creatures that boils out from dank and slimy lairs. Vehicles modified with whatever weapons can be cobbled together careen around the horde's flanks, delivering yet more terror. Sinister, charismatic leaders cast dominion over their enemies as well as their underlings. The Cult has long-prepared for this day of reckoning, and its swollen ranks will surely conquer the world.

This 104-page, full-colour hardback Codex features a wealth of gaming content:

– comprehensive information on the Genestealer Cults, the gruesome and frankly unsettling story of their rise from a single organism to unstoppable, planet-devouring insurrection;
– rules for Genestealer Cults miniatures, the scavenged weapons they use to slaughter their victims, and army-building lists allowing for Hybrid and Brood Brother cultists drawn from the Astra Militarum;
– formations that make use of both the Genestealer Cults and Astra Militarum ranges, with notes on the wargear that Genestealer Cults scavenge and use for their own sinister ends;
– 6 new Tactical Objectives and the complete Broodmind Discipline: new Psychic Powers used by Magi and Patriarchs;
– the Cult Ambush rule: dependent on a dice roll, Genestealer Cults units can set up anywhere on the table, deploy and charge in the same turn, and burst from their hidden lairs to surprise and engulf the enemies of the Cult;
– a showcase of beautifully-painted Citadel miniatures, presenting the colours and icons of the Cults that lurk below.
That dozerblade on the Rockgrinder is a lot like the Ork Deffrolla in more ways than just looks…