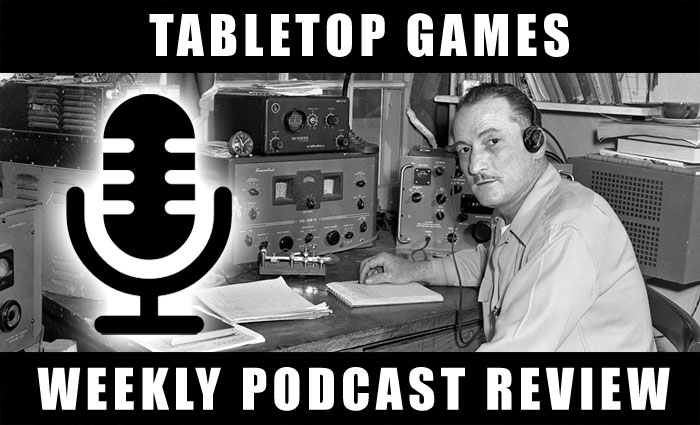 Bahkara here for this week's podcast reviews. Let's get to it!
Hey all, Bahkara here for this week's reviews!  This week we have the focus on Traitor's Hate and running event other than the competitive type. With all that, lets get on with the reviews!
Garagehammer Episode 152 – This episode Dave and Alex go over the General's Handbook for Age of Sigmar. Although a little late to the party, the duo goes over items some of the other podcasts may have just skimmed or skipped altogether. As usual, they go through each section in detail and give you their thoughts on how you can use the various modes of play and scenarios for yourself and/or your play group. If you are looking for inspiration on different ways to play , other than tournaments, then give the episode a listen and follow along with your copy of the book.
Battlehosts Episode 25 – In continuation with how to play certain types of games, this episode covers ways to organize narrative or casual events.They discuss the requirements that are needed to run the different style of events and how to keep interest in the game over time. Once again, if you are looking for something for your group to do to detox from competitive play, or just to get some ideas for your casual group, then give this a listen.
Life After the Cover Save Episode 184
– This episode brings us new segment to the show, "Miniature Theater". I was a bit disappointed with their first outing as it was basically putting a 40K skin on a
Cheech & Chong
bit. Hopefully newer segments will have more original content, unless they are going with re-skinning of classic movie scenes.
Also Out This Week.
9th Realm Episode 10 (AoS)
40K Radio Special Report 5 (40K)
Age of Darkness Episode 37 (30K)
Canhammer Episode 87 (40K)
Chain Attack S2 Episode 13 (Warmachine)
Chapter Tactics Episode 2 (40K)
Combat Phase Episode 162 (General)
Crippled System Episode 173 (Warmachine)
Crusader's Call Episode 7 (40K)
Eye of Terror Episode 24 (40K)
Fully Boosted Episode 20 (Warmachine)
Heelanhammer Episode 159 (AoS)
Hobbynight in Canada Episode 61 (General)
Imperial Truth (30K)
Long War Episode 68 (40K)
Master of the Forge Episode 66 (40K)
Mayacast Episode 100 (Infinity)
MoM Episode 280 (Warmachine)
Mortal Realms Episode 10 (AoS)
Mynock Squadron Episode 34 (X-Wing)
NOVA Squadron Episode 56 (X-Wing)
Preferred Enemy Episode 134 (40K)
Roll to Wound Episode 4 (40K)
TDHM60M Episode 49 (Warmachine)
As always, check out our blog, at TFG Radio, and give the podcast a listen. We talk 40K mainly but delve into other game systems. This week we go over our Oldhammer tournament, new chaos space marine lists, and saliva checks!
Have a different opinion? Post in the comments below or email me at [email protected] and let me know!