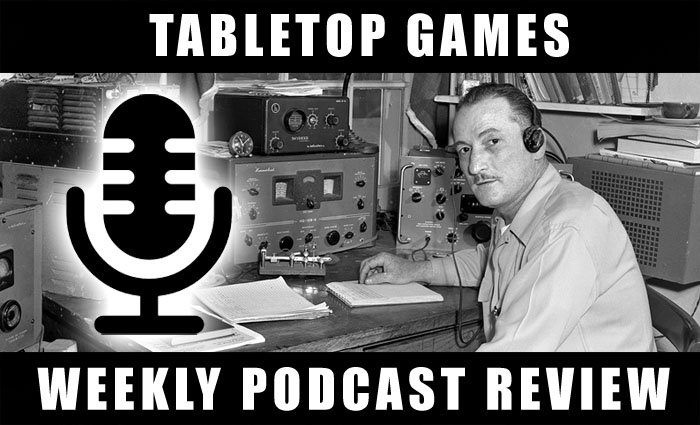 Bahkara here for another week of tabletop podcast reviews!
Hey all, Bahkara here for this week's reviews!  This week we have a lot of Traitor's Hate talk, Bolt Action and Horus Heresy. That being said, on with the show!
Independent Characters Episode 139 – Part 2 of their coverage of the latest Forgeworld book, Retribution. In this episode, they cover the remainder of the storyline and delve into the new armies and units in the book. They discuss each of the units, how they work, and possible ways of using the units in an army. Very nice episode and always a good listen. If you want to keep up with the development of the Horus Heresy through the Forgeworld books, without having to buy them, this episode is a must listen.
LRDG II Episode 8 – This episode talks about the upcoming changes to Bolt Action with it's release of 2nd edition. The guys go over the changes and how it will affect the game. if you play Bolt Action its a nice conversation to listen to in order to see the changes that are coming to the game.
Ghost Army Episode 19 – Another podcast that discusses the changes being made in the new edition of Bolt Action. More of a group talk, you get a wider view of opinions and possibilities in regards to the changes that are being made in the game. Again, if you play the game, or just think you might get into it, both podcasts should be given a listen to see what new changes are in store for the game so you won't be too surprised when you play  the game.
Also Out This Week.
4 Man Meta Episode 6 (Warmachine)
9th Realm Episode 9 (AoS)
Beerphase Episode 18 (KoW)
Canhammer Episode 85 (40K)
Chain Attack S2 Episode 12 (Warmachine)
Chapter Tactics Episode 1 (40K)
Combat Phase Episode 161 (40K)
Combosmite Episode 127 (Warmachine)
Crusader's Call Episode 6 (Warmachine)
Eye of Horus Episode 73 (30K)
Forge the Narrative Episode 160 (40K)
Fully Boosted Episode 19 (Warmachine)
Imperial Truth Episode 50 (30K)
Long War Episode 67 (40K)
Masters of the Forge Episode 65 (40K)
Mayacast Episode 99 (Infinity)
Mob Rules Episode 31 (40K)
MoM Episode 279 (Warmachine)
Mynock Squadron Episode 33 (X-Wing)
NOVA Squadron Episode 55 (X-Wing)
Overlords Episode 189 (General)
Personal Flash Paper Episode 16 (Infinity)
Scrumcast Episode 18 (Warmachine)
Storm Chamber Episode 4 (Warmachine)
TDH60M Episode 48 (Warmachine)
As always, check out our blog, at TFG Radio, and give the podcast a listen. We talk 40K mainly but delve into other game systems. This week we talk about the rumors, at the time, for Traitor's Hate!
Have a different opinion? Post in the comments below or email me at [email protected] and let me know!