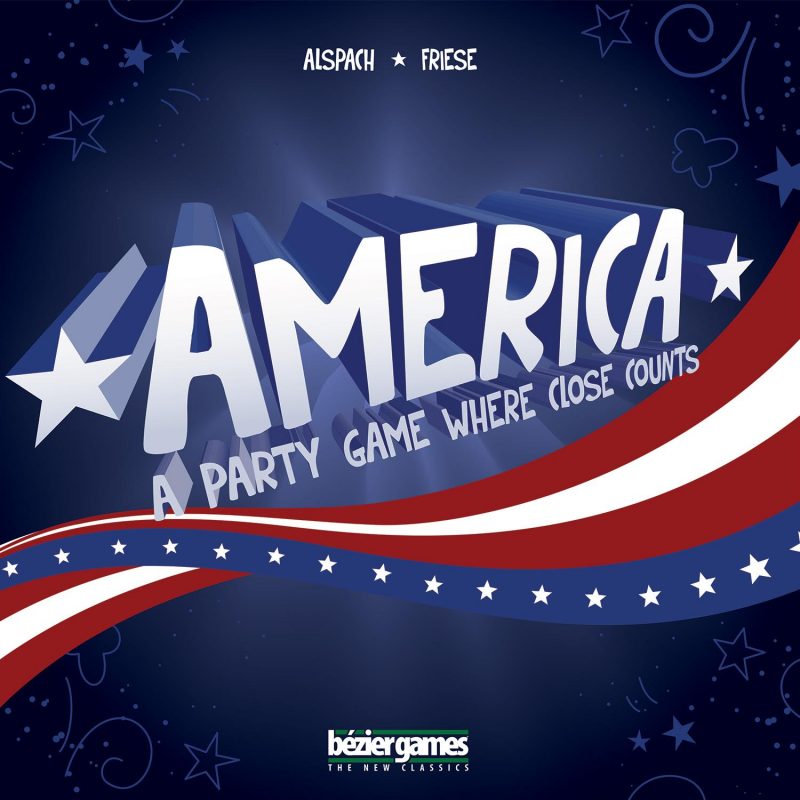 The Tabletop Spotlight is on America – A party game where close counts!
Think you know your American Trivia? Well this new party game aims to find out. Our friends at Dragon's Lair Comics & Fantasy brought this one over and it's packed full of US Trivia:
If you're like me, Trivia games can be very hit or miss. You really feel like you're cheating if it's a subject your familiar with but when it's something completely alien you just feel lost. Well, with this game, the find folks of Bezier Games have done something to shorten that gap. While this game is still a trivia game at it's core, because of the way players answer, you always have a shot at scoring some points.
The game is pretty simple – each trivia card has three types of questions – a state, a year and a number/unit of measure associated with it. Turns consist of Players taking turns placing their markers on different tracks on the board. Once a player has at least three markers down they can pass. Players can keep placing markers down even once they have 3 on the board (more on this later). Scoring works by on the correct answer – or at least close. If your marker scores you get to return it, but if you fail to score your marker goes to the time out zone. They have to sit out for a round but you always start a round with 3 markers.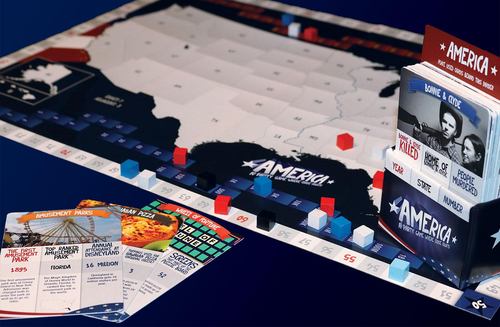 You can also bet that no one gets the answer correct. Or that no one got the exact answer, but got close. This can lead to some very interesting dynamics when it comes to "guessing" – will you follow your friends and hope they were right and you're close or will you go against the group? Points are up for grabs and you can even block those "close" options out from other players as it's only the "adjacent" areas that count. There really are some strategic ways to score (and prevent others from scoring). Plus games are pretty short and their are lots of cards which are front and back so this game has lots of replay value.
Overall, it doesn't matter if you're an expert on American History or if you're just along for the ride, this game is still a lot of fun. Plus, it's more than just history questions – the game has tons of food, pop-culture questions, and other categories to keep you interested. If you're looking for a party game that players of all types can get into then check out America – A Trivia Party Game Where Close Counts!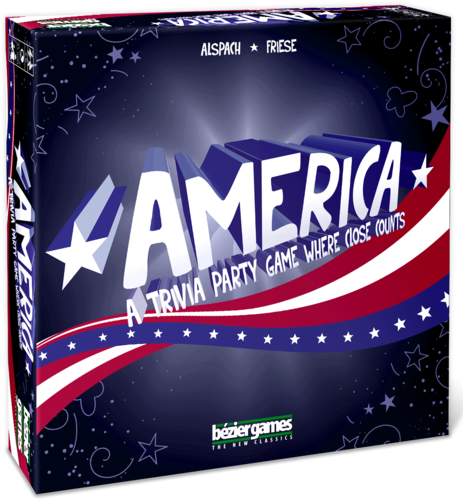 What year was Close Encounters first in theaters?
What state gets the most snow each year?
How many albums has Madonna sold?

It's likely that you don't know any of these facts. But you might have a rough idea, and that's good enough, because America is a party game where being close counts. And if you have absolutely no idea what the answer is? Take advantage of your friends who do know. And if you realize that no one (including you) seems to know what the answer is, you can bet against everyone!

In America, each player uses their knowledge of pop culture, food, products, games, sports, and the history of America to get more points than their opponents. And if your opponents know something that you don't, you can leverage their knowledge to your advantage, scoring more than them with clever play. The cards have full color clues to help you, as well as interesting factoids for every question in the game. With almost 1000 questions covering more than 300 topics, America will be a favorite for family and friends for a long time!
A trivia game where where you can earn points from your friends who know things you don't
Each oversized, full color card has three questions covering a year, a state, and a number
Categories include pop-culture, food, entertainment, sports, inventions, games, history, and geography
Enough cards for more than 50 games, never seeing the same card twice
2-6 players, Ages 13 and up
Horseshoes, Hand Grenades, and now America the trivia game!