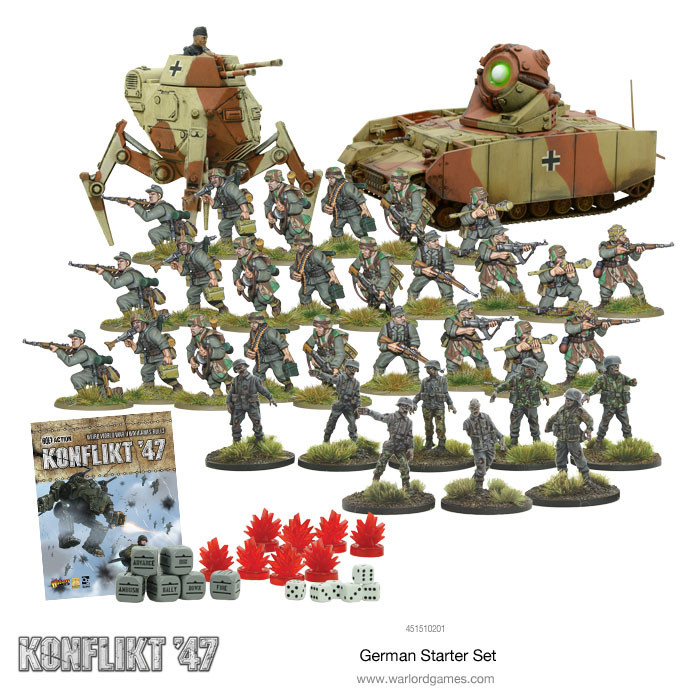 Looking to get started with the German's for Conflict '47? The come take a look inside the Starter Box!
Drake from Dragon's Lair Comics & Fantasy was super excited to get into this starter box. Konflikt '47 is picking up steam so get ready Bolt Action players – the Germans are coming and this time they have undead reinforcements inbound:
Konflikt '47 is basically Bolt Action but it takes the "Weird World War II" approach up an extra notch or two. I won't get into all the intricacies of Konflikt '47 – but if you liked Bolt Action you can think of it as optional "expansion" to the game. If you're really looking to learn more about the game I'd highly recommend checking out their website to get the full background. That said, let's talk about the stuff in this starter box!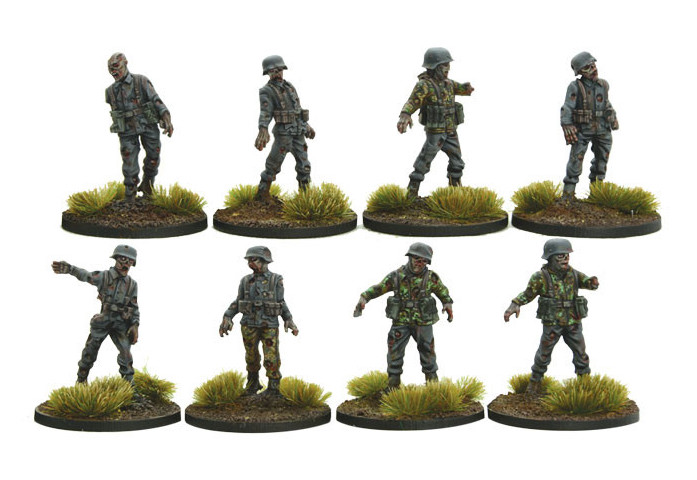 ZOMBIES! – You gotta have Zombies, right?
This box has a ton of miniatures inside – plus it has a rulebook, dice, markers, a "tape measure" – pretty much everything you need to start playing right out of the box! And because this box is geared for Konflikt '47 instead of just straight Bolt Action, you also get a couple of new, unique extras like Zombies, a "Grav-Tank" and a German "Walker" as well. It's really a great package deal.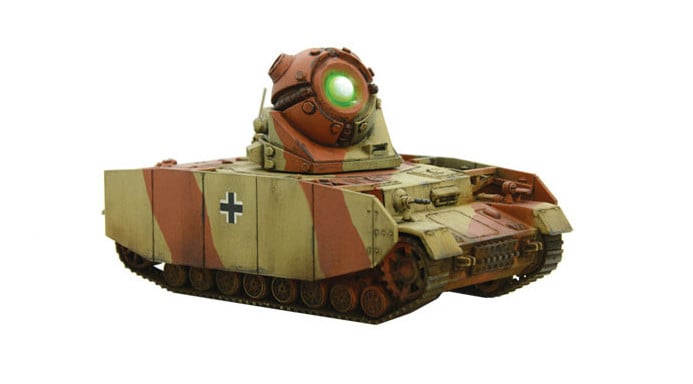 It's Science! It's Weird! It's…Weird Science!
If you're familiar with Warlord's models at all then you already know what to expect when it comes to quality. The sculpts are pretty well done and the "generic" infantry are multipose plastics. The vehicles are also made from a combination of Resin, Plastic and Metal. And if you've seen any of the previous tank kits then you know exactly what to expect as well. Warlord's kits are made from a slightly harder plastic than other kits. It's still easy to work with and holds detail pretty well – just be careful when snipping it!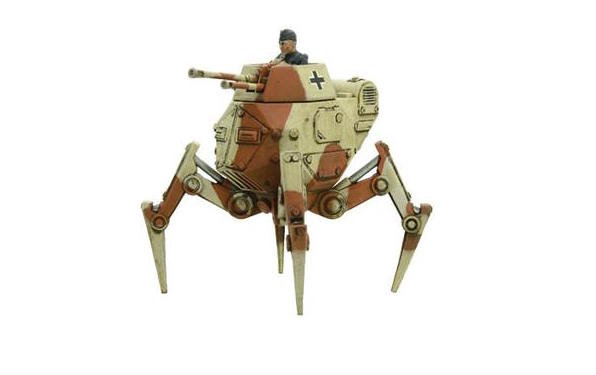 It's kind of cute…and a little creepy in a "spider-ish" way.
This set is a perfect launching point into Konflikt '47 for the Germans. If you already have a German Army then this is a great way to get some of the new units in your collection. Plus the soft back rulebook is perfect to carry with you when you got the game store. It's lightweight and condensed, but it's still got pretty much all the same info (meaning all the army info you need to create lists and the relevant rules).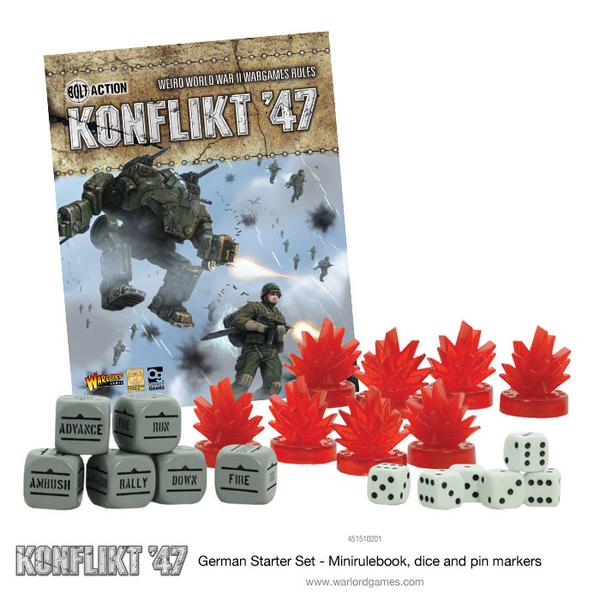 Dice and Orders. Rules and Markers. Let's Do This!
Overall, I'm not sure what else you need besides an opponent! This kit has everything for one player to jump in and start playing Konflikt '47. I'd also like to encourage Bolt Action players to give it a shot – the units in Konflikt '47 aren't innately "better" than your standard options, they are just different. The walkers, for example, aren't replacements for your tanks but they may be "better" in different situations than tanks. So if you're a Bolt Action Player and someone pulls out some Konflikt '47 units – don't panic! Give it a go and see what you think, you might just enjoy a new challenge.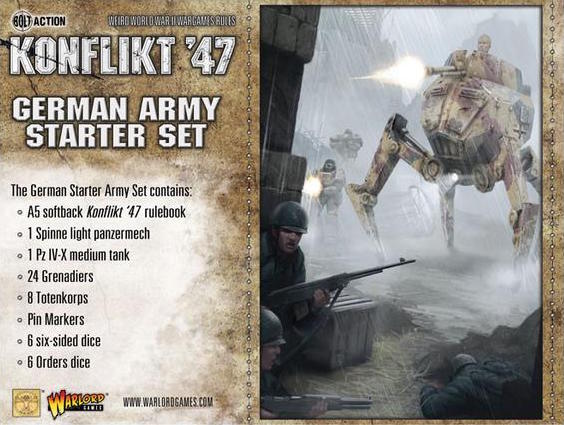 As World War II continues beyond 1945, the battling countries have become even more desperate to develop new super weapons to give them a winning advantage. Exploiting new technologies revealed from the first nuclear explosions, the Axis and Allied forces quickly develop new tanks and strange armoured walkers to become the vanguard of their armies, supported by new highly equipped or terribly twisted troops. With the Soviet Union seceding from the Allies the war now becomes a three-way conflict!

Konflikt '47 is a standalone game inspired by the hugely successful Bolt Action, designed by Clockwork Goblin Miniatures and produced by Warlord Games and Osprey Publishing. Adding to the core rules that many gamers are familiar with from Bolt Action, Konflikt '47 allows the addition of completely new types of units and models to existing 28mm Bolt Action armies and the creation of completely new forces set in the alternate future of 1947.

Konflikt '47 introduces 'Weird War' weaponry – including the stunning range of walkers and other mechanical monstrosities!
Zombies?! What's next Werewolves? Yes actually.