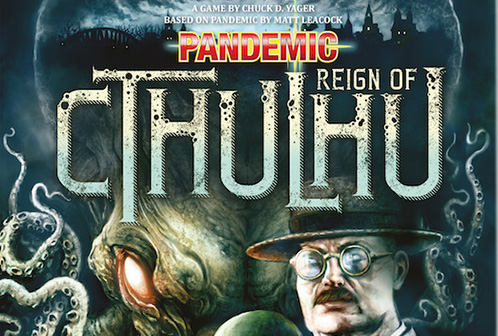 The Tabletop Spotlight is on Pandemic: Reign of Cthulhu. This is one NASTY virus…
Hey BoLS Readers! Are you a fan of playing Pandemic? I happen to be a pretty big fan of the game. Drake from Dragon's Lair Comics & Fantasy brought over a new edition for me and I gotta say, I like where this game is heading. It's Pandemic: Reign of Cthulhu!
If you're not familiar with the Pandemic franchise, here is a quick synopsis:
Four Viruses have begun to spread across the globe. It's up to you and your team to stop the spread and fine the cures to all 4 viruses before time runs out. You'll have to deal with outbreaks, logistics, and the possibility of cascading effects in this cooperative game of strategic worker placement and resource management.
Pandemic is know for it's challenging and cooperative gameplay. Because you're working together with the other players the game has many built in loss conditions and only 1 way to win – Find all 4 cures before time (aka the deck) runs out. Now, what does Cthulhu have to do with that setting? Well, I'm glad you asked!
In Pandemic: Reign of Cthulhu you have to seal 4 portals and defeat the cultists who are attempting to summon the Elder Gods. If you don't stop them before Cthulhu arrives, well…Madness. But this game is more than just a copy of Pandemic with a Cthulhu skin, it's got some cool new mechanics to keep you on your toes.
The first big thing is that your investigators can actually go crazy – there is an "insane" track that you have to keep up with. This is a massive shift from Pandemic because in the base game, the crisis team was pretty much immune to the effects of the viruses. The second big thing is that every time an Eldar God is summoned a new permanent effect takes place and none of them are good. You also have to deal with the cultists who can cause you to lose the game if you ever run out of them to place. There are other differences between the two (the board is another big difference) but I won't list them all here. I'll just say that this game does play very different from a traditional game of Pandemic, but it's not so different that veterans will feel out of place.
Z-Man Games did an great job with the components and game board – this ain't their first rodeo when it comes to materials! I would even go so far as to say that the miniatures they added to this set are leaps and bounds ahead of the blocks they used for the original Pandemic. It's a welcome improvement for sure. Also, all the other materials have that Lovecraftian vibe to them – it's all just slightly creepy if you look at it and start to notice all the subtleties the artist included. It's good work.
Overall, the game play is an appealing new twist on a tried-and-true classic and the components really tie everything together nicely. If you're looking to "get out of the lab" and start striking out at the abyss then you should definitely check out Pandemic: Reign of Cthulhu – in stores (and online) now!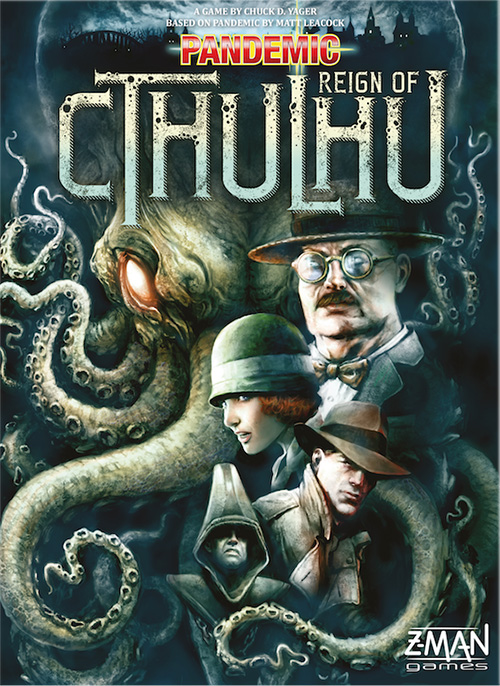 Beings of ancient evil, known as Old Ones, are threatening to break out of their cosmic prison and awake into the world. Everything you know and love could be destroyed by chaos and madness. Can you and your fellow investigators manage to find and seal every portal in time? Hurry before you lose yourself to insanity.
Lovecraft meets Pandemic? Sign me up!