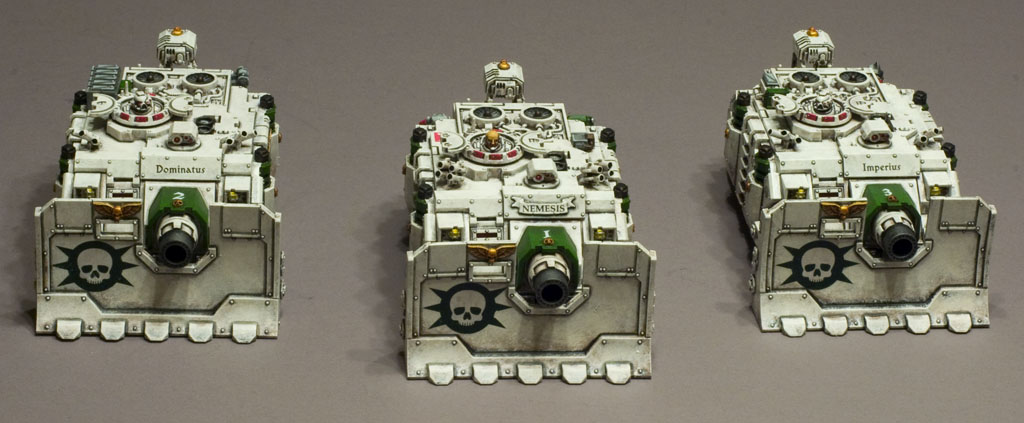 Today we tear apart the Chaos Marine Fist of the Gods formation and see if does the Ruinous Powers proud.
Howdy Heretics! Dean from Blog for The Blood God here with another installment of my weekly review / Tactical article series for the formations found in the new Traitors Hate Chaos Space Marine Suppliment!
If you have any ideas / tactics you wish to contribute / discuss head over to my Facebook Page and shoot me a message! Without further adue lets get into the second installment!
FIST OF THE GODS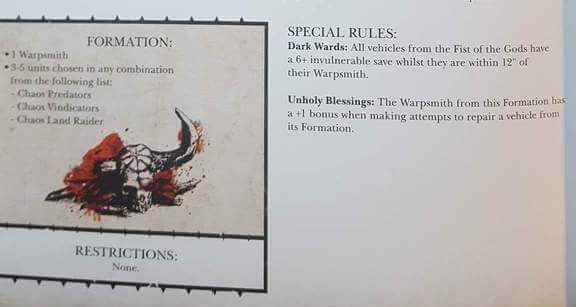 Units:
1 Warpsmith
3-5 units in any combination from below:
Land Raider
Predator Squadron
Vindicator Squadron
YES YOU READ THAT CORRECTLY, chaos space marines now have vehicle squadrons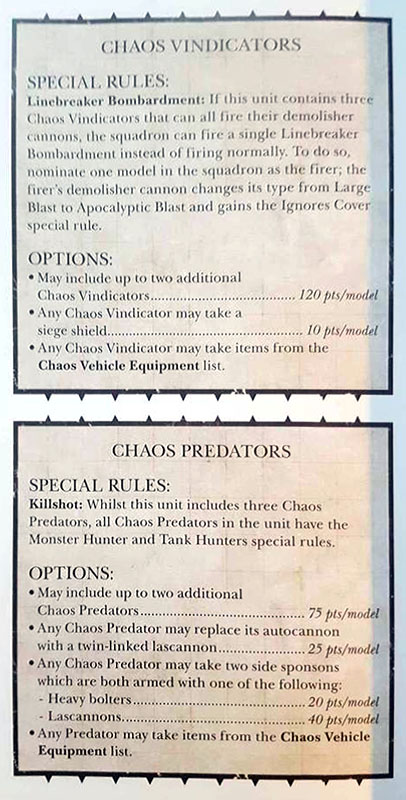 Rules:
This formation grants the following special rules:
Dark Wards – all vehicles in the formation that are within 12″ of the Warpsmith gain a 6+ invulnerable save
Unholy blessings – the warpsmith gets a +1 to his roll when repairing vehicles in this formation
The new Chaos Squadrons also add the following special rules:
Linebreaker Bombardment – if all 3 vindecators are able to fire they can combine thier shots into one apocalyptic cover ignoring disk of death!
Killshot – if the unit contains 3 predators they all gain tank and monster Hunter, so +1 strength to all weapons when firing at vehicles and re-roll to wound against monsterous creatures

Loadouts:
First lets discuss the units, what to take and how to equip them. Being vehicles there are not a great deal of options, particularly on the Land Raider and the Vindicator. On a Vindicator I ALWAYS take Daemonic Possesion, being able to ignore those shaken and stunned results is huge.
The main unit that has loadout options is the Predator. It's a versatile unit so take a look at your force and see what is missing. Use the Predator to plug the gaps. My personal favorite is Autocannon turret and Lascannon sponsons, a unit of 3 predators armed this way can reliably dish out enough Hull points to wreck most non super-heavy vehicles and will drop almost all Monsterous creatures in 1 round of shooting.
Thoughts:
So is this formation good? Yup!
I think this formation was intended as an add-on to a Black Crusade detachment, that being said it can be taken independently or allied with another detachment from another faction! The possibilities are endless, some standouts for me are:
– Combining this formation with the Maelstrom of Gore. This gives the Berzerkers access to Land Raiders which significantly increases their potential to make it to combat. Use the Berzerker's Rhinos as blockers to give cover to the Land Raiders and also support with dirge casters etc
– Adding some armoured firepower and transports to a Chaos Daemons army. This definitely plugs a major hole in most Chaos Daemons Armies and also lets you make almost Daemonkin armies for the other 3 gods. Get your Daemonettes in a Land Raider and all of a sudden they are not being eaten by bolter fire before making it to combat! Just remember the new FAQ forbids deploying inside allied transport vehicles. You can still jump in turn 1 tho 🙂
– Speaking of Daemonkin this formation is also a great way to add some ranged firepower to a Khorne Daemonkin army. While the units killed by this formation will not generate blood tithe it still helps solve the issue of no ranged support. You can always use Predators to soften enemy units then charge them with your Daemonkin scoring you blood tithe points 🙂
And finally, the option of taking it as a stand alone formation, or even taking multiple Fists of the Gods! Picture an army that is entirely comprised of Predators and Vindicators, put them side by side to create a wall of AV13 Firepower! Iron Warriors eat your heart out!  The downside to taking it as a stand alone formation is you have a Warpsmith on his own making him an easy target which will remove the formation bonus when he is killed.

Weaknesses:
This formation, as with all formations has some glaring weaknesses. If taken in squadrons vehicles are very vulnerable to combat. I have seen a single Bloodthirster destroy 3 Leman Russ tanks in a single charge so many times. You also potentially lose some firepower due to over-killing your target, since all vehicles in a squad must target the same unit.
I like to think of this formation as an answer to your list's existing weakness.
Conclusion:
~So what are your thoughts on this formation? Have I missed any fantastic uses? How would you equip them an what tactics would you use? Chuck some comments below or join the conversation on Facebook. Lets show the false emperor's lackies what the power of chaos can do!