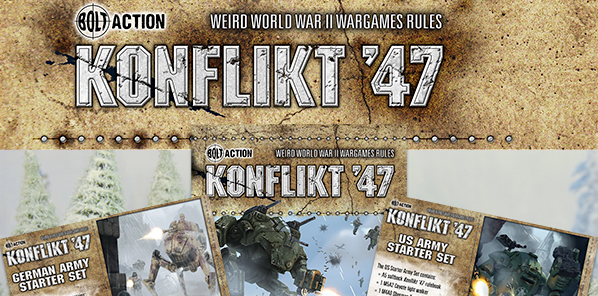 Jump in to the Konflikt now!
Konflikt '47 allows you to field your Bolt Action forces in a 1947 weird WWII setting.
As World War II continues beyond 1945, the battling countries have become even more desperate to develop new super weapons to give them a winning advantage. Exploiting new technologies revealed from the first nuclear explosions, the Axis and Allied forces quickly develop new tanks and strange armoured walkers to become the vanguard of their armies, supported by new highly equipped or terribly twisted troops. With the Soviet Union seceding from the Allies the war now becomes a three-way conflict!
Are you ready to play Konflikt '47? Download the handy Playsheet…
To learn more about Konflikt '47 check out this article from the lead writer then head over to the Warlord webstore, and gather reinforcements!