Marvel's Multiverse-Hopping Hero– Who is Miss America Chavez?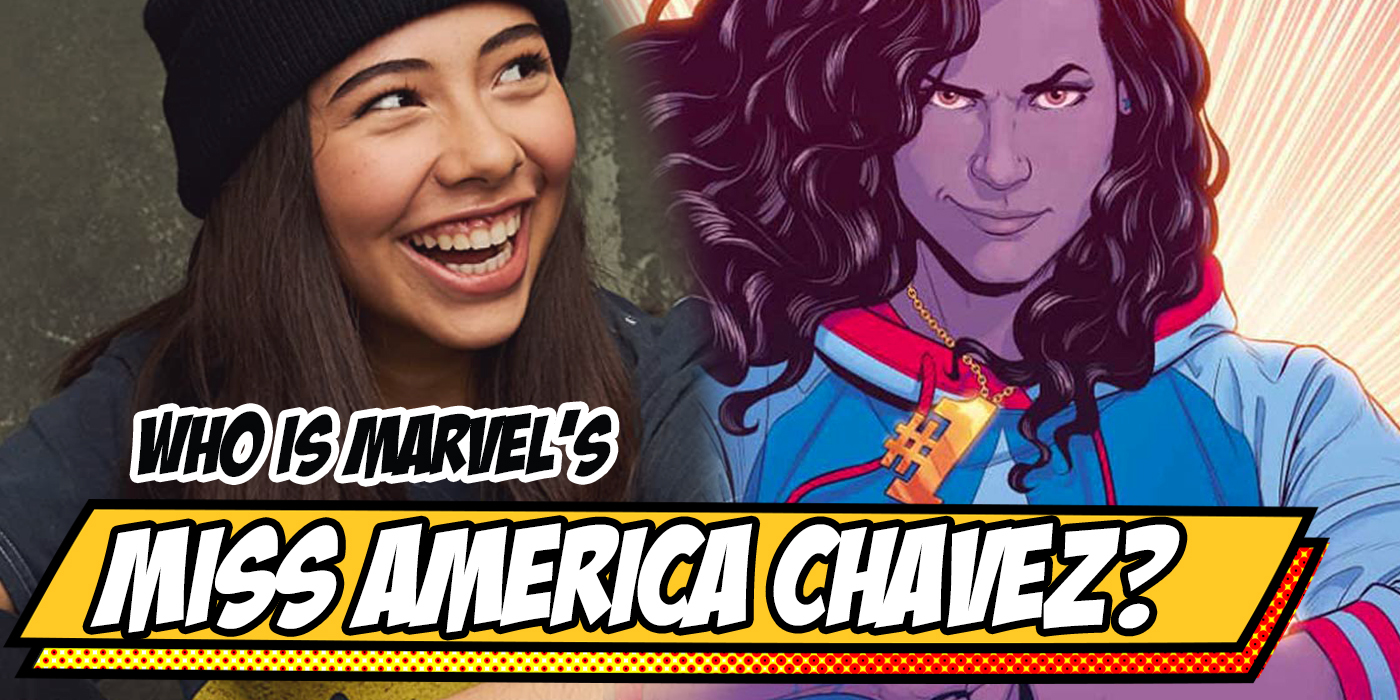 Marvel's Miss America Chavez will be punching her way into our universe very soon. But who is this dimension-jumping, all-American hero?
If you're into Marvel's multiverse, then you may already know about the star-studded inter-dimensional traveler Miss America Chavez. The fan-beloved character has all kinds of stellar superhuman abilities. Plus she can hop between universes. She's got strength and style, and she's coming to the big screen later this year.
Creators: Joe Casey, Nick Dragotta
First Appearance: Vengeance #1 (2011)
Powers & Abilities
America has a lot of the staple star-spangled hero powers. She's got flight, superhuman strength, slowed aging, invulnerability, and super-speed. One of her signature moves is the power-stomp. That's when she concentrates all of her energy into her foot before striking. She can also focus her energy for other purposes, too.
She's also a multi-dimensional traveler. America can create a star-shaped portal that allows her to travel through dimensions and time. This ability also gives her a kind of cosmic awareness and a greater understanding of metaphysical concepts.
Who is Marvel's America Chavez?
In the comics, America was born in a utopian parallel aptly titled Utopian Parallel. When her world was threatened, America's moms sacrificed themselves so their home would survive. 
A 6-year-old America used her multi-dimensional travel powers to find a new home. On Earth-616, she was discovered by a family in New York named the Santanas.
Growing up, America wanted to pay homage to her mothers' sacrifice by becoming a hero herself. Though her adopted parents objected, she joined up with some super teams as a teenager.
Miss America & The Young Avengers
America's breakout appearance was on the Marvel next-generation hero team the Young Avengers. Alongside characters like Kid Loki and Kate Bishop, America solidified her place in the Marvel universe.
Since Young Avengers, America has fought in several memorable Marvel events and lineups. She's kicked ass with the all-female Avengers team A-Force, the Ultimates, and the West Coast Avengers. 
Most recently, her history was retconned. Her forgotten sister targeted America's adopted family to get her attention. She then revealed America's true past. Comics, amirite?
Subscribe to our newsletter!
Get Tabletop, RPG & Pop Culture news delivered directly to your inbox.
America was told that the Utopian Parallel was a coverup for an experimental program. It's still unclear whether or not this is the truth. But some readers suspect this could be related to the character's upcoming appearance in the MCU.
The MCU's America Chavez
MCU fans have seen all the signs that Marvel is working its way to a Young Avengers team. Wanda Maximoff is searching the Darkhold for her sons Wiccan and Speed. Hawkeye is setting up the passing of the bow to Kate Bishop. And we've already met Kid Loki, too.
Miss America Chavez has been confirmed for Doctor Strange in the Multiverse of Madness. Teenage actress Xochitl Gomez will suit up in stars to help the famous sorcerer navigate the multiverse.
There are 'No Way Home' spoilers in the paragraph after this tweet!
In the No Way Home post-credits scene, the teaser trailer for Multiverse of Madness showed Stephen running through some different dimensions. With him are the Sorcerer Supreme Wong, the Scarlet Witch, and a jean-jacket wearing Miss America Chavez.
Want More America?
Want to brush up on your American history before Madness? This Twitter thread has the perfect reading order for new fans.
Because I didn't find one already on twitter, how about we get this thing starter with an America Chavez Reading Guide?

✧・゚THREAD ・゚✧ pic.twitter.com/Rh0Rp9oZos

— Let's Talk America Chavez ✨ (@LetsTalkMAC) October 30, 2018′
Catch America Chavez in the MCU on May 6th in 'Doctor Strange in the Multiverse of Madness'!