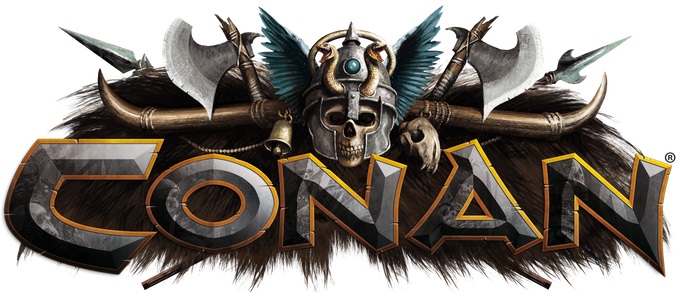 Come check out Conan – the new board game of Epic Adventure!
Monolith Board Games has a new take on the classic Hyborian Adventure of Conan. Do you want to live forever!?
After a massively successful Kickstarter Campaign Conan is finally out! This is a really impressive board game and looks like a ton of fun to play. I'm a huge fan of Arnold's take on Conan and this game had some big shoes to fill in my mind. And this game did not disappoint!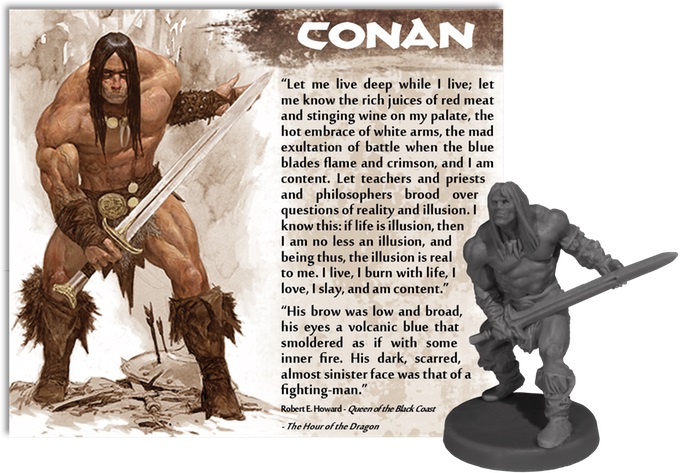 This is a pretty expansive adventure board game. In terms of scale I'd put it up there with Imperial Assault or Decent – lots of quests and "stuff" to do! The miniatures are pretty impressive as far as board game miniatures go. They have tons of detail and look fantastic – the snake was probably my favorite model of the bunch.
I wasn't a Kick Starter backer, but man, I wish I was now. This game had some really fantastic add-ons that I hope we get to see in stores along with this board game. The Core game is really fun so I'll just have to make due for now. It's a rough job but someone has to do it.
Mechanically it's a pretty intuitive system. You start with a pool of "energy/stamina/mana" that you can use to spend on dice rolls/abilities. You roll the appropriate colored dice and then you go apply the results vs whatever your challenge was. Combat is particularly fast and brutal. The blue crystals then cycle back during what is basically the refresh step – if you take damage you lose some other wise you can put them back in your pool for use the following turn. It's a neat little resource management tool and I really want to explore it further in gameplay.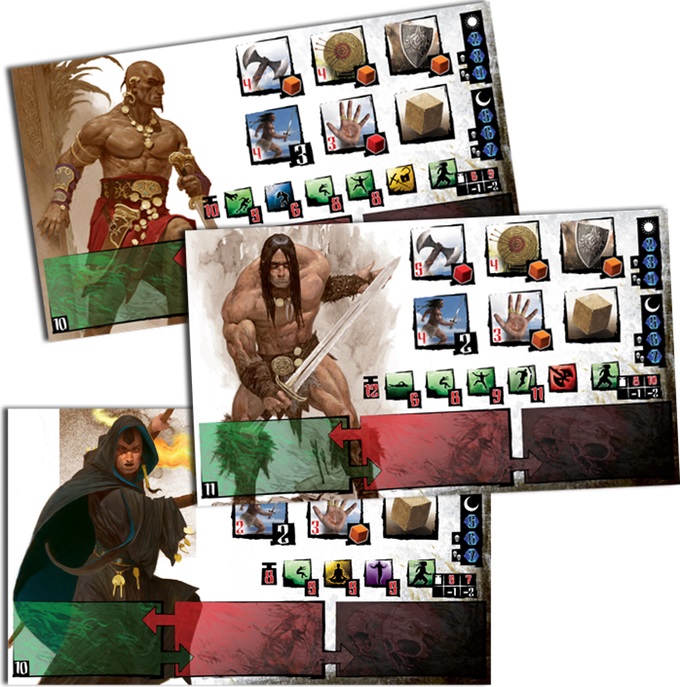 Each character has their own card and you're going to want to refer to them quite a bit as you butcher their names – Sorry about that folks, I'm not Cimmerian and I'm unfamiliar with the nomenclature. But the cards themselves are SUPER handy. They are simple to read and you use them to keep track of your blue "action" crystals.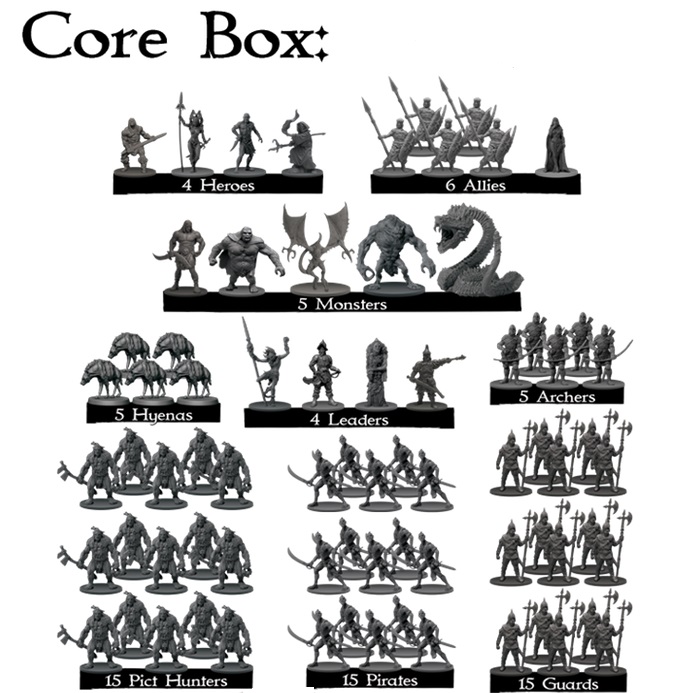 The actual game boards themselves are also really cool looking. They are classical foldout boards and are super sturdy. I could see getting a lot of play time with them in other games like D&D or Pathfinder. They really add some nice atmosphere to the game and it comes with two doublesided boards for MORE adventuring fun.
I'm not going to get into the full campaign or spoil any of that but I will say it definitely feels like a Conan style adventure. If you're a fan of the movie or of Robert E. Howard's writing then you're going to enjoy the campaign for sure.
Overall, if you've got a Gaming Group of 2-5 players are are looking for a fun action/adventure style board game then go grab Conan!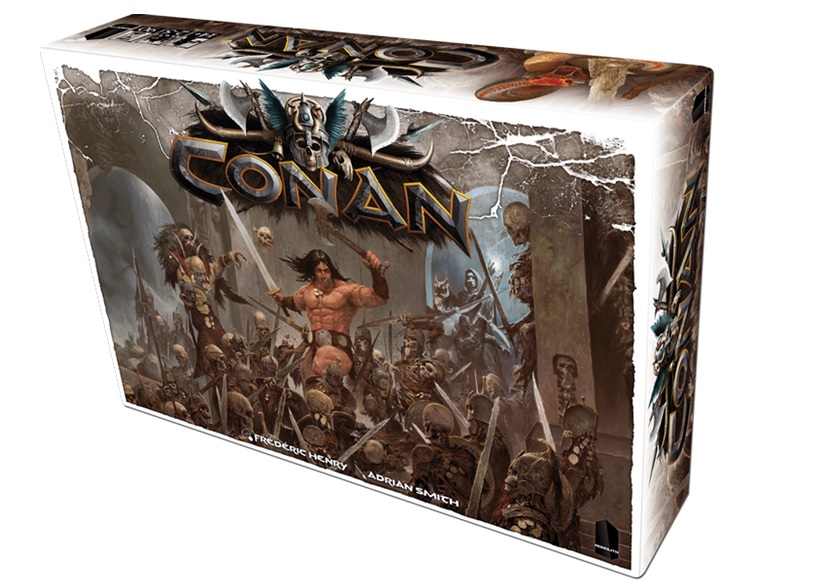 Conan is a miniature-based board game that pits one player, the overlord, who controls hordes of savage tribesmen, no-good lowlifes and undead minions against 1 to 4 players who incarnate the legendary Conan and his fellow adventurers. The gameplay is asymetric, as the overlord possesses a large selection of models and objectives which are his own, whereas the brave heroes are played from a first person perspective, much like in a role playing game. An adventure can be played out in 1 hour on one of the beautiful game boards as you pit your wits, daring and tactical acumen against your opponent
What is best in life? Ask Conan!