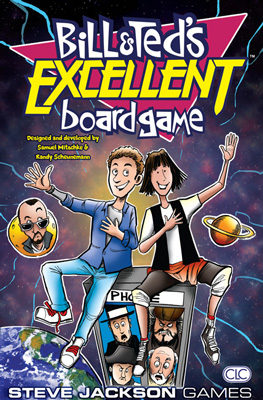 The Tabletop Spotlight is on Bill & Ted's Excellent boardgame – PARTY ON, DUDES!
Hey BoLS Readers! Are you a fan of the Cult Classic Bill & Ted's Excellent Adventure? Want to relieve all the zany antics of those two radical dudes? Well our friends at Dragon's Lair Comics & Fantasy brought over a totally awesome new game you should check out:
So I really love this movie. It's not because it's "classic cinema" or anything like that – it's just that I was at the right age for it to really be entertaining. The 80's was a strange time! The cool part about this game is that it basically follows the entire plot of the movie from start to finish. In fact, if you take the deck that comes with the game and simply flip through it in order you're pretty much going to get to re-watch the movie. The Nostalgia trip is strong with this one.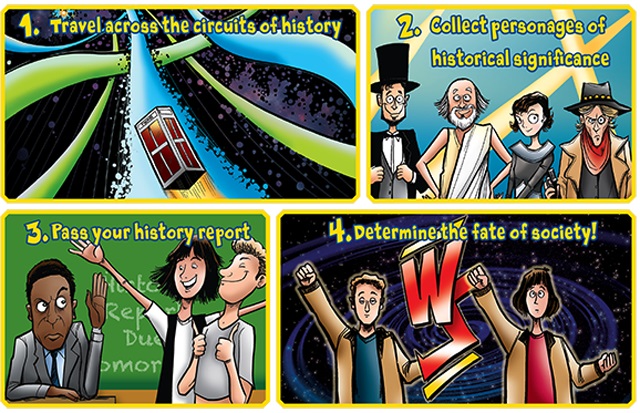 You're job is to collect as many historical figures as you can while traveling through the time with your Time Traveling Phone booth. The game play is actually extremely simple but the complexity comes in the "programing" of the path of your booth. Each card has a turn and/or move and you must plan out your moves using those cards. If you happen to fly off the board (and you will) don't worry – space-time wraps around so you just move to the other side.
And just in case you were thinking "oh that doesn't sound too bad" well, it gets more complicated because each "famous dude" you pick-up also has a move and/or turn on the back of their token. That means the more passengers you have, the more complicated your turns get. Oh and one last thing – don't forget the bad dudes after you either! They can cause you problems and send you on a bogus journey.
Over-all this game has that fun comic-book "Steve Jackson" art style and bright and punchy colors – it's very late 80's early 90's! If you loved Bill & Ted then I would highly recommend this game just for the nostagia factor. But even if you're not it's actually a really fun "logic puzzle" type of game that will stretch that programing/logic part of your brain. Bill & Ted's Excellent Boardgame is in store now!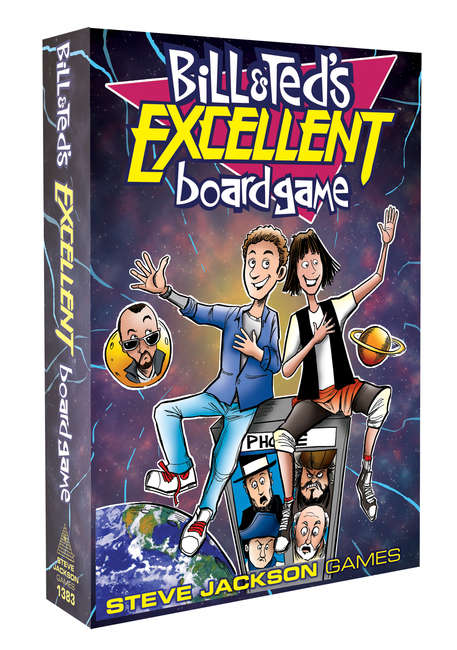 Travel across the circuits of history with up to four players, collecting personages of historical significance in order to pass tomorrow's oral report. But beware! Every time you snatch someone, the phone booth breaks most non-triumphantly, and your adventure through time will take a most serious turn!

Be excellent to each other . . . and PARTY ON, DUDES!
"Be Excellent to Each Other!"