Pimpcron has a fake argument with his son about his hobbies.
Just like the rising sun, every morning the Pimpcron comes out of his house, and his future's so bright people have to wear shades. And just like the moon, Pimpcron writes a blog article every week about 40k. I think I lost the analogy somewhere. Oh well.
Okay, normally I enjoy writing silly articles, and try to pass them off as serious and inevitably a couple people miss the point. But with this one, I just want to preface it with this statement:
+++This premise is a joke, be sure to read the entire article before sending me poop in the mail.+++
But for those of you who still want to, here's my address. [posts Larry's address]
My Son And I Love 40k (or else!)
So my son and I have been having a bunch of arguments lately and he is driving me up the wall. He's at that age where he thinks he knows better than me and doesn't realize I have so many years on him. I know best, and he shouldn't question it. Kids, am I right?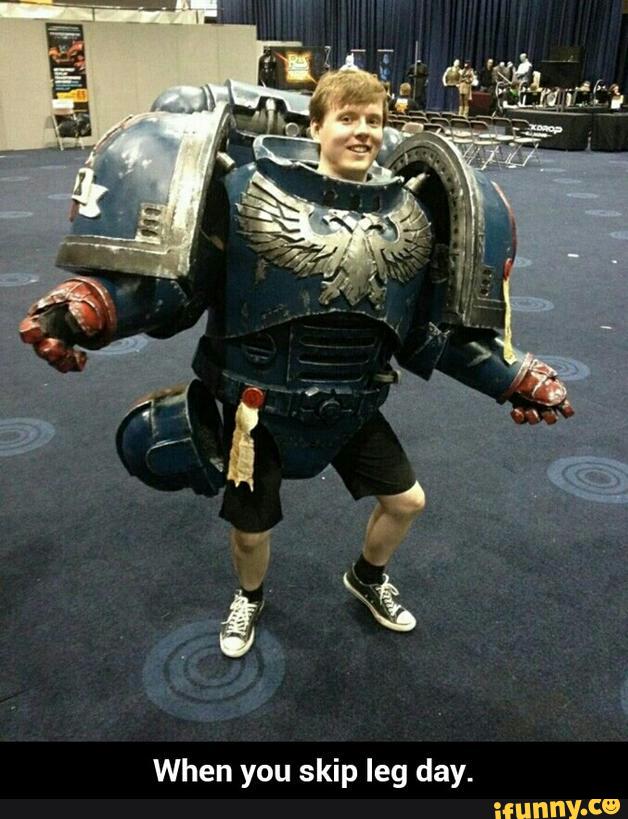 This is how they should model space marines.
For instance, he thinks he likes baseball. He doesn't like baseball at all; it's boring. We will be sitting down for dinner and he will start spouting off some facts about Bryce Harper and some stupid batting average. AT DINNER. I'm like, "Hey give that sports talk a break son. I won't have that kind of talk at my dinner table. So anyway wife, I shot those Thunderfire Cannon's 3 TIMES at that …" And we continued the evening with pleasant talk about 40k.
A day later he was drawing a picture of a person holding a stick next to someone else. He was in the middle of coloring it when I walked up, "Oh hey male offspring, I really like that Empire guy with a halberd. You really nailed it! But just so you know, they didn't have hats with brims like that in the fluff." That's when he told me it was a baseball player holding a bat, not a Free Guild guy. I explained to him that we are a family of nerds and sports-playing is frowned on. "Do you really want to be a dumb jock? Of course not, now go outside a practice priming those models I bought you." I think I finally got to him. Maybe all of this baseball nonsense was finally out of his system. But just to be sure, I went through the house and covered up all of the references to sports-playing.
Our box of Wheaties doesn't have a gymnast anymore, now it sports a wizard casting a spell on Wheaties. (Thanks to the magic of Sharpie.)
My wife's hoop earrings looked suspiciously like Olympic rings, so I bent them to be Sigmar Comets.
I gave our baseball bat a hilt out of string and a stick.
I wrote "Powerfist" on the baseball glove and drew a crude two-headed eagle.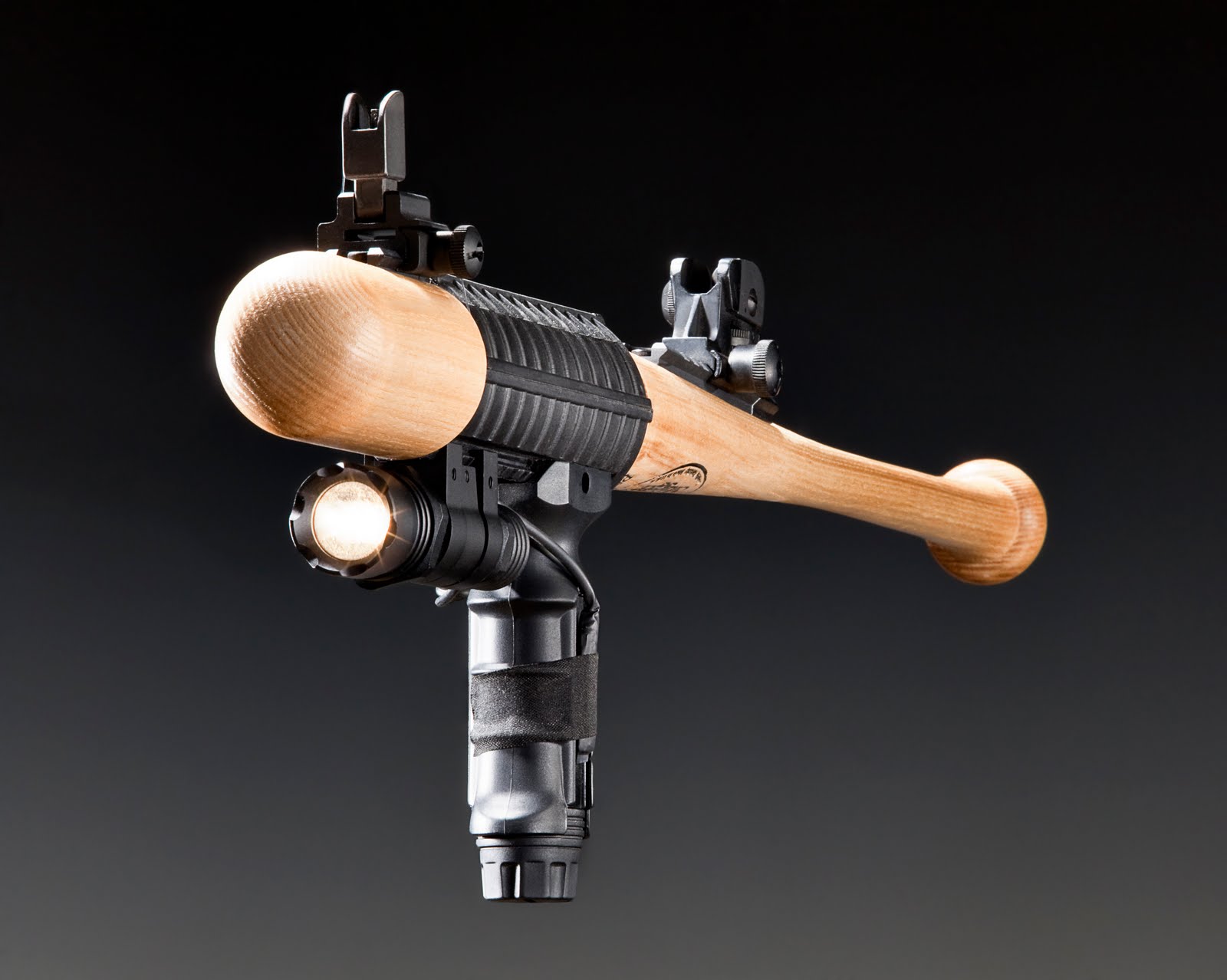 I'd settle for this tactical variant as well.
I threw our our sports games for Xbox and put a copy of Space Marine in each case.
I tossed the entire "S" book of our Encyclopedia because there were too many sports references to tear them out individually.
I also set our parental filter to filter out anything ESPN related.
Now with all of those distractions gone, he can focus on his real passion: wargaming and hobbying. But as a side note to other parents, do your children sob the entire time they paint? Seems kind of odd to me, but kids are weird.
That night I walk into his room to check on him after bedtime, and what I found really upset me. He had snuck a Baseball Hall of Fame book into his room and fell asleep reading it. So my question to you guys is: do you think baseball is Satanic? Ya know, like D&D? Whatever it is, it has a serious strangle hold on my son. We have an appointment with an exorcist next Wednesday.
Okay, Now Serious Talk
So if my preface, the subtitle on the post, or my ridiculous examples weren't enough for you, I'll spell it out. All of the above was a joke. But it does bring up a concern that I have as a parent. Is baseball evil? No, kidding.
As a parent, I want them to discover and enjoy what they want to like. I know that we tend to like things we are exposed to and I am very careful not to push any of them in a direction just because I love it. My dad has always been a serious, hard working person and never really understood why I was always drawing, writing, and playing games. It's just not in his blood. My brother and father are closer and that is in large part because they enjoy the same hobbies. I certainly don't want our different interests to separate me from my children and fully plan on dabbling in whatever hobby they get into, just to have something to do with them. If one of my daughters becomes a gymnast, watch out world! Here comes my lame ass trying it out too!
"He's gonna what?!"
On the other hand, I don't want to force myself into their hobbies either because it's important for them to have time away from their parents and discover themselves on their own as they get older. I'll try for a happy medium. But I am excited about wearing spandex.
Luckily for me, they seem to at least have a passing interest in the hobby and have painted a bunch of my spare models. My children always ask me to leave out the terrain when I'm done playing a wargame with a friend and they play with their toys on it and roll dice. For my son's 7th birthday this year, he asked to come to my 40k club with me! So I took him, got dinner and went to the club. We played a small game of Nids vs Chaos Marines off to the side and he got to meet my friends. A picture of him playing is the wallpaper on my phone and it is one of my favorite memories with him.
I guess what I'm saying is, I am excited that they show an interest, but that is somewhat expected since they are exposed to it. My goal in the coming years is to support them in whatever they choose to do. I would be thrilled if at least one of them want to share this hobby with me, but if not, that's okay too. Too many of us had the guilt of doing things that were frowned upon by our parents because they didn't "get" it.
Do any of you have kids that play with you? Have you had these concerns too?