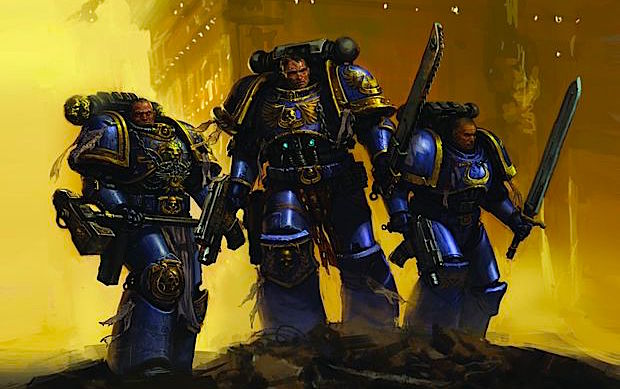 Strike Force Ultima has a deadly new formation inside the box – come take a look at the brutal new possibilities!
The Space Marines are getting an excellent new Box Set in the Form of Strike Force Ultima. We had a feeling that it would contain a new formation but now that has been confirmed – and it's a really good one too!
via Scanner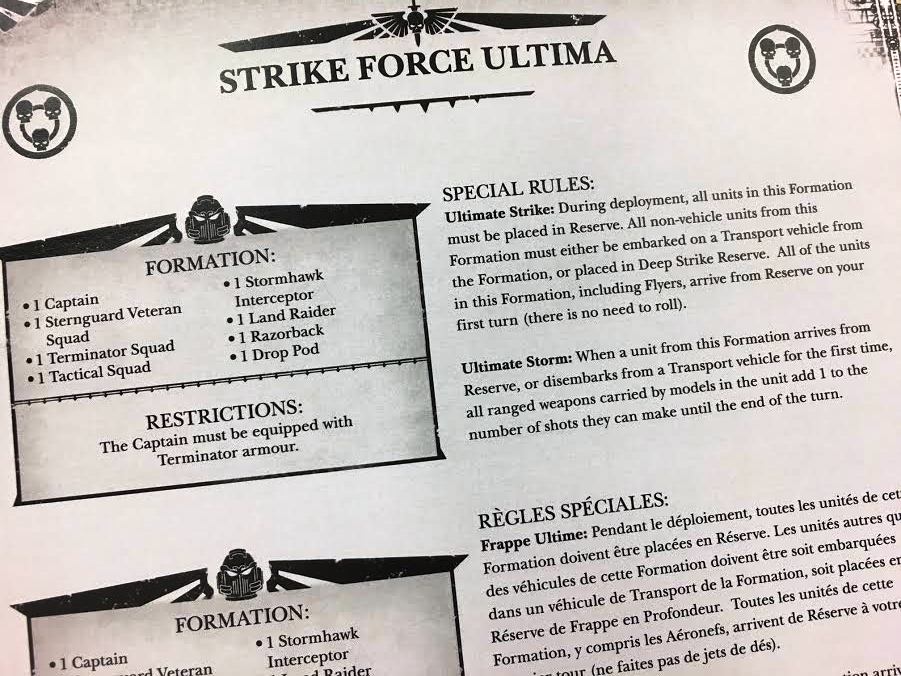 The big thing here is that all the units must come from Reserve. All non-vehicle units must be embarked or be placed in Deep Strike Reserve. That's a lot of points to be put in Reserve – the plus side is that everything gets to come in First Turn automatically. Oh and when they DO come in, they bring extra shots to the party!
The Drop Pod Stermguard all having an extra shot is pretty nice and it's got some obvious implications. I'm curious on how that 1 extra shot stacks up with Combi-Weapon's one use only rule… Aside from that fun rules debate, Terminators with an extra Stormbolter round (or Assault Cannon/Heavy Flamer/Cyclone Missile Launcher shot) could be pretty effective depending on the target unit.
But keep in mind that 1 shot applies to "all ranged weapons carried by models" and by that logic the Land Raider could come in with it's Twin-linked Lascannon's blazing away. 4 Shots, twin-linked? Uh, yes please. Same with the Razor back (depending on how you load it up). Sure it only applies until the end of the round, but I'll take bonus shots where I can get them.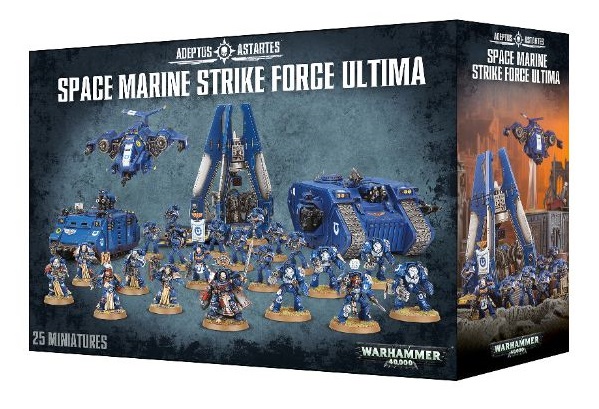 Capable of delivering a fatal blow to virtually any threat the enemy can field, Strike Force Ultima is a shining example of Space Marines' speed and power. Sternguard Veterans and Tactical Marines slam into battle via their Drop Pod and Razorback, combine their firepower to deliver a blistering cascade of bolter rounds, while the Land Raider carries a Terminator Captain and his honour guard to war. Should the foe attempt aerial supremacy, an imperious command from the Captain sends his Stormhawk Interceptor swooping in to clear the skies and make sure whichever alien sun they orbit shines brightly upon the Emperor's finest.
You can see the price breakdown below if you needed one more reason to pick-up this Box deal:
Land Raider – $74.25
Drop Pod – $37.25
Stormhawk – $55
Razorback – $41.25
Sternguard Squad – $50
Terminator Squad – $50
Tactical Squad – $40
Terminator Captain – $30?
Retail Total: $377.75

Discount: 33.8%

Frappe Ultime? That sounds like a new drink at Star Bucks…