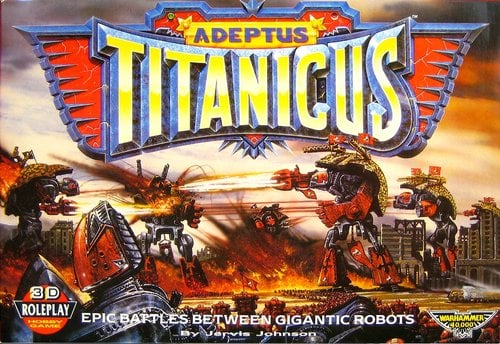 Here's the latest roundup from this weekend's European Open Day on how GW's Adeptus Titanicus is coming along: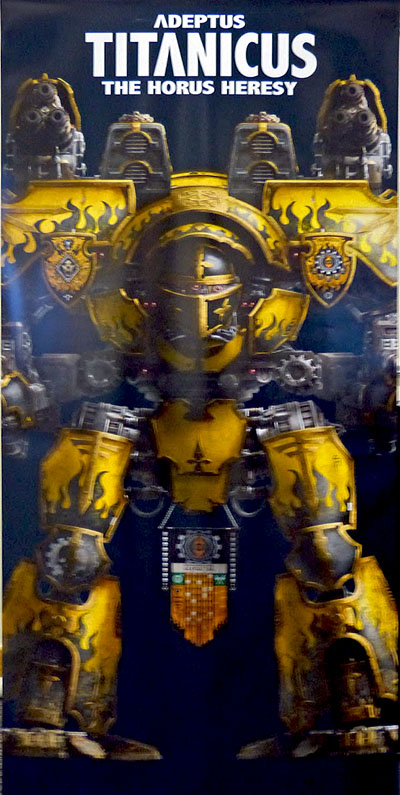 Here's the latest set of new, which builds heavily off the information that came out of the earlier Forge World Open Day in July. With this type of information, the key is to look at both sets of information and look for the consistent pieces of data, and don't worry about the minor differences.
European Open Day News
via Bolter & Chainsword 10-4-2016
The Warlord and Questoris Knight are done, Reaver is currently sculpted, the large Knight was already 3D printed and he looks huge (larger than a terminator). Cerastus Knights will be done after the Reaver is finished.
The Warlord is sized between the 28mm Questoris Knight and Leviathan. Actually, it's pretty much Thanatar sized, and also has the same amount of parts.
The "starter box" will contain the rules, plastic scenary, plastic markers, special dice. No models in it – but there will be bundles on the FW site.
They will do all the models in resin – maybe, maaaybe one day if it sells very well they can get green light for a full plastic starter box. But not any time soon.
They will do the old EPIC slaaneshi titans/knights – but loyalist versions of them. The subjugator is a "lighter class" titan now, the smaller ones will still be knights afaik. They will get done in 8mm scale first, and later (hopefully) for 30k too.
Stuff that already had CAD files can be scaled down, but the other way isn't that easy. So don't expect 8mm stuff beeing released in 28mm soon afterwords, as you can't just upscale it.
The game itself will be very tactical. It's based around a maniple of 5 titans and knights support. You will have large cards for each of your titans, and marker for void shields, damage, energy etc.
There will be 3 modes to play similiar to AoS – open play where you can test the waters, matched play with points etc, and narrative mode based on scenarios.
Machine Spirit traits are in and important.
Legion traits will be in. *Maybe* we will even get teleporting Warp Runners
You can do an all Warhound army and play against lets say 5 Warlords – the site with the smaller titans will get battle traits to make these games fair.
The first Black Book will be based upon the "Titansdeath". It's a huuuuge conflict whichs outcame enabled Horus to strike at Terra. Legio Mortis, Firebrands, Warp Runners, Maybe Legio Tempestus and a intro chapter about the first battle for Mars.
More black books are planned – similiar to the "normal" HH series, but with AT rules and specific to these really large battles.
ETA is roughly "first half of 2017".

Adeptus Titanicus (1988)
Previous News
via Dakka' Zedmeister 7-17-2016
And now, Adeptus Titancius. As mentioned above, the original play test box is quite the relic and was worth a look.
– They're digging into all previous Epic games for inspiration, but it will be a new rule set.
– Expect Titans to have a plasma reactor power tracker to keep track of how much power they have.
– They'll be able to overload the reactor to boost power with a risk (Overload voids, increase speed, etc)
– Harpoons will be back but nowhere near as ridiculous as they used to be!
– Expect 2nd edition Epic orders and damage charts
– Expect 1st edition campaign and upgrade rules
– Engine war will be a bit of a slugfest, with Titans slowly blasting each other to Atoms, staggering about, weapons missing, systems burnt out, but still able to fight until you smash the legs, pulverise the MIU's or cause the reactor to go nuclear.
– Manourberability is key – the heavier the Titan, the slower they are. He described a play test where his final warlord was scragged when an enemy warhound got behind it and he didn't have enough power to overload the reactor to take more turns than they can
– Knights are objective grabbers and shield droppers, don't expect them to go toe to toe with Titans and survive
– Campaign games are the default mode of play, similar to Necromunda as he described it. With options for competitive and open play.
– Machine spirit personality will play a role. This sounded really exciting. Titans will pick up a personality the more used they are. So you could end up wth a Titan geared for close combat and have it turn into a bit of berserker which will have an effect of it becoming less controllable in battle. 'Resting' the Titan becomes an important choice to make. Yes, your Titan could end up with PTSD or worse…
– They're starting out with the three classes and Knights, all in resin
– They'll be a game box that'll contain just the rules and terrain, a Horus heresy style black book for the main rules with additional background and colour imagery and the models in resin
– As for future Titans, expect a new class between warlord and reaver as well as a Nemesis class and, he got really excited, PsiTitans (at last)! Imperator would only appear if the game proves popular
– They're now running through play testing the game with a wider player base
It was mentioned that a typical game would be 1 warlord, 1-2 reavers and 2-3 warhounds.
In terms of the rules, he did mention that they'd take on and adapt rules from previous editions only if they made sense and added to the tactical experience. They wouldn't add them in for the sake of it. He also mentioned that they're not afraid of a bit of complexity if, again, it made sense.
Finally, I've just recalled that they're like to sell hulls without weapons and sell the weapons separately.

The talk of rules for Machine Spirits, and Titan Legion special rules is music to my ears!
~ What Titan Legion Would You Pick?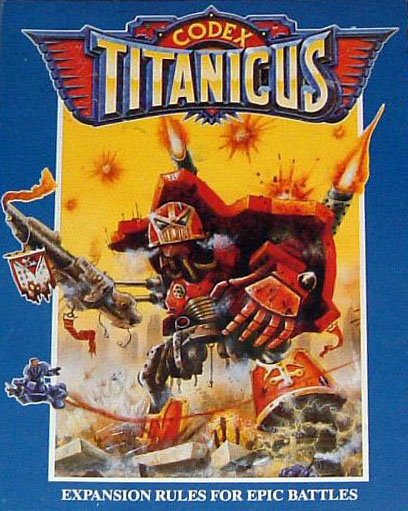 Codex Titanicus (1989)