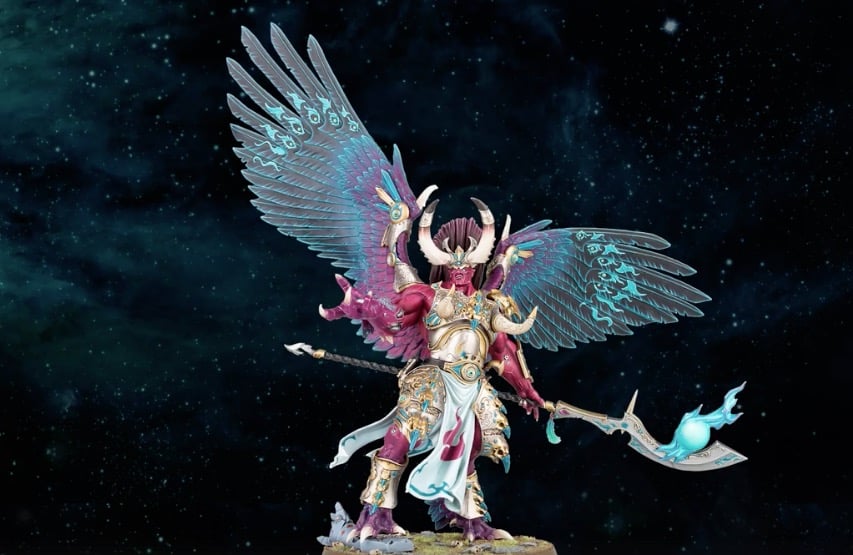 Goatboy here again with a quick little discussion on what might be Magnus' rules.
I was talking with my buddy about it and we were trying to piece together the rules for this new monster of the table top using science, guesswork, and just a bit of my long time player 40k mojo.  Of course this all could be wrong but its always a little bit of fun to see how much we actually get right when the rules finally come out.  With that – let's start at the top – the easy parts.

Taking out the trash…
Magnus Basics
First – let's look at the name listed on the box.  Thousand Sons at the top – which means that either they get their own Faction with its own set of rules/abilities or it is just a naming convention.  Looking at some of the new boxes – the top name does seem to indicate some kind of basic faction rule so who knows.  Still – we know that this guy is not just a Chaos Daemon he is instead some part of a rebirth of the Thousand Sons.  This might confirm the newest rumor will see all the Chaos factions getting some love so will see.  After that we see the word Daemon Primarch of Tzeentch.  This gives us a few tidbits based on current rules as well as the 30k rules for the listed big bad villains and heroes of the Heresy.
We'll start with the Primarch rules.  A lot of them match up with the other 40k rules for being an Monstrous Creature so it is pretty easy to see the ones that will show up.  The extra rules will probably show up as well since while good – they are not completely game breaking.  It is when we start to look at the additional rules where we see some chances for a brutal monster on the table top.

Even Lorgar gets all this stuff…
Primarch Listed Rules from Horus Heresy
Lord of War
Fleet
Fear
Fearless
IWND
Eternal Warrior
Admantium Will
Independent Character
Lord of War, Fear, Fearless, IWND, Eternal Warrior, and Admantium Will all make sense as while they are a good mix of the rules – they don't add anything weird or new to a MC frame.  Fleet will most likely go away as well as IC status.  IC is a no brainer as this guy is an MC and there are rules already governing how MC cannot join up with other units.  Fleet is something saved for specific Marks/Daemon of Chaos so it isn't something I suspect will see for this big bad guy.
Over to 40K
From there will look at the guaranteed rules from 40k.  Since he is a listed Daemon of Tzeentch will have a good reason to think he will get the Daemon rules.  This gives you Fearless/Instability depending on which overall faction he resides in.  I am going to guess he won't have Instability as his Faction is listed as Thousand Sons and anything CSM and daemon like is usually set up with Fearless.  From there we know he will have an Invulnerable save of a 4+ most likely.  This gives him the Mark and Daemon of Tzeentch rules which makes the most sense.  He also has wings and looks to be the size of an MC – so will add those rules to it.  I don't think he will be a GC – but you never know as that could give him a ton of other rules to make him bigger.  Will stick with MC and go from there.
Current Thought Rules
Lord of War
Fear
Fearless
IWND
Eternal Warrior
Admantium Will
Smash
Move Through Cover
Flyer
Daemon
Mark of Tzeentch
Daemon of Tzeentch
Hammer of Wrath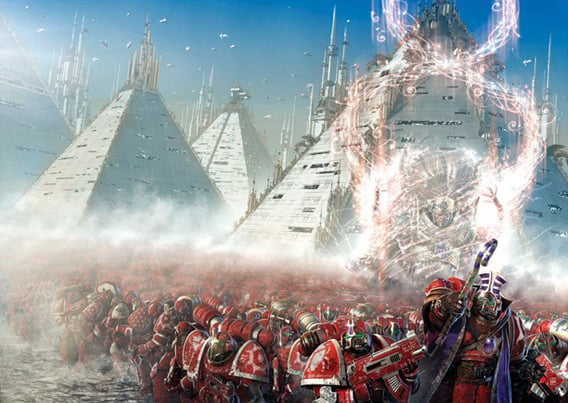 Yup – he's magic!
Psychic Powers
After this we need to look at the idea of what kind of Psyker could he be.  He is supposed to be on par with the Emperor which means he is up there with many of the big time Greater Daemons of Chaos.  The current "champion" of the mind bullets is Fateweaver. This means that Magnus should be at the very least as "powerful" as Fate but has to be different in some way.  My guess is he would get access to all of the "Thousand Sons/Tzeentch Powers" as well as some kind of pick and choosing ability for the listed psychic disciplines.  It would make sense if he had some kind of "Book of Magnus" that lets him pick and choose before any battle.  Now I don't know how many he would get but it would fit with what is supposed to be the greatest Psychic mind in the 40k universe.
Psyker – min Level 4 – some kind of access to all Tzeentch Spells with either an ability to pick and choose X amount of spells or some other kind of reroll to lock them in.
Wargear
After that – we would need to look at what kind of wargear he might have.  All the named characters seem to get some kind of artefact/hellforged etc.  He has a giant staff so that might have something to do with his abilities.  This might be the way he casts better, ignores perils, or just gets the ability to cast multiple copies of the same spell.  It could also just be a beat stick that gives him some additional close combat rules.  He does look pretty beefy and monstrous so I do suspect he will kick a bit of butt in any combat he gets into.  This is the set of abilities I have less clarity on as they could either be duplicates from other characters, rules from the Tzeentch Daemon Warlord Traits (all of them make for pretty good "Lord of War" powers), or something new but still locked within the common rules for Daemons/CSM/Bad A$$s.
Stats
After all this discussion of rules – we have to think about his stats.  I suspect he will closely resemble a Lord of Change in most of the sections. The only big change would be to Leadership and WS/BS.  This would help connect the model to the Primarch rules as well as keep him as something that is usable in normal 40k.
WS 7 BS 6 S 6 T 6 W ? I 6 A 5 LD 10 Sv 4++
It seems most of the Primarchs are WS 7 so it would just make sense for him to be.  He wouldn't be the crazy fighter we see in the other more CC orientated leaders.  His BS of 6 would fit with the idea of him throwing out a ton of psychic powers and hitting with the majority of them.  After that Strength and toughness of 6 matches up with the Lord of Change.  Wounds is an unknown as again – he could be come a GC and this would get pretty high.  If left as a straight MC I would see 6 wounds most likely.  5 Attacks falls right within the normal range for a Daemon prince/Greater Daemon.  Leadership 10 just makes sense as well – as he isn't just a random Daemon Prince and was once the champion of men.
How Much?
Let's bring it all together to somehow guess a point cost.  If he stays an MC – 400 would make a lot of sense as he should be more expensive then Fateweaver and the other Tzeentch Daemon Princes/Greater Daemons.  If he becomes a GC – then I would hope they would push him to the 450+ Range as we all know how rough stomps are when running around on a flying body.
Ok here's where I end up:
Magnus – Daemon Primarch of Tzeentch
WS 7 BS 6 S 6 T 6 W ? I 6 A 5 LD 10 Sv 4++
Rules: Lord of War, Fear, Fearless, IWND, Eternal Warrior, Admantium Will, Flying Monstrous Creature, Daemon of Tzeentch, Mark of Tzeentch,
Psyker: Lvl 4
Psychic Access: Loremaster Tzeentch Discipline, Loremaster CSM Tzeentch Discipline, Picks 4 spells from CSM and Daemons available Disciplines
Item: Big Phat Staff of Tzeentch – Harness's Warp Charges on a 3+, Golden Armor of Tzeentch – Ignores Perils of the Warp, Third Eye of Tzeentch – Can duplicate 1 Witchfire power per turn
Pts: 400 if MC – 500 if GC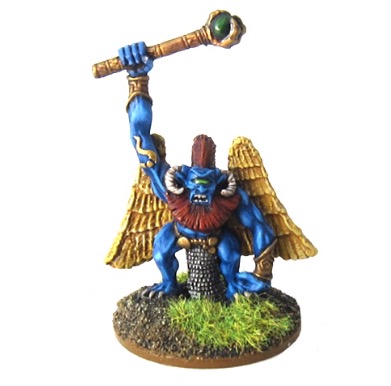 Magnus kicking butt in EPIC!
~So do how right do you think I am?  Do you think he will end up being more powerful then I talked about?