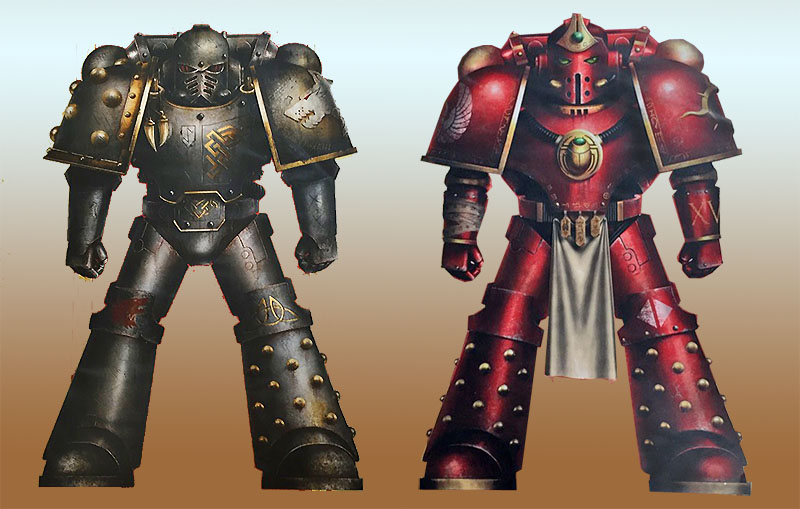 There's something strange in a new image out from GW's Weekend show showing the Battle of Prospero:
via Salaise Fifurine (facebook) 10-2-2016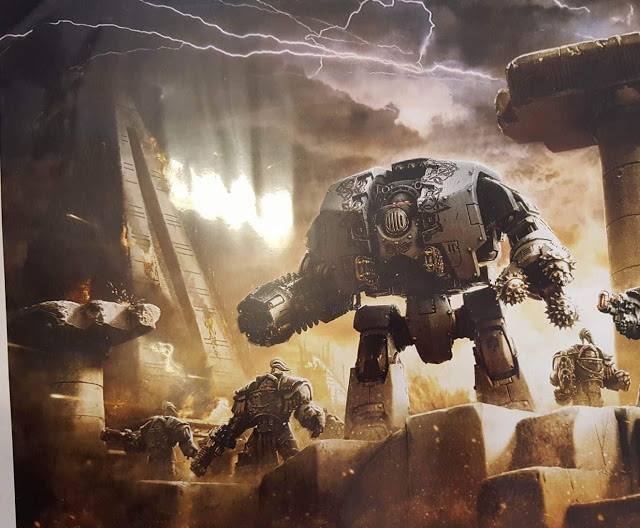 This an interesting one. It's artwork and features Space Wolves forces in front of one of the Pyramids of Tizka.  This could be from either the upcoming Boxed Game, or from the big leatherbound Prosero edition of the Forge World Horus Heresy books.
But look sharp on the extreme upper left atop the pyramid.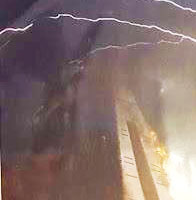 That looks like a giant winged something or other to me.  What do you think that is?
What We've Seen So Far
Earlier this year we reported that the Betrayal at Calth Sequal would be based on Prospero and include Space Wolves and Thousand Sons in plastic and feature MkIII armor and include "other factions" that we guessed vould be either Custodes or Sisters of Silence.  It looks like that rumor source was pretty close to the mark.
Going over the image in higher detail and brightened up so we can see the darker area reveals a lot:
It's title is The Burning of Prospero, so we have a confirmed theme.
That picture confirms Thousand Sons (in red), Space Wolves (in grey) and Custodes (in gold).
The Thousand Sons in the foreground are clearly in Mk.II, or Mk.III armor. Note the banded armor on their legs, and the older style backpacks. they bear no resemblance to the elegant and more advanced Mk.IV Maximus armor featured in Betrayal at Calth.
It's difficult to make out but there are more grey colored minis in the dark upper portion of the image, directly above the Custodes. They might be Space Wolves – maybe Sisters of Silence???
HOLY MOLY – Adeptus Custodes! There are five shown in that image:
Custodes Standard Bearer (top center)
Custodes "Leader" with helmet off (a GW classic), and sword pointed down. (lower left)
Custodes with staff-thing (upper left)
Custodes with sword/Shield (upper right)
Custodes with custodian spear (lower right)
What looks a LOT like Tartaros Pattern Terminator armor on the extreme left of the image, directly to the left of the Custodes "leader", in red Thousand Sons colors.
Forge World Tartaros Terminator. Compare with what's in the image – what do yo think?
Directly above the Tartaros is another Thousand Sons holding an outheld sword. It might be another Tartaros Terminator or a standard marine – hard to say.
Dead center in the pick is what looks to be Space Wolves hero many speculate may be Bjorn himself. He's got a mob of crazy blond hair and a beard, a large lightning claw and something unidentifiable in his rearward hand.
Onto the board itself, we see large squarish black and white sections. These bear no resemblance to the oversized hexes seen in Betrayal at Calth's board pieces, so I would assume the rules will not be identical.
~Do you think this is our first sighting of either Magnus or a Lord of Change?