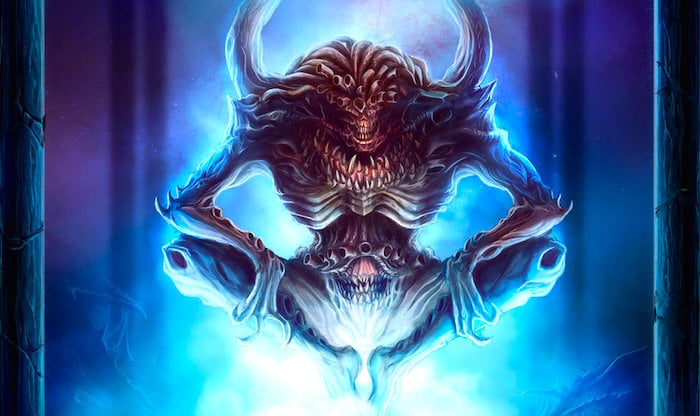 GW is bringing a new Tzeentch daemon to the grimdark this weekend.  Take a look: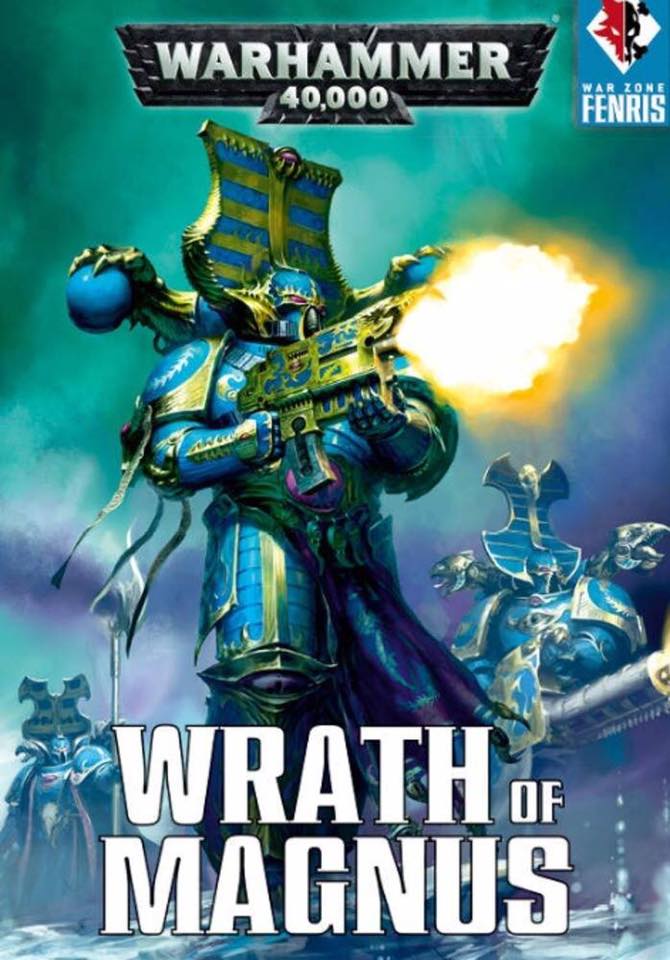 Wrath of Magnus is almost here and within its covers are not only the Thousand Sons, but the the Daemons of Tzeentch.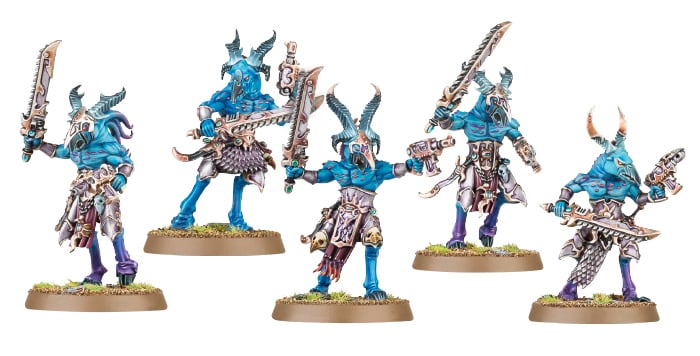 We already saw the Tzaangors make the jump from Age of Sigmar's Silver Tower to 40K, and the Chaos Daemons are getting the same treatment.
Look for the cute and fiery Brimstone Horrors to make an appearance on tabletop tops near you.  Even more, look for them to add to the chain of irritation that defines Pink-then-Blue-then-Brimstone-Horrors.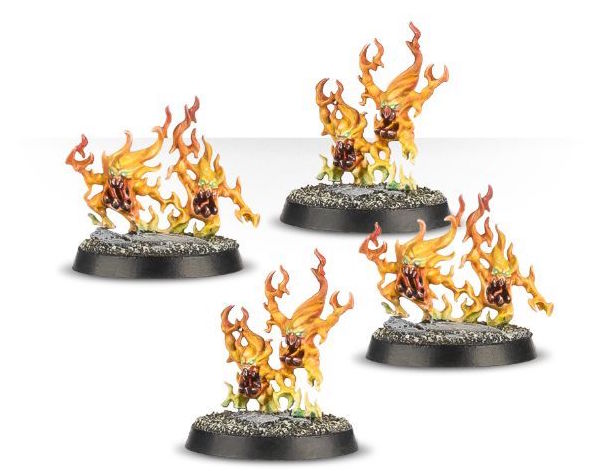 Brimstone Horrors – first appeared in Warhammer Quest: Silver Tower
Here's what GW had to say about the little dudes:
"Tzeentch's Horrors get a rules update: Pink Horrors can now split into two Blue Horrors upon their death. And Blue Horrors can then further split into Brimstone Horrors when they die. Both Blue Horrors and Brimstone Horrors are available to include in your forces, both as units in their own right, or to represent splintered Pink Horrors.

…the warp-spawned warriors of change also gain a new Detachment, the Daemon Legion of Tzeentch – comprising multiple formations of Daemons and granting extra bonuses for dedicating your force solely to Tzeentch. The Formations also gives you a bunch of easy ways to add small contingents of Tzeentchian Daemons to another force, like, oh we don't know… the Thousand Sons!"
So for those keeping score on the Russian Nesting Dolls of Tzeentch: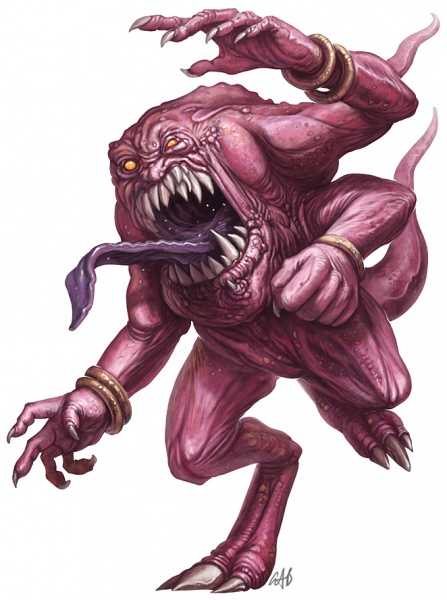 Buy a unit of Pink Horrors – when they die, each one splits into two…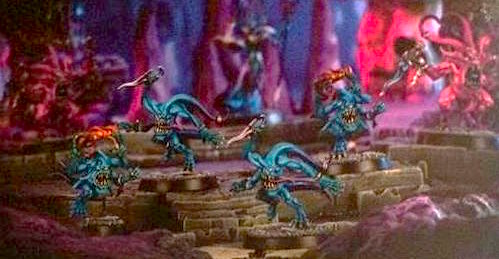 Blue Horrors – when they die, each one splits into two…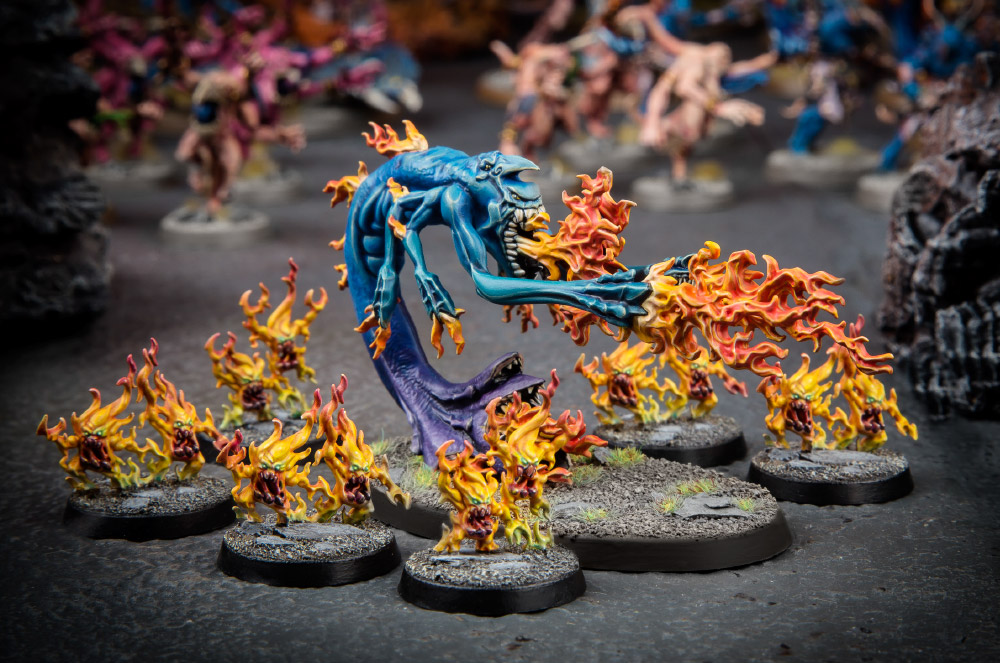 Brimstone Horrors
No notes on their stats, but it has got to be worse than Blue Horrors. I would look for a dirt cheap unit filling the same role as Grots. I would assume Nurglings should kick these guys butt – but in any case that's a fight I want to see 🙂  Here's what the little guys do in Age of Sigmar to give you some ideas of what to expect.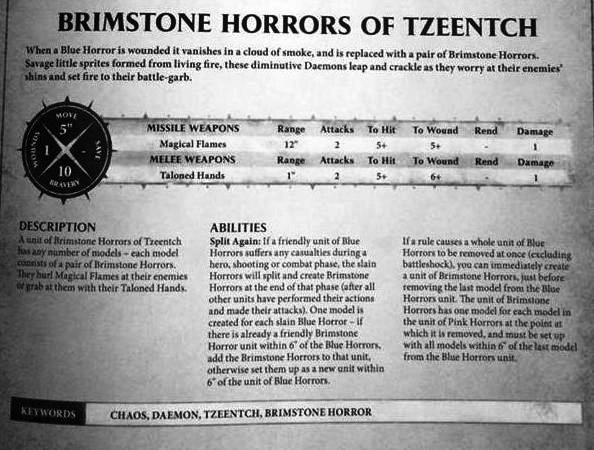 ~This is going to be so annoying…