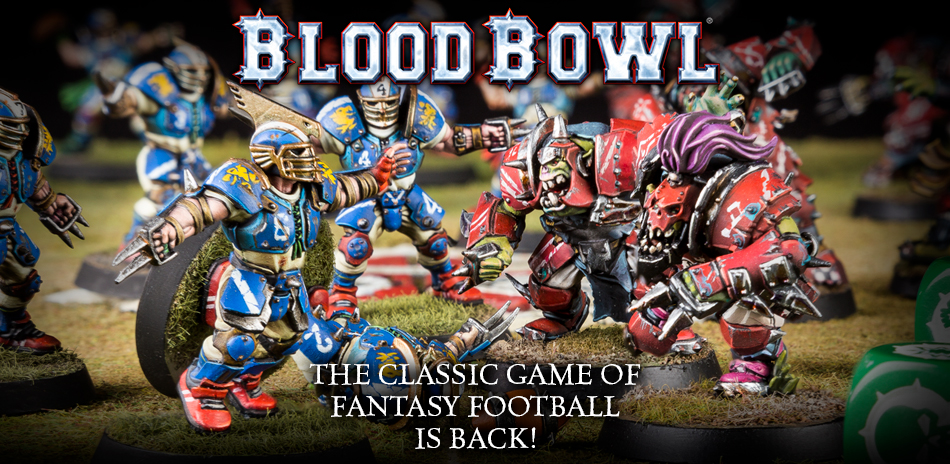 The wait is over – Blood Bowl is out today and Games Workshop has a new App for all you coaches to check out, too!
Sports Fans, the day you've been waiting for is finally here – Blood Bowl is now available in stores around the world. I've been looking forward to this day ever since we got a preview copy. I've been looking forward to getting a league going with some buddies but I had to wait until they had their teams on hand.
via Games Workshop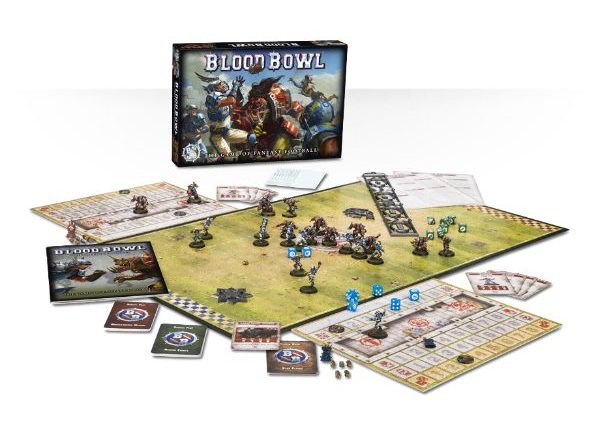 The classic game of fantasy football is back!

A combination of strategy, tactics, and absolute mindless violence, Blood Bowl is the classic game of fantasy football. 2 players act as coaches, selecting their teams from rosters of Human and Orcs and taking to the playing field to earn fame, fortune and the adulation of fans along the way!
However, that's not all that's out this weekend. Games Workshop also has the new "My Dugout" App available for free:
Blood Bowl: My Dugout The App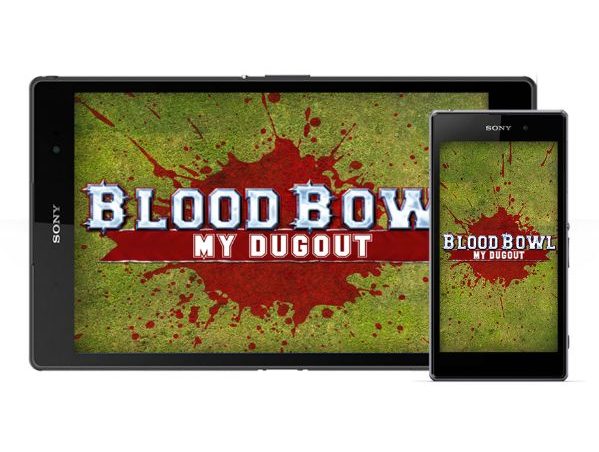 Blood Bowl: My Dugout is your essential companion app to the Blood Bowl boxed game. It's packed with features to make playing Blood Bowl quick and easy. You can also expand the app's features with downloadable content and use it to manage every aspect of your team during a league or tournament – the perfect way to remove the paperwork and give you more time to play!

FEATURES
– Team rosters for the Reikland Reavers (Human) and Gouged Eye (Orcs) using the models from the Blood Bowl boxed game
– Draft your own Humand and Orc teams, name your players and save the teams to use in matches
– Complete pre-match sequence – use the app to work out how many fans turn up, the weather and the kick-off results!
– Track turns, weather, injuries and of course the score throughout the match – takes out all the stress of keeping track so you can concentrate on winning!
– Get new ways to play with regularly updated downloadable content including new teams, league tracking and more

DESCRIPTION
In the game of Blood Bowl, the roar of the crowd and the chance for glory brings together players and spectators from every race in the Old World. On the pitch, tactical finesse meets wanton, brutal violence in a game where anything can happen (and often does!). 'Blood Bowl: My Dugout' is your must-have companion to the boxed game of fantasy football, allowing you to draft a team and providing you with aids to help you as you play. Expand the app with downloadable content to unlock new teams, new rules and new interactive features!

Team
– Build a team from the choice of Orcs and Humans (more available as downloadable content), or choose one of the two pre-made teams.
– Add (and name) players, plus Re-Rolls and Fan Factor.

Play
– Run through the pre-match sequence, including the Gate, weather and kick-off
– Track turns, weather, kick-off results, injuries and the all-important touchdowns

DOWNLOADABLE CONTENT
Death Zone: Season One
– The complete 'Death Zone: Season One' eBook, ready to read within the app
– Draft and manage all the new teams from 'Death Zone: Season One', including Dwarfs, Skaven and more
– Leagues! Manage every aspect of your team throughout the season. Track Star Player Points, gain new skills, remember injuries, calculate gold gains, hire freebooters and more

Blood Bowl: The Rules
– An eBook edition of the complete rulebook from the Blood Bowl boxed game, to read in the app
– Unlocks handy rules pop-ups to remind you of your players' skills

Launch Bundle
– Get both 'Blood Bowl: The Rules' and 'Death Zone: Season One' together for a great price!

WHERE TO GET IT
Android
If you have an Android phone or tablet, you can download the app from the Google Play store. Any purchases you make within the app will be available on all your devices on the same platform, so you can read them wherever you go, on whatever device you have to hand.

iOS
You can download the app for your iPhone and iPad from the App Store.
That's right, it's out now for both iTunes and the Google Play Store.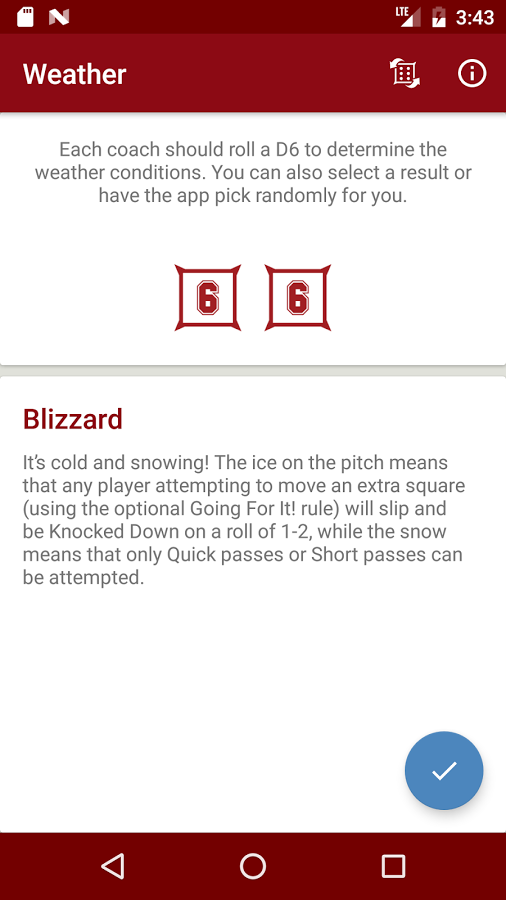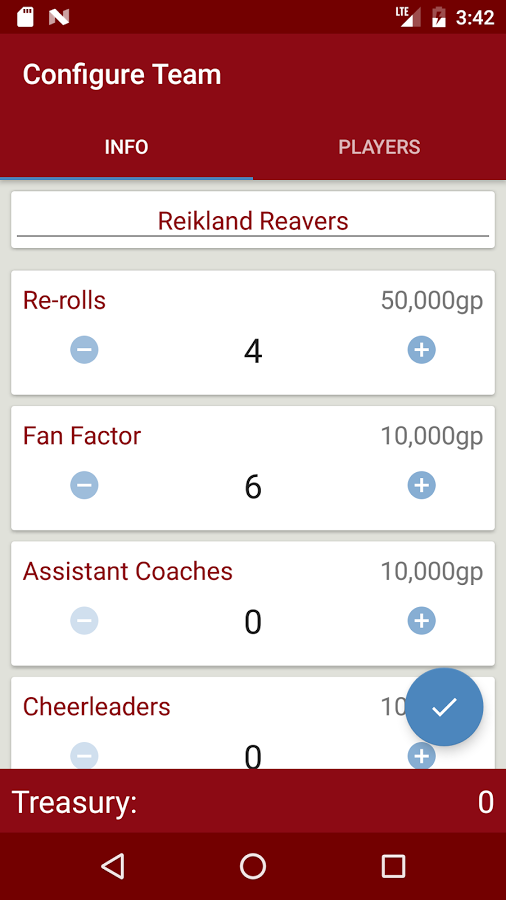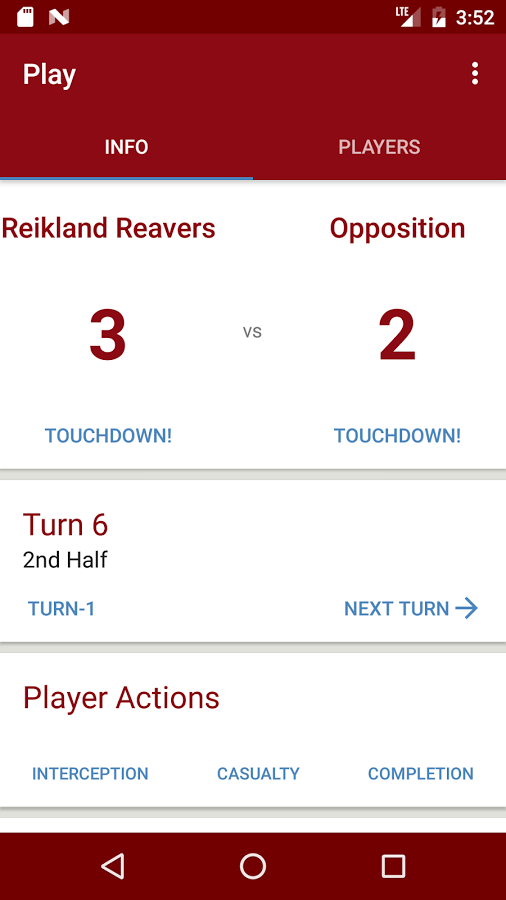 It's a pretty clean looking app and easy to work with. The App also assigns randomly generated names to your players (or you can customize them). I make a quick start team (which is basically the same composition you'd have from the box) in no time. Now, the basic app will track your turns and hand random rolls. It can also help track injuries and special play cards as well as your fame, re-rolls and all those extra bits. But if you want more teams or access to the full rules you do have to pay for them.
So yes, this game does have in-app purchases but those are just in replacement of the hard-back rules. It's up to you if you want the convenience of the app or the physical copies on hand.
Time to start my next Fantasy Football League – only I can play all year round!