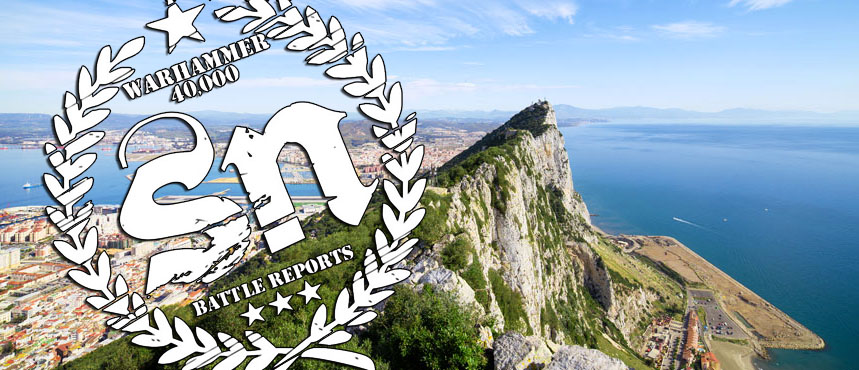 SN Battle Reports brings you another Special Mission Battle Report using their Studio Astra Militarum and Khorne Daemonkin in an epic last stand battle!
A red sun, akin to an angry bloodshot eye, cast the heavens in a crimson hue. Blood bathed light suffused the desert landscape, the jagged rock formations appearing as chewed bones jutting from the offal landscape. Black clouds scudded across the haemorrhaged sky plunging the spectral landscape into umbral darkness. The clouds moved in all directions and varying speeds contrary to all natural law creating an irregular strobing terror of impenetrable darkness and bloody nightmare. The wind similarly blew in from all directions at once, hot, dry and bearing the overpowering stench of an abattoir. ~the small mud-brick fort a haven of untainted purity set in the demented landscape.
The Cadians nestled within did their best to ignore their maddening surroundings, checking their las-cells and resighting their weapons obsessively if only to distract them from the terrifying carnival of damnation that hovered just out of weapons range. Filth of the warp vomited forth by the damning rituals of the cursed and the insane. A Leman Russ wreathed in blue smoke manouvered slowly into position, its tracks squealing in protest under the metal leviathans weight. Heavy weapons situated on the roofs of the squat mud-brick buildings tracked their targets, weapon barrels moving slowly and surely, their targets sighted and ranged, patiently awaiting the order to unleash hell on hells own legions.
At an unheard and unseen signal, the writhing masses of teeth and claws that made up the Blood Gods host started forwards. Every Cadian picked his target and anxiously waited for the order they both wished for and feared most. Battle was upon them. The tension could be cut with a knife. Waiting. The range closed. Individual horrors could be made out from the mass, horned things bellowing inhuman rage, giant bat winged beasts whose breath set the very air aflame. Waiting. Thundering beasts of living metal pawing the tortured earth with their brazen hooves. Waiting. Mutilated cultists, their arms raised in unholy adulation, chanting the praises of their unloving deity. The vox crackled and almost before the word was spoken dozens of las bolts, autocannon shells, missiles and heavier ordnance erupted from the fort's perimeter, pulverising the front ranks of their seemingly innumerable foe.
Deployment: Astra Militarum within 6 inches of the building compound, Khorne Daemonkin with 6 inches of the short table edges
Points: Astra Militarum 1750pts
                Khorne Daemonkin 2000pts
Mission: Astra Militarum score D3 victory points at the end of every turn that they have models still on the board after the first turn. Khorne Daemonkin score 1 victory point for every unit killed. Slay the Warlord and First blood both score 1 victory point each
Astra Militarum
Emperor's Fist Armoured Company
Enginseer…
Vanquisher: Lascannon, Multi-Melta sponsons
Leman Russ Battle Tank
Demolisher
Command Punisher: Knight Commander Pask  Lascannon, Relic Plating, Multi-Melta sponsons
Punisher: Lascannon, Relic Plating, Multi-Melta sponsons
Combined Arms Detachment
Primaris Psyker: Mastery Level 2
Primaris Psyker: Mastery Level 2
Company Command Squad: Company Commander: Bolt Pistol, Master Of Ordnance, Veteran Autocannon Team, Regimental Standard, Sniper Rifles
8 Militarum Tempestus Scions: Flamer
4 Ratlings
10 Veterans: Lascannon heavy weapons team
10 Veterans: Lascannon heavy weapons team, Flamer
10 Veterans: Lascannon heavy weapons team
10 Veterans: Lascannon heavy weapons team, Meltagun
10 Veterans: Lascannon heavy weapons team
10 Veterans: Lascannon heavy weapons team, Flamer
Khorne Daemonkin Unbound army
Bloodthirster of Insensate Rage
Daemon prince: Daemonic Flight, Blood-forged Armour…
3 Bloodcrushers: Banner of Blood, Instrument of Chaos, Bloodhunter
8 Bloodletters
8 Cultists: Autopistols
8 Cultists: Autopistols
8 Flesh Hounds
8 Flesh Hounds
8 Flesh Hounds
Heldrake: Baleflamer
Maulerfiend: Lasher Tendrils
Maulerfiend: Lasher Tendrils
Soul Grinder: Phlegm Bombardment, Warpsword
See the full Battle Report Here for the exciting conclusion and remember to subscribe!
Are you a Horus Heresy player? Then don't miss out on the best and most exclusive event on the planet!