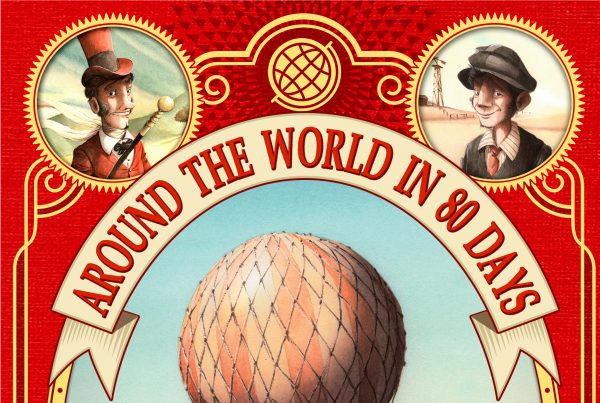 The Tabletop Spotlight is on Around the World in 80 Days – Will you complete the trip in time?
Our friends at Dragon's Lair Comics & Fantasy brought over a really fun family game. Around the World in 80 Days is all about clearing your name and traveling the world:
The backstory of this game is pretty fun. You are playing as a person who is on the run, falsely accused of stealing a large sum of money from the Bank of England. You're trying to race your friends around the world and clear you name at the same time. While the premiss is simple the game play is fun and entertaining for players of all ages.
You can check out the rules to the game HERE. But the basics are that traveling forward costs you money. You have to balance your ambitious travel plan with your meager budget. You can earn more money on the trip by landing on specific spots – however, you cannot occupy the same spaces as another player. There is an element of strategy and planning involved. I really liked this game because there was no dice or randomness involved. I have lots of other games that scratch that itch – but this one is a fantastic change of pace from those games.
I really like how this game forces you to learn how to plan your travel and budget. I also like the element of messing with the other players based on your position. The board also keeps things interesting by giving slight bonuses to players not in first. This helps players stay in the game no matter where they are on the turn order. Overall, I think this game is a great way to teach kids about strategy and budget. If you're a parent and you want to teach your mini-gamer about those things, I highly recommend this game. It's also great to play with other adults because of the many ways this game can play out. It's super easy to learn but the replay value is definitely there. It's in stores now so go check it out!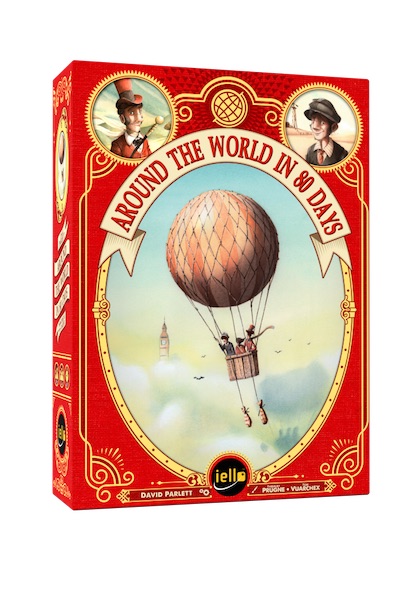 October 2, 1872, Phileas Fogg is pretending that it's possible to go around the world in 80 days. The gentlemen of the Reform Club have made a bet on his failure, since they don't believe this eccentric dandy could ever succeed!

However, the most troubling part of this story is the strange coincidence between the rash depart of Phileas Fogg, accompanied by his loyal valet Passepartout, and the theft of 50,000 pounds from the Bank of England!

Will you successfully prove your innocence in the eyes of the world by achieving the feat of going around the world in 80 days?
Fun game, neat backstory and strategic of depth – Around the World in 80 Days has it all!