Tabletop Spotlight: TIE Striker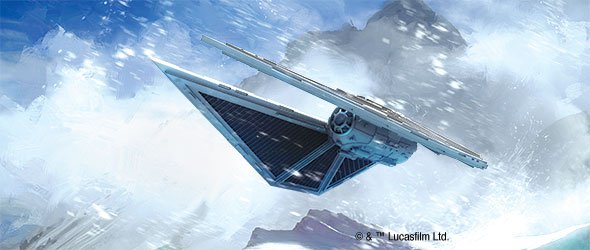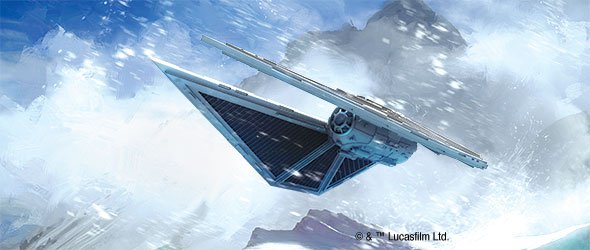 The Tabletop Spotlight in on the TIE Striker Expansion Pack for X-Wing!
Our buddies at Dragon's Lair Comics & Fantasy brought over another Star Wars: X-Wing ship from Rogue One – it's the new TIE Striker:
The TIE Striker is deceptively fast. Originally designed as an atmospheric fighter it packs quite a punch. It's very deadly dogfighter and once it's got you locked it, the TIE Striker will mercilessly stay on target. Now, we cover all of the cards in the video and we've also talked about some of the options in our preview before – but there are still some cool thing we wanted to talk about today.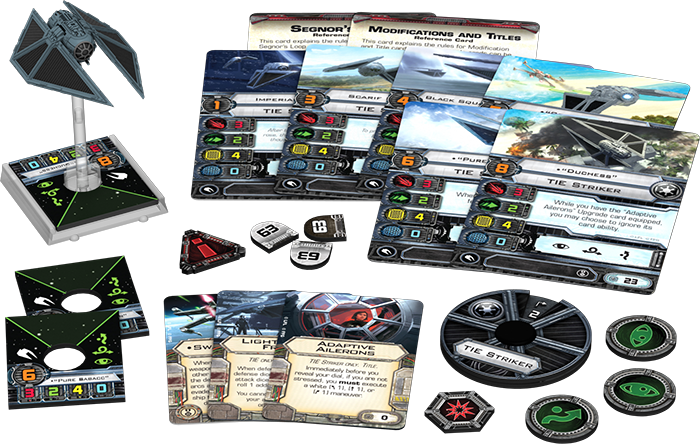 One of the cards we kind of glossed over in the video was the Swarm Leader, which is actually a new card. Not to be mistaken for Squad Leader…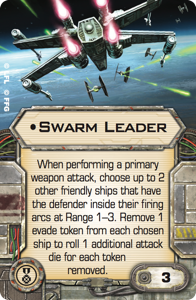 This is a great card for – you guessed it – swarms! It turns those unspent Evades into extra damage dice. Combine that with a Target Lock and/or Focus and your new "Swarm Leader" has the potential to tack on a pivotal extra point of damage. Now, it only applies to primary weapon attacks but it's still worth doing. It's not like those extra evades will be missed anyways, right?
In our preview article I gushed over "Countdown" – I still think this TIE is going to be a force to reckon with. But I now want to take a look at "Pure Sabacc" and the natural combo of his ability and Swarm Leader: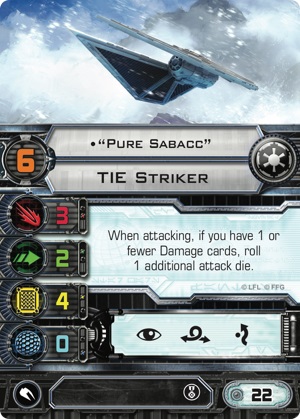 The TIE Striker already comes with a forceful 3 die primary. Pure Sabacc's ability bumps that up by 1 at any range. Combine that with the free die from Swarm Leader and, range permitting, the attack bump for being at range 1 and you're tossing out a 6 die primary attack! That's nothing to scoff at – is it gimmicky? Sure, but pulling it off isn't as hard as you might think.
Subscribe to our newsletter!
Get Tabletop, RPG & Pop Culture news delivered directly to your inbox.
Pure Sabacc TIE Striker 29 Points
Swarm Leader
Adaptive Ailerons
Shield Upgrade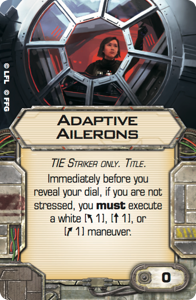 This build makes Sabacc very quick and maneuverable. I like the Shield Upgrade because you have to remember his ability is "if you have 1 or FEWER damage cards" – the key is to keep damage cards off of this ship as long as possible. Hull Upgrade doesn't do that even if it is a point cheaper. Alternatively, you can rely on your personal piloting ability to try and avoid getting shot at in the first place. Another option is to give him a Targeting Computer as well for 2 points. That adds Target Lock to the action bar…
Naturally this ship load out works best with a swarm. A bunch of TIE Academy pilots with Howlrunner seems like a great fit. Here's a quick list I put together if you want to give it a go:
Rogue TIE Swarm One – 100 points
Pure Sabacc TIE Striker – 27 Points
Swarm Leader
Adaptive Ailerons
Targeting Computer
Howlrunner TIE Fighter – 21 Points
Swarm Tactics
Twin Ion Mk. II
Academy Pilot TIE Fighter – 13 Points
Academy Pilot TIE Fighter – 13 Points
Academy Pilot TIE Fighter – 13 Points
Academy Pilot TIE Fighter – 13 Points
It's silly and easy, but if you know what you're doing you're going to be able to block and call your shots. Swarms clutter the battlefield and if you manage them well, you'll cause even the best pilots a headache. As basic as this is, it's still deadly in the right hands!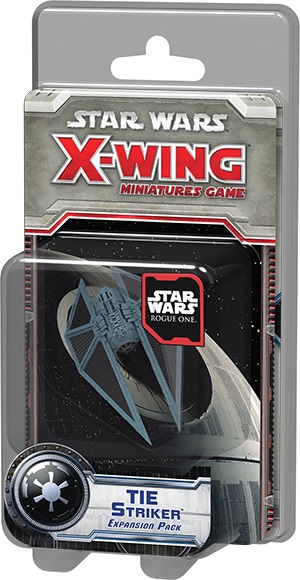 The sleek and agile TIE striker was developed primarily by Imperial forces stationed on planetary installations, where its adaptive ailerons and potent weaponry made it an excellent safeguard against Rebel incursions. The TIE striker and its adaptive ailerons come to life with the TIE Striker Expansion Pack for X-Wing™. It contains one highly detailed and pre-painted miniature TIE striker, along with six ship cards and three upgrades. These reflect the ship's exceptional atmospheric maneuverability, as well as its use in Imperial swarm tactics.
TIE Striker – The Wings MOVE!