Tablewar & Frontline Gaming Part Ways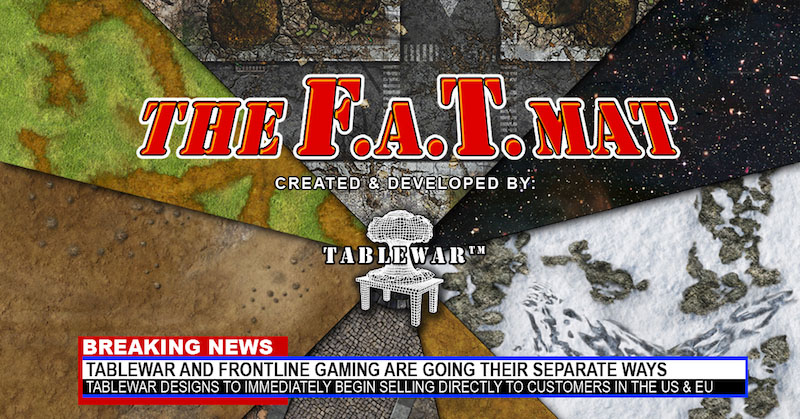 The makers of the popular F.A.T. Mat line head their separate ways.
Here are the pair of press releases on the parting of ways.
Press release from TABLEWAR 12-2-2016
"All good things… After just over 3-years of an amazing partnership, TABLEWAR™ and Frontline Gaming will be going their separate ways. While this split was unexpected, TABLEWAR™ , as the creator of The F.A.T. Mat, is proud to announce that we will continue to bring our popular gaming mats to the gaming community. The F.A.T. Mats are immediately available for sale directly at www.tablewar.com  (and www.tablewar.uk). TABLEWAR™ will be introducing new designs in the coming months while continue to support the gaming mat designs you know you love; all to the high-quality standard our customers have grown to expect. We would like to sincerely thank Frontline Gaming for this amazing partnership as our sales and marketing partners for The F.A.T. Mats and wish them well in the future. We at TABLEWAR™ would also like to take this opportunity  to thank all of our wonderful customers and retailers for helping to make The F.A.T. Mat the industry leading gaming surface. "
Press release from Frontline Gaming 12-2-2016
"After three years of working together on the F.A.T. Mat,

 Frontline Gaming

 and Tablewar are parting ways. The partnership has been great, and the Frontline Gaming family wishes their friends at Tablewar all the best as they continue on with the F.A.T. Mat brand. We give a heartfelt thanks to all of our customers for making the past three years with the F.A.T. Mat a success.

Frontline Gaming has acquired the means to manufacture an entirely new line of gaming mats here in the United States of America at our new facility in San Diego, California. These are exciting times as the ability to manufacture our product domestically gives us unprecedented flexibility in design and quality control, ensuring that each mat we sell is just what our customers are looking for. Your new gaming mat will be made by us, your fellow gamers! The possibilities are endless with these new tools and we look forward to a bright future in game mat design. Sign up for our newsletter over at 

Frontline Gaming

 to stay informed as to when these new mats will be available and what we will be possible of manufacturing here in the good old US of A!

The Frontline Gaming team."
Thoughts
It sounds like both parties will be producing mats in the future.  Frontline is speaking about a new line of US manufactured mats made themselves out of their San Diego facility.
TABLEWAR™ is also talking about the F.A.T. Mat line continuing and expanding. They additional produce the a Tower-Case line of modular storage and transport cases as well as the upcoming MacroMat, a series of specially designed photography backdrops perfect for use in photographing collectibles, hobby miniatures, and small works of art.
The F.A.T. Mat line is a fantastic series of products and we are happy to hear they continuing production and have new products in the pipeline to festoon our gaming tables. TABLEWAR is just wrapping up a kickstarter for Macromats, a series of matts made for miniature photography backgrounds.  Give it a look.