Dreadball: Final Playtest Packet Released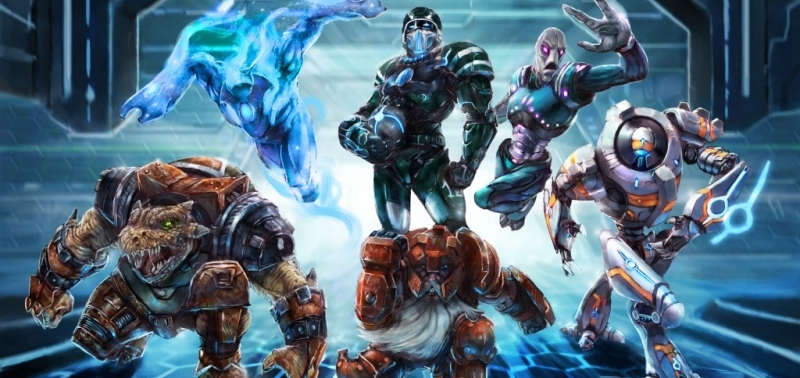 Help shape the future of the Galaxy's best sport!
Welcome, sports fans!

The DreadBall Rules Committee is proud to present the final major Playtest Packet for DreadBall 2.0. Though we will continue to update the Playtest Packet with additional changes and information throughout the playtest period, this packet will round out the last of the remaining teams, and show off the major changes to the DreadBall Ultimate format. As always, we're very interested in the perspectives of those Coaches that are actually out there playing games, and we're counting on you to generate feedback so we can continue making this sport the best it can be!

With all teams having been released at this point, you can really use any team you wish, though don't feel like you need to own the team first. If you're interested in helping us in our playtesting, be sure to download and print some surveys. Fill them out during/after your games and then go to our online survey and tell us about your games.

Changes

As always, a number of new abilities as well as a number of teams have been added to the respective sections, and we recommend you reprint these sections in their entirety so that you don't miss anything.


The Teams

We're really excited about the amount of playtesting we're getting back from everyone participating. Keep up the great work, we'd love to see even more reports now that all of the teams are available. The final six teams joining the Playtest Packet are:
Nameless: Kalamarin Ancients
Convicts: Long Rock Lifers
Mutants: Kovoss Kryptics
Mechanites: Ro-tek Brutes
Martians: Red Planets
Cyborgs: New Eden Revenants
Note: Some of the model abilities and play stats have undergone changes, see the playtest packet for more information.

Subscribe to our newsletter!

Get Tabletop, RPG & Pop Culture news delivered directly to your inbox.

What we need to know:

How do the teams 'feel'?
How do you like the new teams and their abilities?
Do the costs of the teams properly reflect their abilities and stats?

The Tectonics have undergone some changes since the last Playtest Packet. We have scaled back their Strength, and given them a better Speed value. As much fun as a polarized 2+/6+ stat line was in theory, playtesting showed them to be untenable as a balanced team. Similarly, due to feedback we have decided to take away the ability "Slippery Customer" from the rebel Ralarat Striker. Finally, we have decided to slightly increase the Chromium Charger Captain's cost.
The DreadBall Ultimate rules have received a revamp to adjust them to the new rules and the new pitch.  The pitch design and the corresponding rules keeps the ball and the players in the active areas of the pitch putting more pressure on Coaches and providing for a more frantic and exciting experience. Also included in these rules are the rules for adding Giants into your games of DreadBall and DreadBall Ultimate. These larger-than-life players will force you to adjust your strategies because of their many abilities and great strength and toughness. Of course you could always hire one of your own, if you can afford their exorbitant prices!

As stated earlier, we will continue to adjust the game for balance as the playtesting continues and we will make sure the packet reflects these changes as we make them. Additionally, there are still a few unfinished things that need to be added or clarified. For instance, we haven't shown you yet what we have in mind for skill selection during league advancement, and we owe you guys some new DreadBall cards, MVP stats, and rules for using old DBU pitches with the new rules. These will come with time, we promise. For now, get out there and play the galaxy's best sport, and let us know how you get on!
Once you get some games in let Mantic know what you think by filling out this dedicated survey.
Welcome to the most dangerous game – Dreadball!