Horus Heresy Weekender Schedule 2017

The Horus Heresy Weekender Schedule has been spotted. Get ready for some BIG announcements!
The weekend of February 4th and 5th is going to be a busy one. The Horus Heresy Weekender has been scheduled for that time and if you didn't get tickets yet, well, they are sold out. On the bright side if you can't make the trek you can still get a peek at what's coming up:
via miniwars
(Click to Enlarge)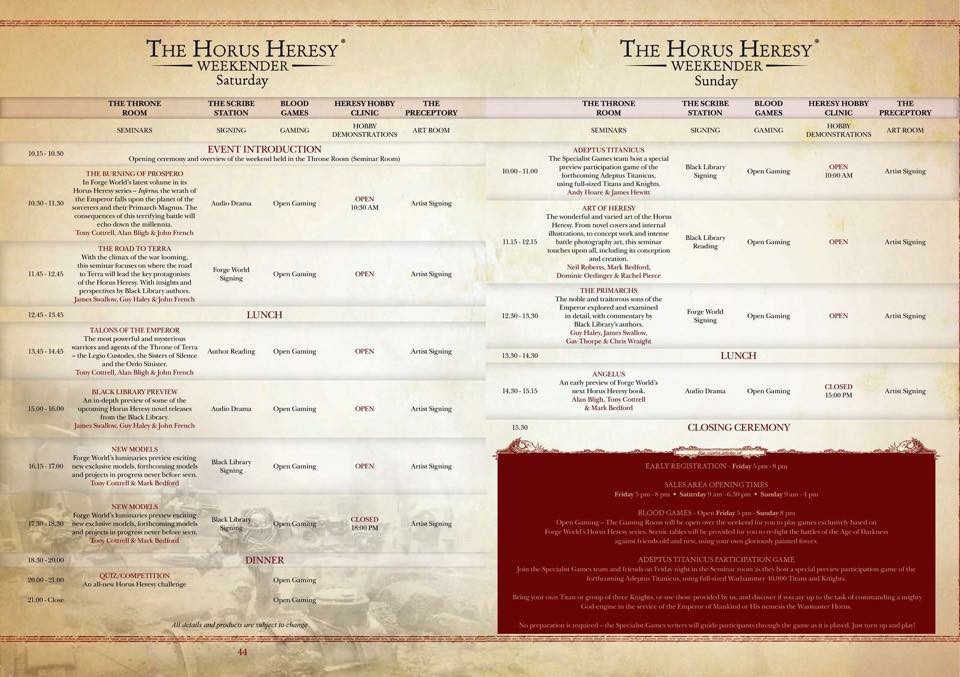 This event is where Forge World and Black Library lay out what you can expect for the Horus Heresy for the year. They kick it off with more Burning of Prospero goodies and then follow that up with "The Road to Terra" seminar. Looks like the story of the Heresy is pushing towards that fateful showdown.
The "Talons of the Emperor" seminar promises some very interesting tidbits – "The Legio Custodes, the Sisters of Silence and the Ordo Sinister." The next two seminars will be the previews from the Black Library and Forge World's new models which always promises to be interesting.
On Sunday, the hits just keep coming. We get a preview from the Specialist Games team – and your eyes do not deceive you: They are doing an Adeptus Titanicus "demo" using full-sized Titans and Knights!! Personally, this is the event I want to see the most. That sounds AWESOME.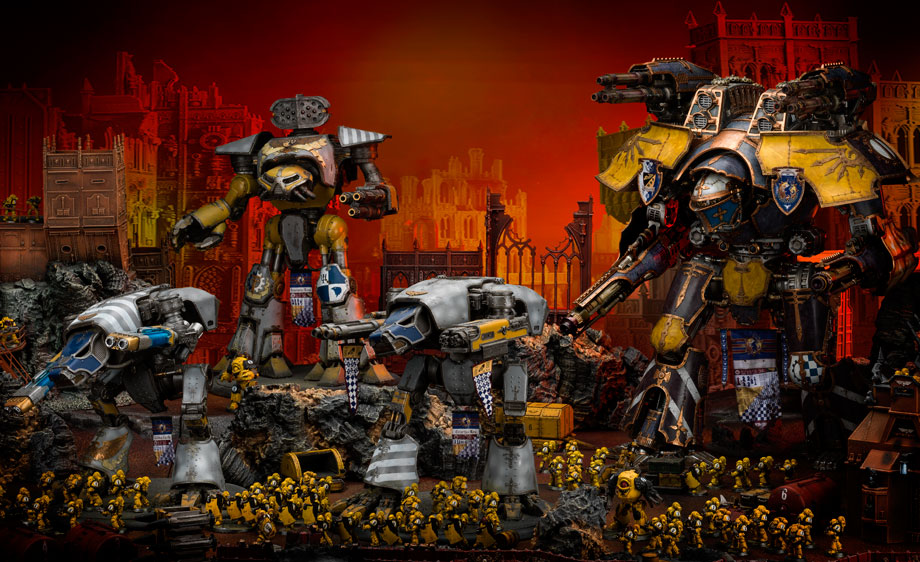 The next two seminars are also going to be pretty inspiring with the Art of the Heresy and The Primarchs. And then finally we get a preview of the next Horus Heresy Book "Angelus" which has been hinted at as the book for Blood Angels and Dark Angels…but we'll have to wait and see!
Subscribe to our newsletter!
Get Tabletop, RPG & Pop Culture news delivered directly to your inbox.
We here at BoLS will definitely be keeping an eye out the weekend of February 4th & 5th. It's going to be a busy one!
40K Scale Adeptus Titanicus!? Sign me up!