Unboxing: Triumvirate of the Imperium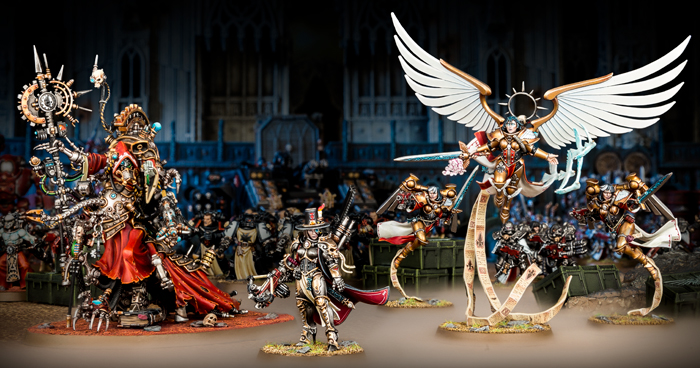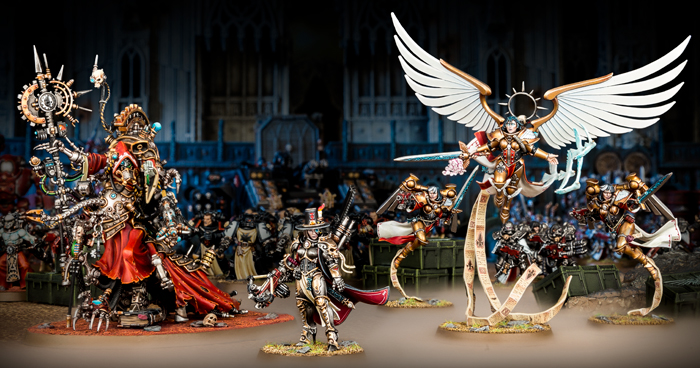 Let's take a look at the models inside the Triumvirate of the Imperium!
Hey BoLS Readers! We got our hands on a copy of the new Triumvirate of the Imperium and we liked what we found:
When we first got the box I was actually suprised at how big this box was – it's about the same package size as one of those Start Collecting kits and I was expecting something more like the Space Marines Tactical Squad Box. Once we opened it up I understood why. Not only do you get all three of these new fantastic kits, you also get a cool art piece as well.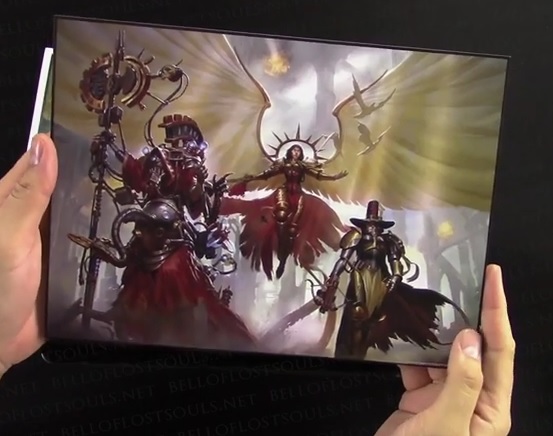 I thought it was a really nice touch and my screenshot here is not doing it justice! I think fans of the factions will get a kick out of it. We're planning on getting it framed and hung-up in the BoLS HQ! Aside from that you get the 5 models you're expecting from the front of the box.
Saint Celestine and Her Crew
Celestine's kit is really impressive. While her body might be (roughly) the same size as her old one, her wings* are massive. And she's going to stand well off her base thanks to some creative scroll work from GW.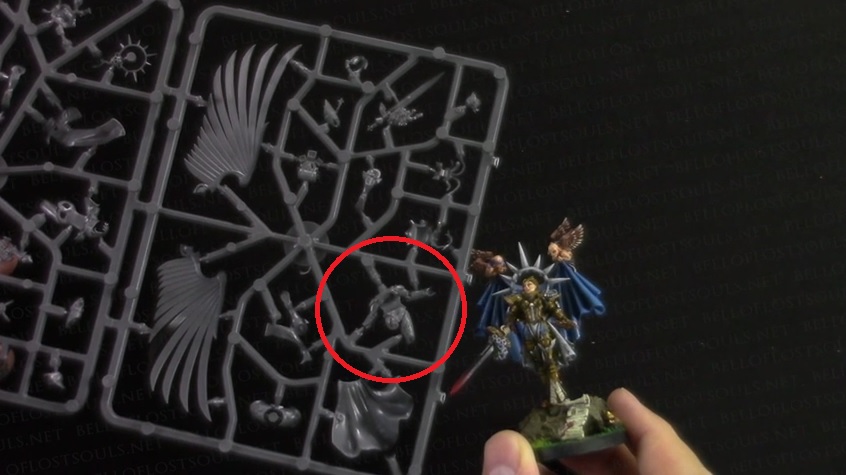 Same approximate size torso
Her crew is also pretty cool looking. While they might be playing second fiddle to Saint Celestine, they actually look really good on their own too. They have some pretty cool Jump Packs and we're hoping that if/when Sisters get more plastic models they are the prototype for their Jump Packs.
Belisarius Cawl
Okay, this model probably takes the cake as far as craziness in this box. If you're an Adeptus Mechicanus player then you might be familiar with all the crazy doo-dads you can expect on this model. The wires, for example, reminded me of guitar wire and you can see and feel the texture on them and it's all in plastic! The sculpt is really impressive and once you get to see all the little details up close it's hard to argue that it's not well done. I almost want to build the model just for the challenge of putting it together.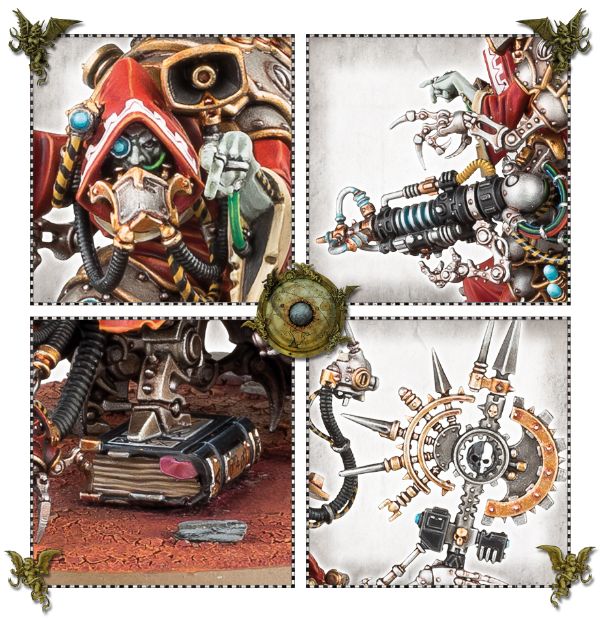 Subscribe to our newsletter!
Get Tabletop, RPG & Pop Culture news delivered directly to your inbox.
Inquisitor Greyfax
Last but not least is Inquisitor Greyfax. While her model isn't the largest it's still a really impressive kit by itself. She might get overshadowed by the wings of a Saint and she might not have all the doo-dads of Cawl, but her model is still really cool nevertheless. One thing that really struck me was the way GW decided to fit the brim of her hat on the model. They basically sculpted the head and top part of the hat as one piece and then the brim as extra. You then slide the brim over the hat and it fits in place. I was not expecting that!
Aside from her hat trick, Greyfax also has a ton of little details to appreciate. Her armor is ornate and her weapons are different and interesting. I just like this model as a representation of what it is to be an Inquisitor.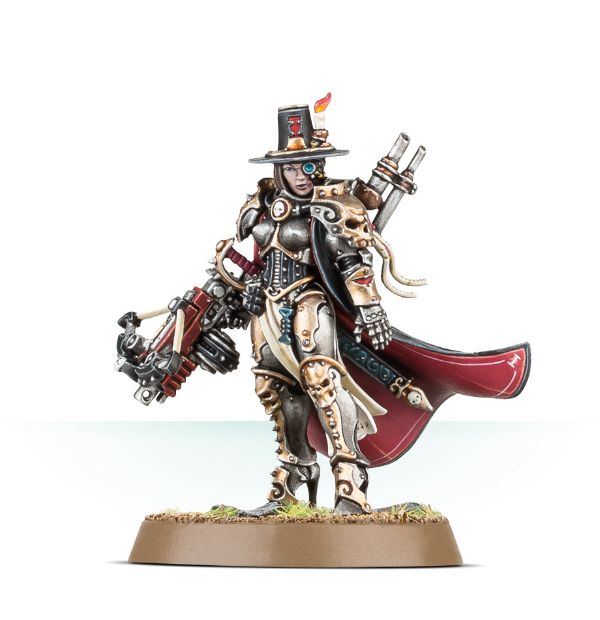 Overall, I liked the models in this set. I was expecting them all to be separate clam packs – maybe GW will release them all as one offs at some point. But as a bundle I think it really represents the Imperium as we know it now: Faith, Zeal and Ancient Technology.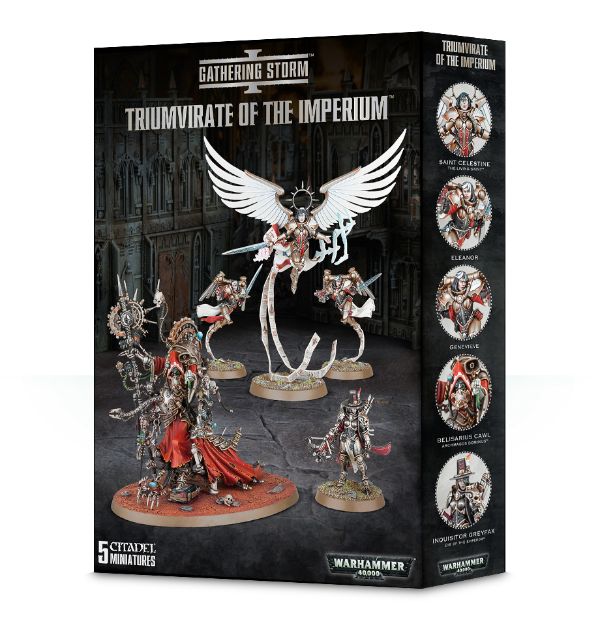 A truly inspiring presence, the Triumvirate of the Imperium bolster the might of their allies even as they effortlessly obliterate the enemies of the Imperium that stand in their way. Waves of telepathic power from Inquisitor Greyfax steady the nerves and enhance the aim of the warriors around her, even as Archmagos Cawl's augmentative data-shunts aid the war machines of the Imperium while stymieing those of the foe. At the head of the triumvirate fight Saint Celestine and her Germinae Superia, calling down the fury of the Emperor through ringing war hymns.
Which model do you like the most from The Triumvirate of the Imperium?
*one of Celestant's Wings was bent when we opened the box. I can honestly say this is the first time I've ever seen a defect from GW's plastics and I've probably opened over 100 plastic kits (or more) from them. We were able to bend it back into place – hey, that's why we like plastic!