HeroClix: Stingray & Hellcow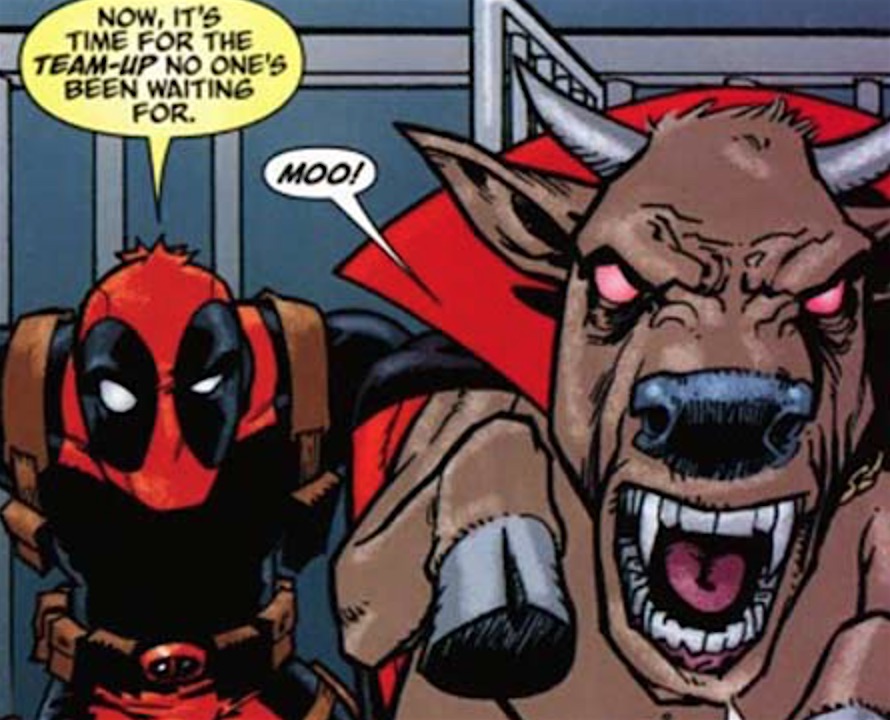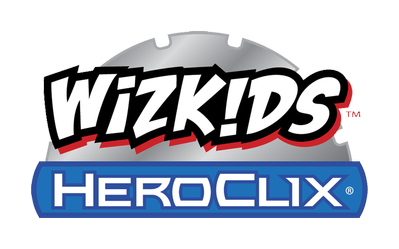 Bessie the vampiric Hellcow is coming to the tabletop.
Deadpool and X-Force are coming soon to Heroclix, and Wizkids is picking some of the comic's insane characters to fill out the set. Like Bessie, a cow that was attacked by Dracula that likes to hang out with Deadpool and Howard the Duck.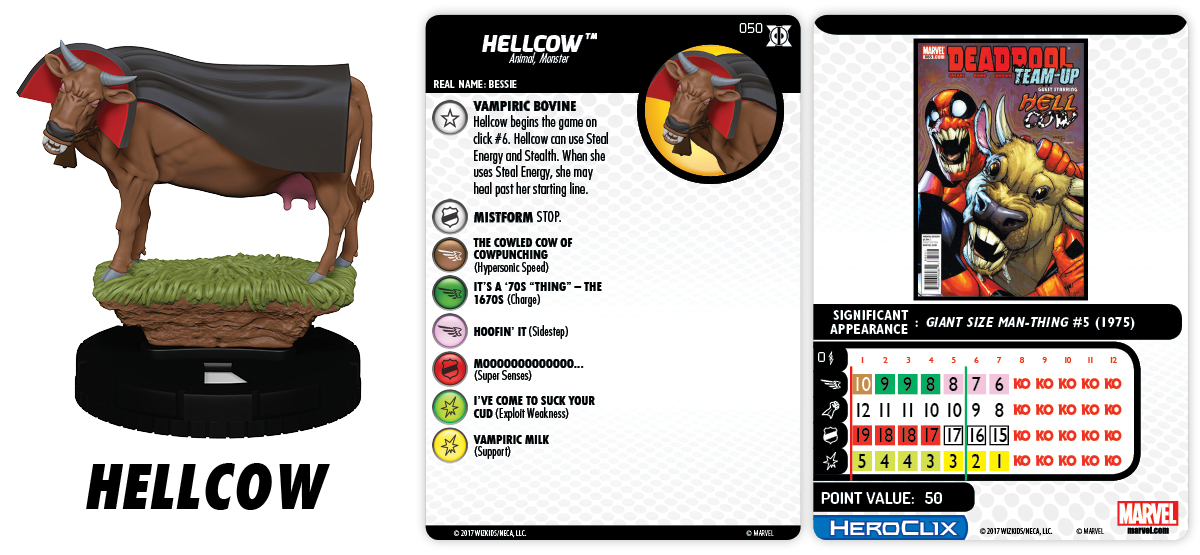 Steering Bessie the Hellcow from the farm to your HeroClix table we see she has the Animal and Monster keywords and clocks in at 50 points with only two clicks of life from her starting line.  Don't assume that she'll be slaughtered without a fight though.  She starts off with Sidestep, Support (Vampiric Milk? Ewww), and a special defense power Mistform that is a STOPclick, on top of Indomitable and Flight.  Her trait ensures that she isn't fenced into just those two clicks though.  Vampiric Bovine grants her the use of Stealth and Steal Energy that lets her heal past her starting line.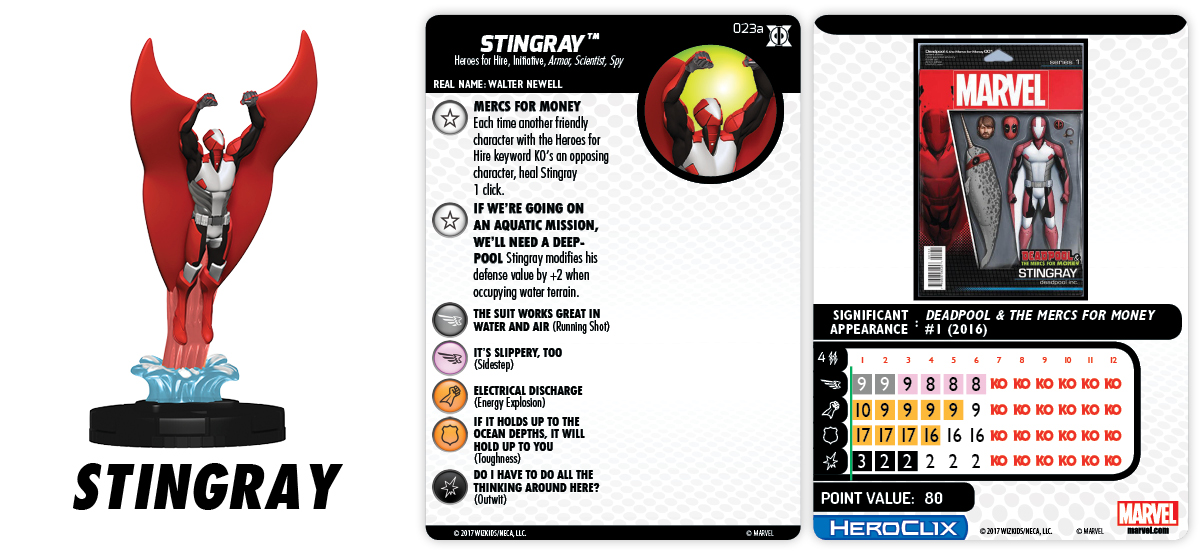 There are two versions of Stingray in this set, both of which have identical dials and standard power sets. Each have six clicks of life, each have a range of four squares with two targets, and each come in at 80 points for your build. Additionally, both feature the trait If We're Going on an Aquatic Mission, We'll Need a Deep-Pool.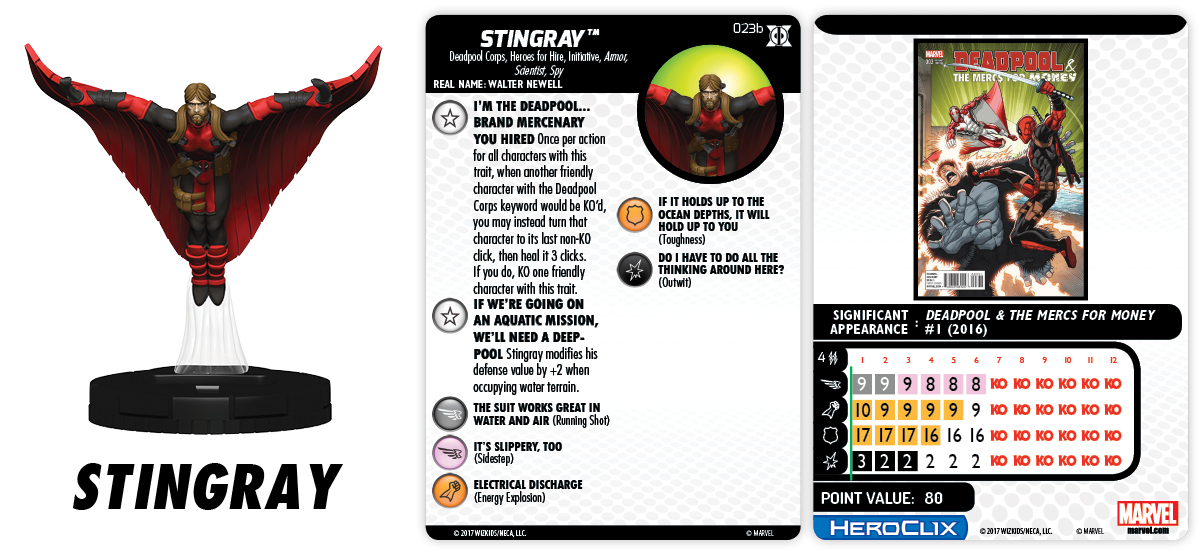 Where they differ is in their second traits and keywords. The 023a version of Stingray can be played on Heroes for Hire, Initiative, Armor, Scientist, and Spy themed teams, and features the trait Mercs for Money. This trait says that each time another friendly character with the Heroes for Hire keyword KO's an opposing character, heal Stingray of 1 click. Great staying power for a secondary or tertiary attacker!