Knight Models Marvel Universe: Painting Rocket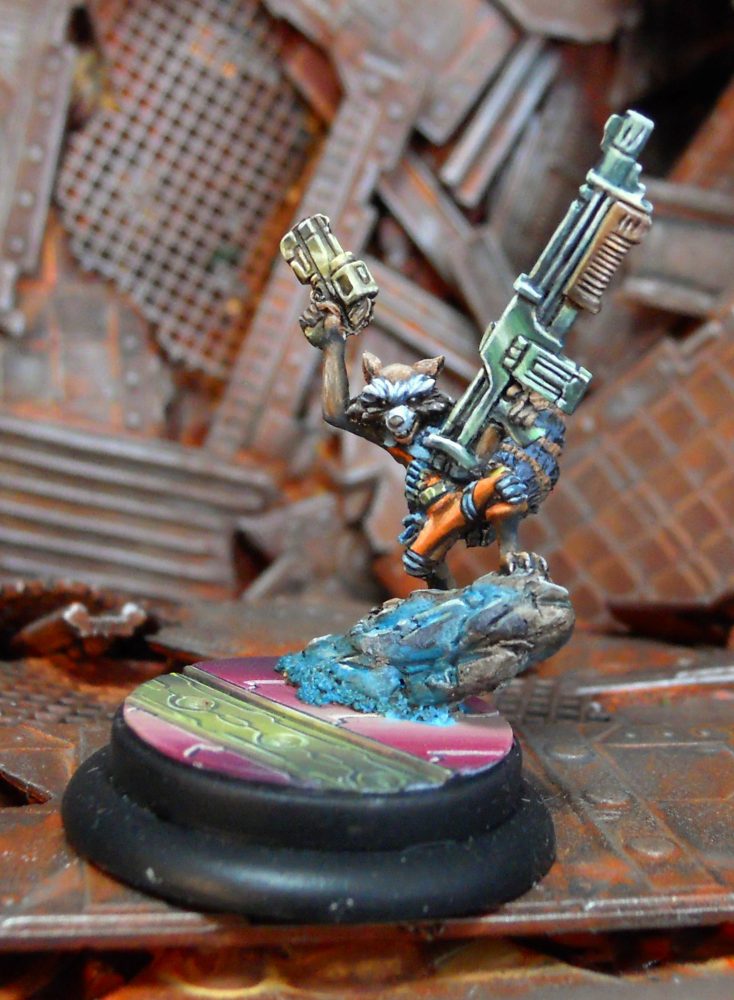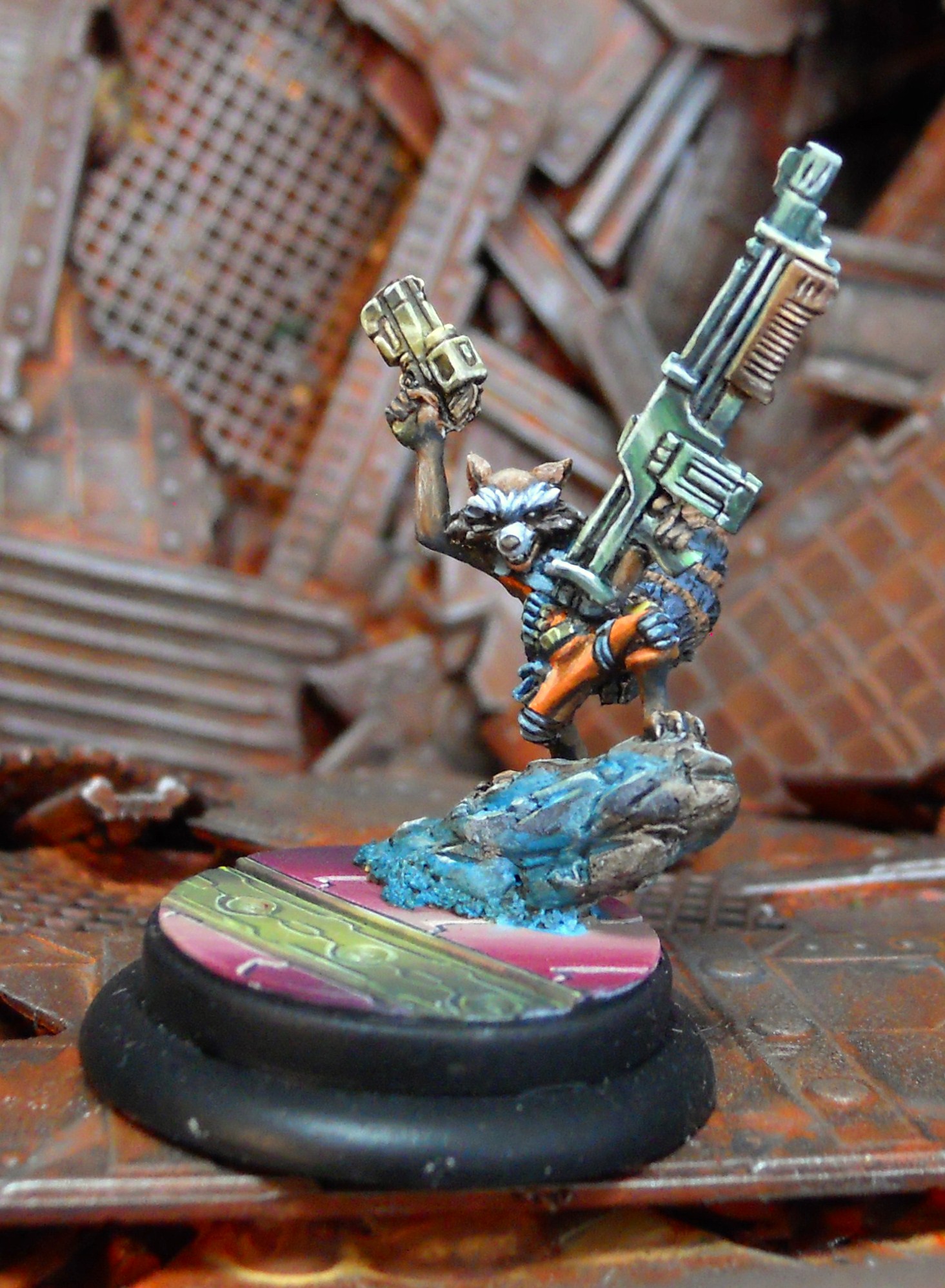 Ain't no thing like me, except me!
I'm painting up another member of my 50 point cosmic heroes crew. Thought I'd go for something a little furrier this time. Not sure why, but I started with his jumpsuit. I used a mix of colors some of you may have seen in a previous article. For the basecoat it's Khador Red Highlight. This is shaded with Umbral Umber and highlighted with Menoth White Highlight.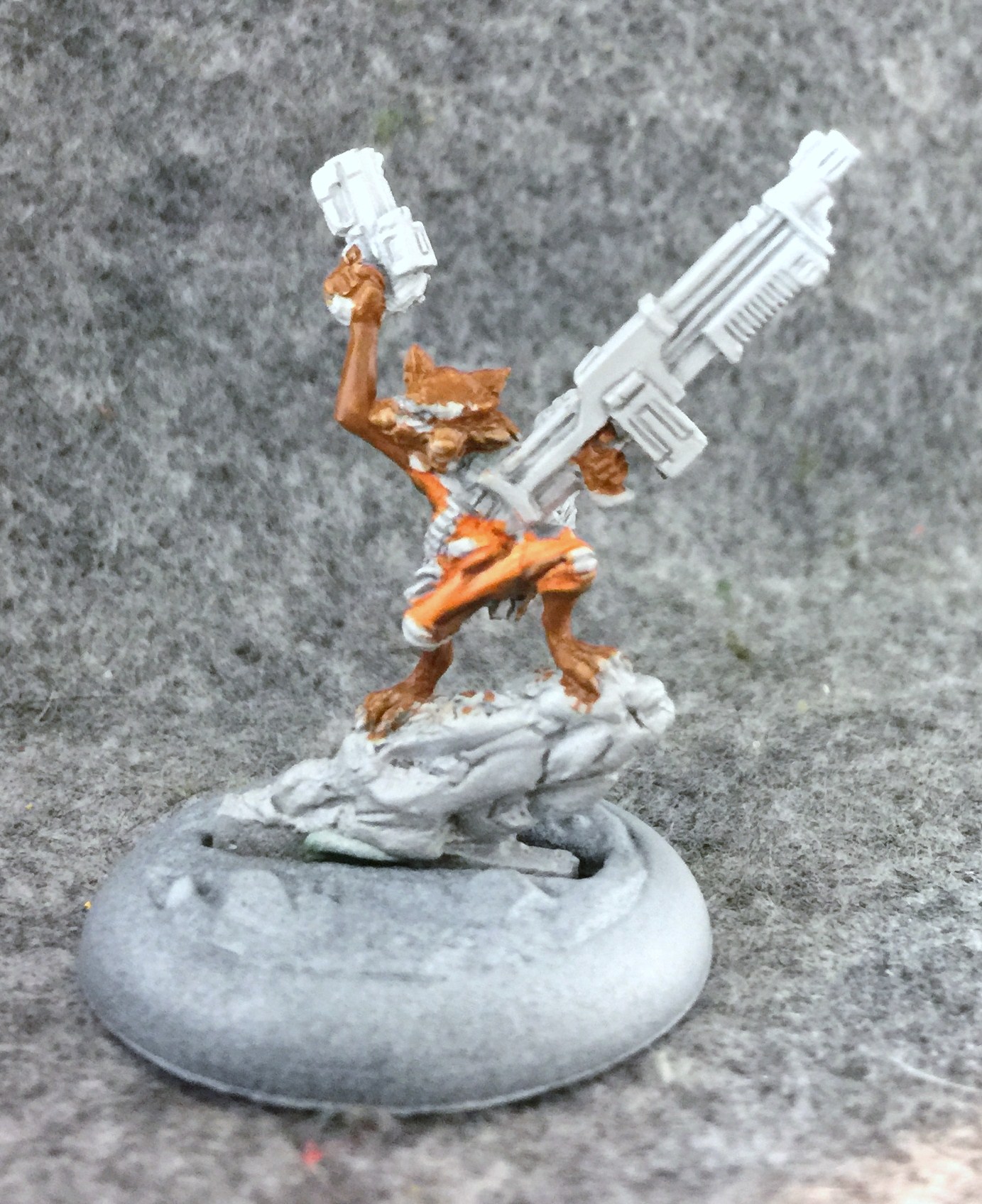 I finish off the jumpsuit with some more stark highlights of Menoth White Highlight before I move on to fur. Bloodtracker Brown is my basecoat for this fur.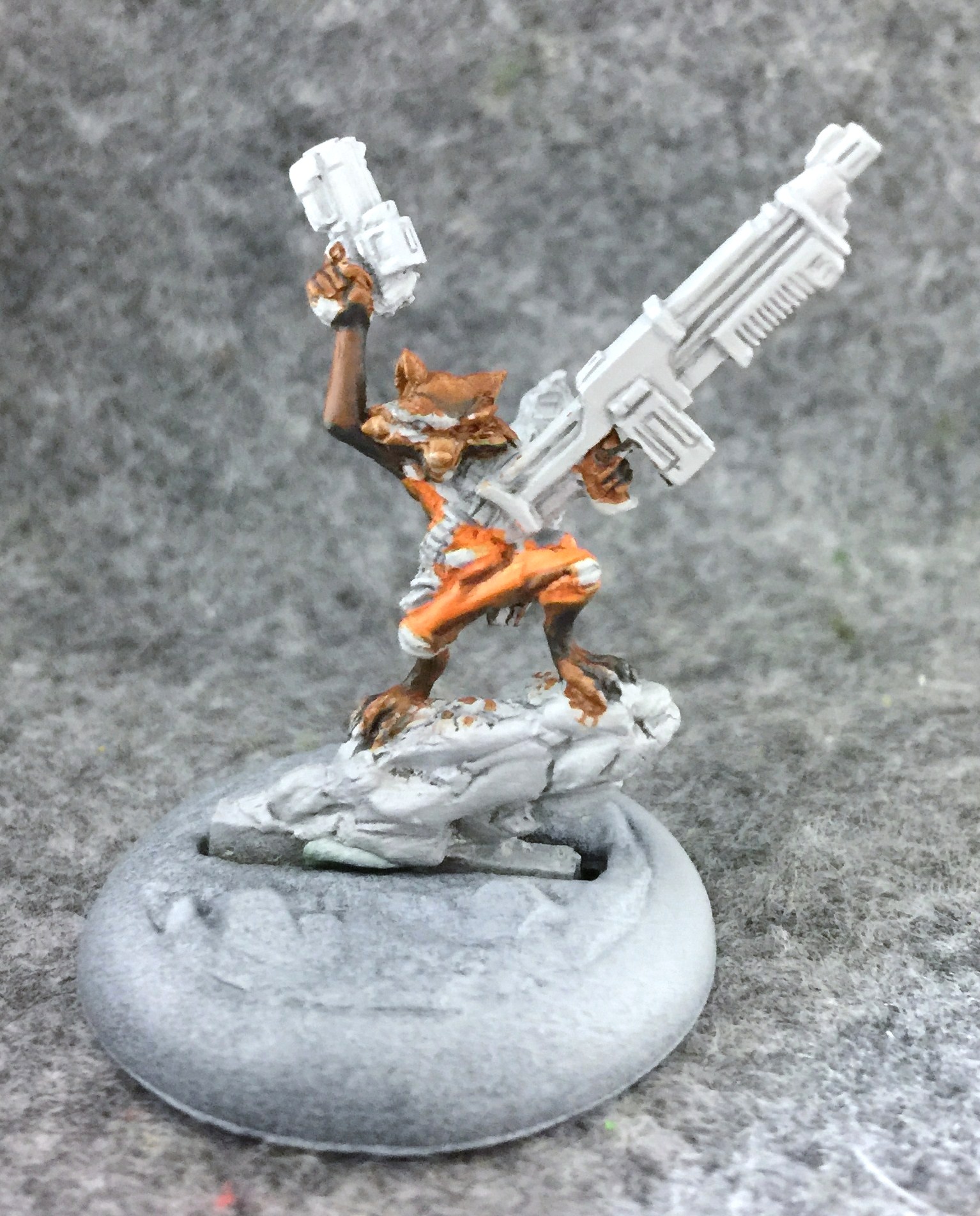 For the shading of the fur, I use a mix of Exile Blue and Umbral Umber. The reason for the blue is that the Bloodtracker Brown has kind of a warm orange-ish tone to it and the bit of cool blue should create some contrast.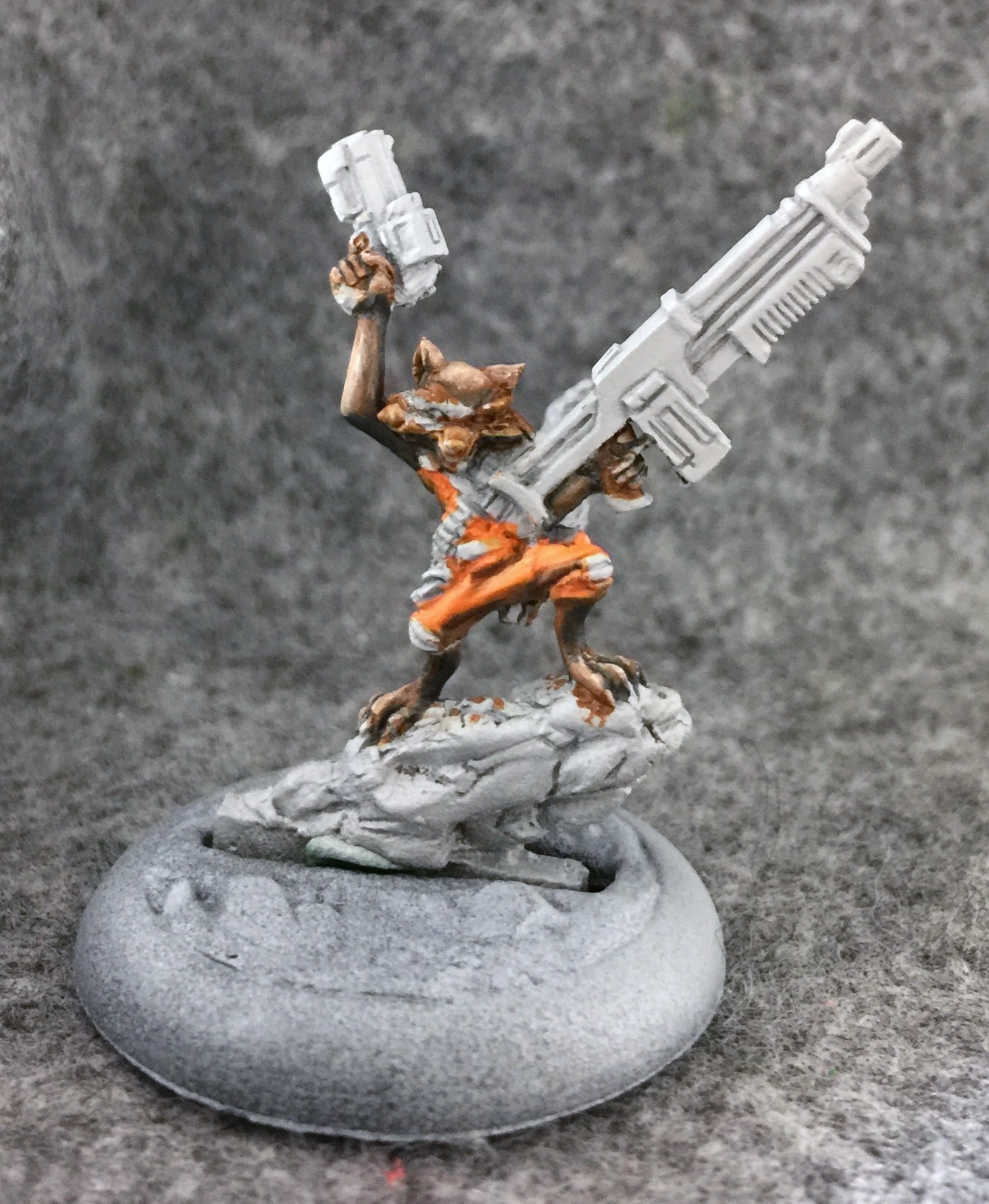 I begin mixing increasing amounts of Menoth White Highlight into the Bloodtracker Brown and stipple it on for highlighting. The stippling is supposed to create a fur texture, but this guy is so tiny that it's hard to see.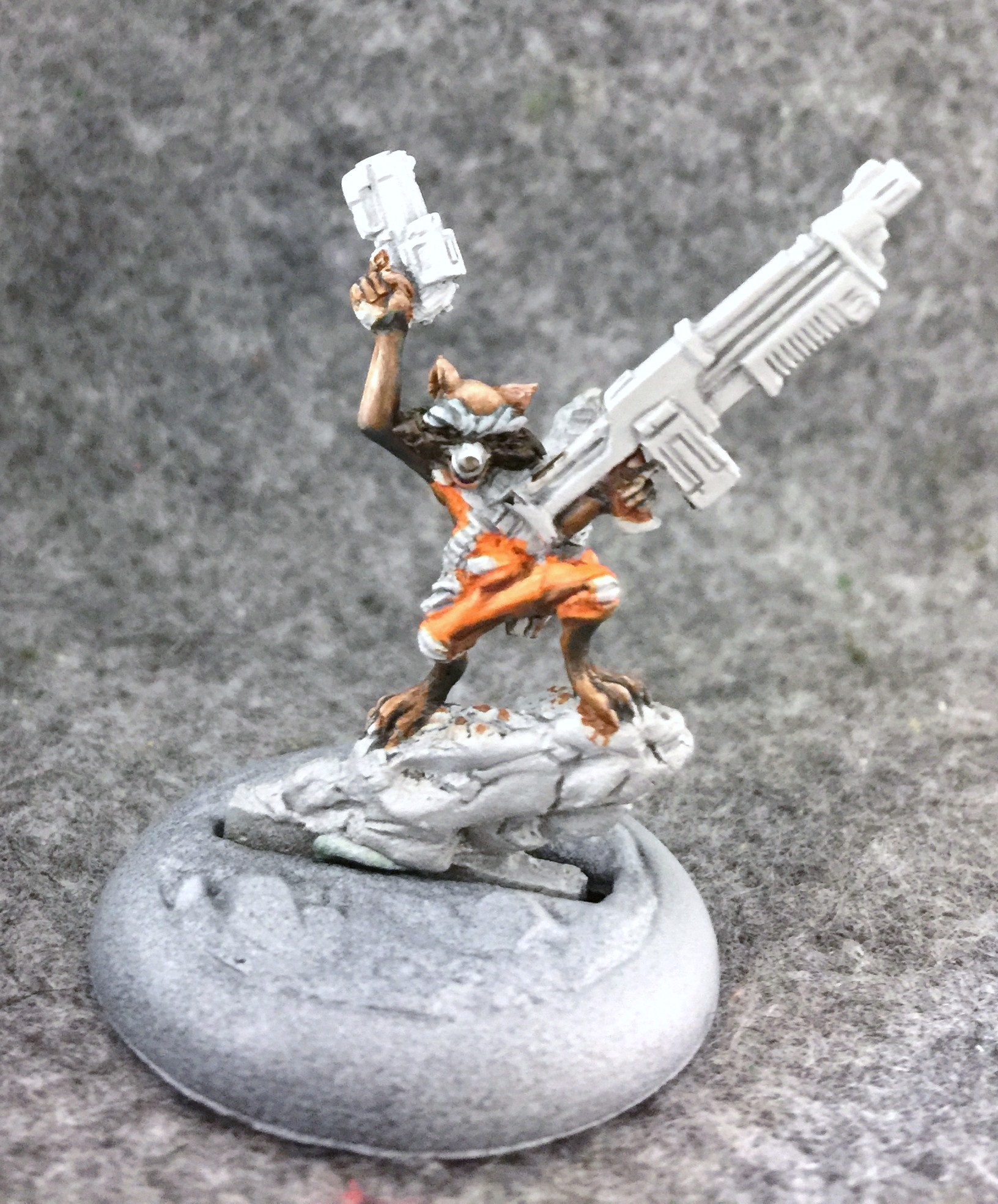 Next I focus on that racoon face of his. His snout and eyebrows start with a base of Greatcoat Gray. This cool gray is highlighted with Frostbite, then pure Morrow White. Again, the use of cooler tones to shade the white creates a contrast with the surrounding warm browns. I also paint his jowls black and his lower lip with Khardic Flesh.
Subscribe to our newsletter!
Get Tabletop, RPG & Pop Culture news delivered directly to your inbox.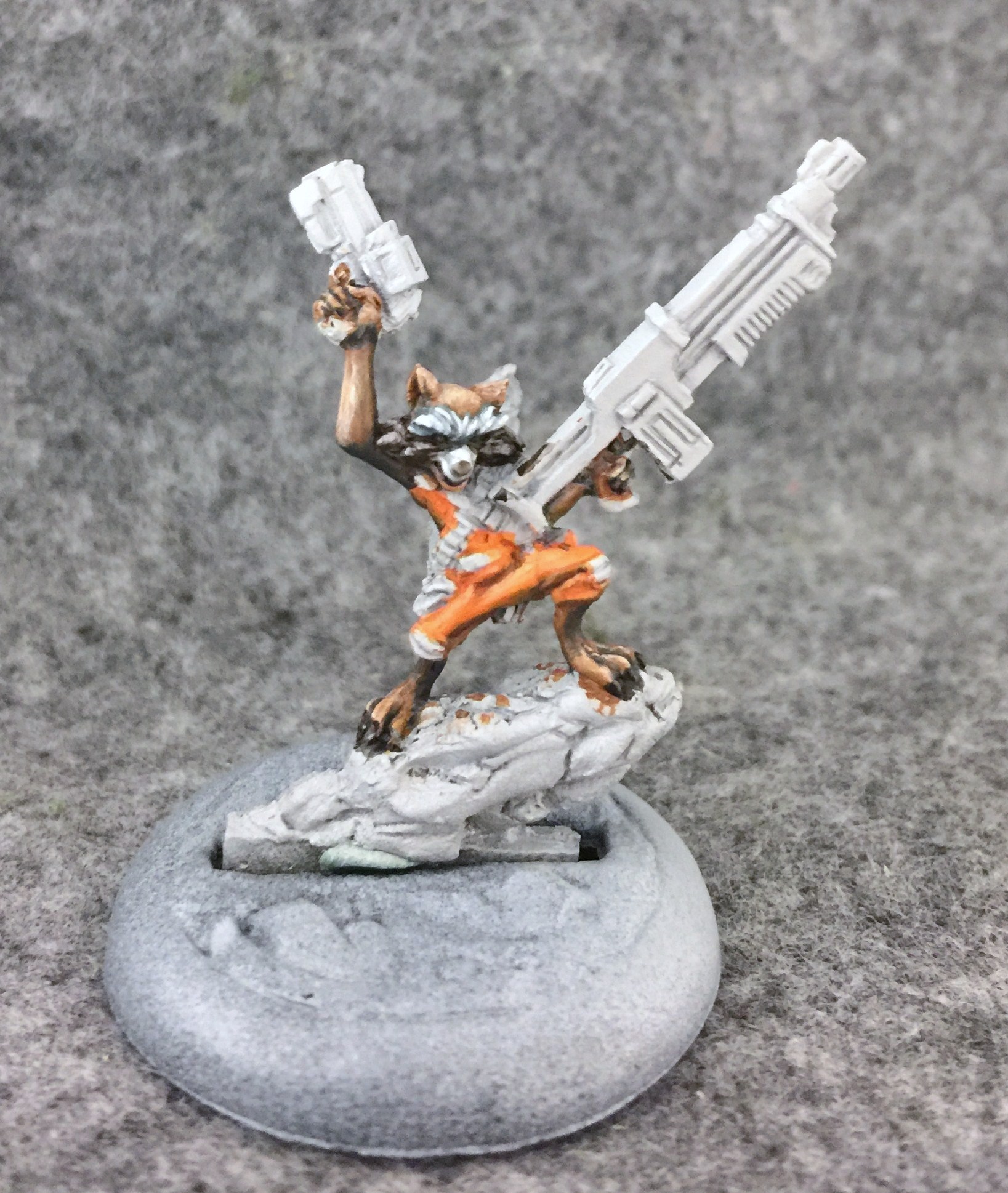 I highlight the jowls with Umbral Umber then blend increasing amounts of Frostbite into it to make them really pop.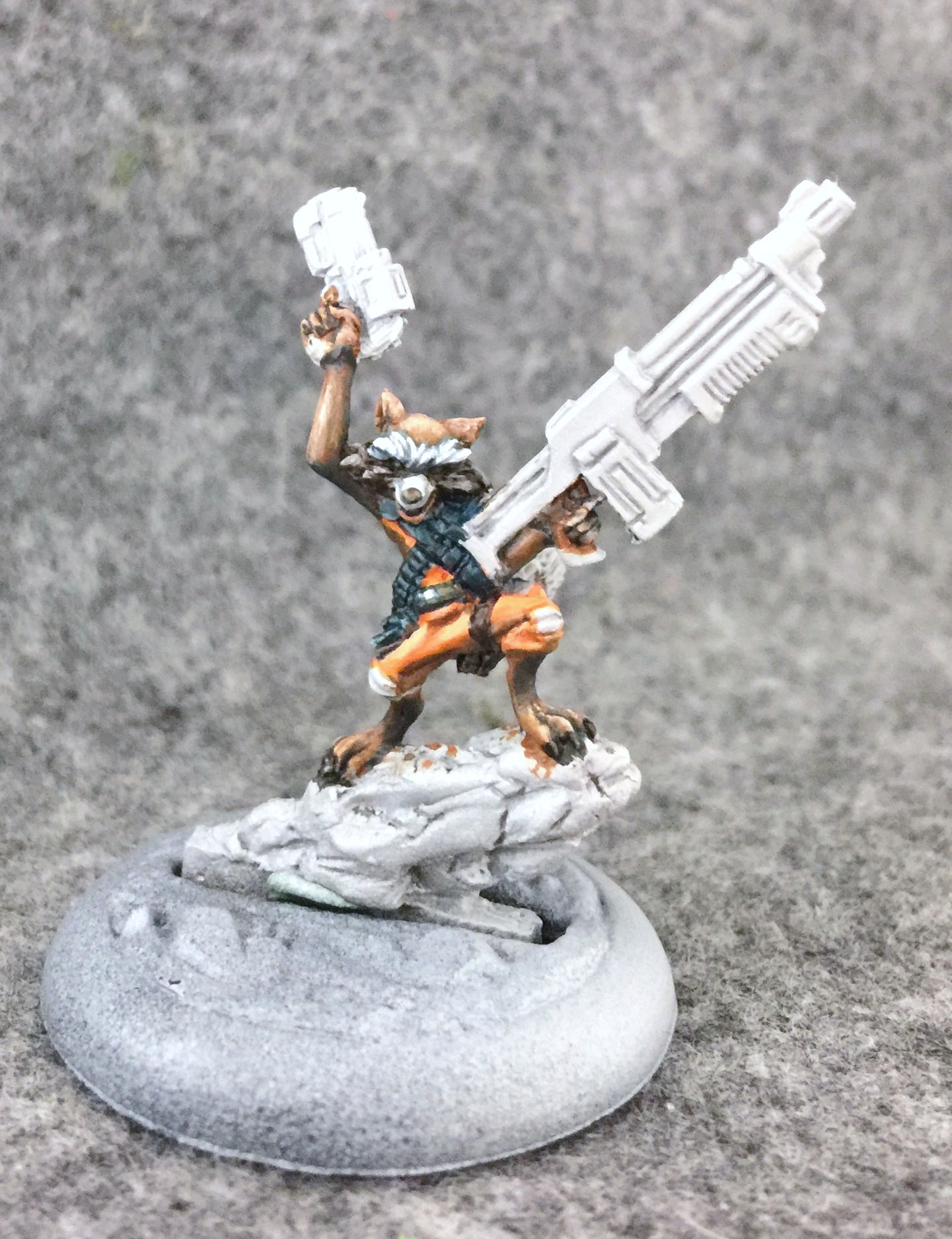 Next I move on to his belt, bandolier, and other assorted straps. I basecoat these with Thamar Black toned with some Bloodstone and Red Ink to give it a warm feel. This is highlighted with Coal Black. I also paint the claws black.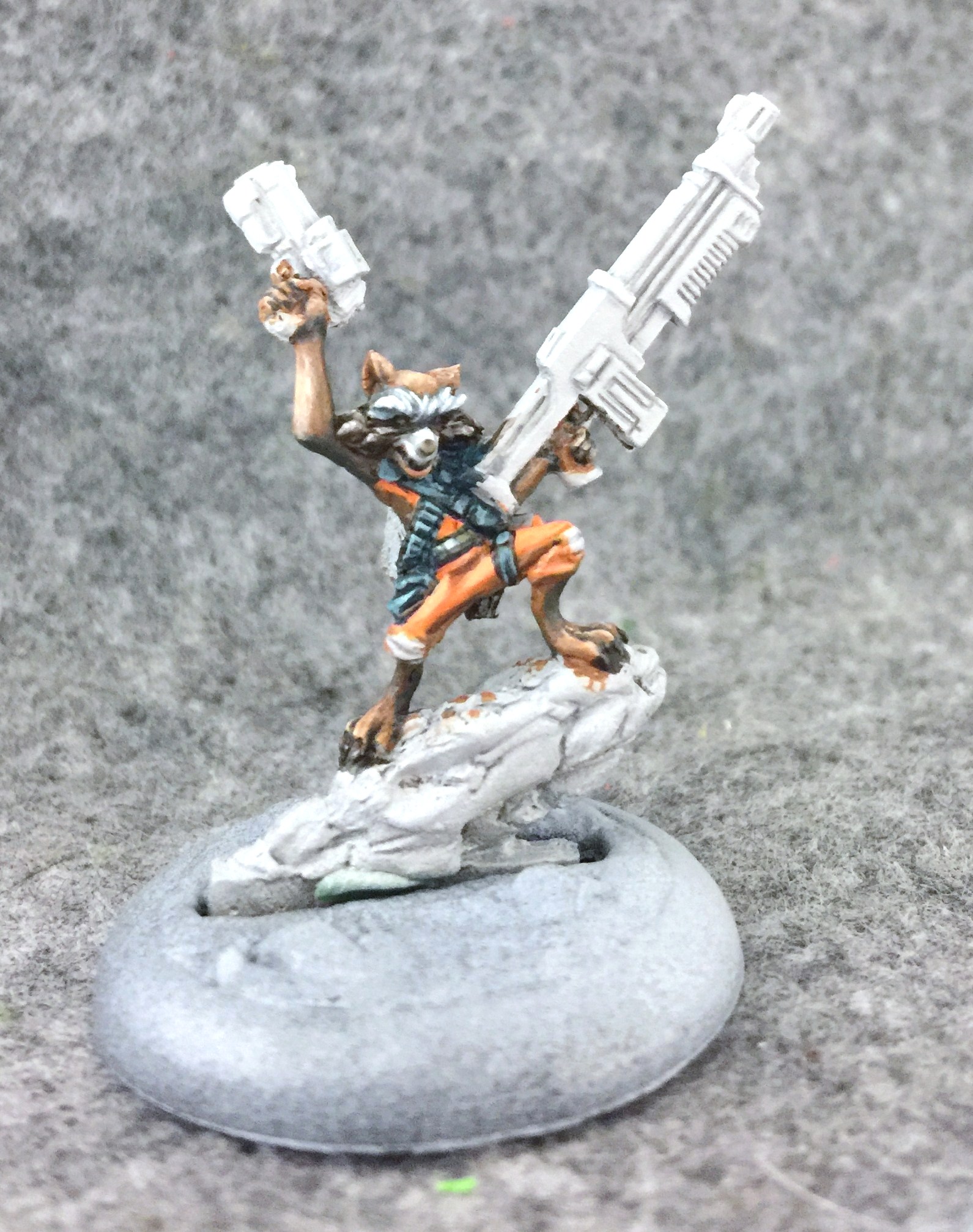 To complete the straps I add a little Underbelly Blue to the Coal Black as a final highlight.
Then it's finally on to the part I've really been looking forward to: that big flarkin' gun. This is another color scheme I've used before on another gun. I start with a streak of Thrall Flesh and immediately begin to wet blend it in to Coal Black on either side. I also blend a thin line of Menoth White Highlight into the Thrall Flesh to create an illusion of a really bright reflection.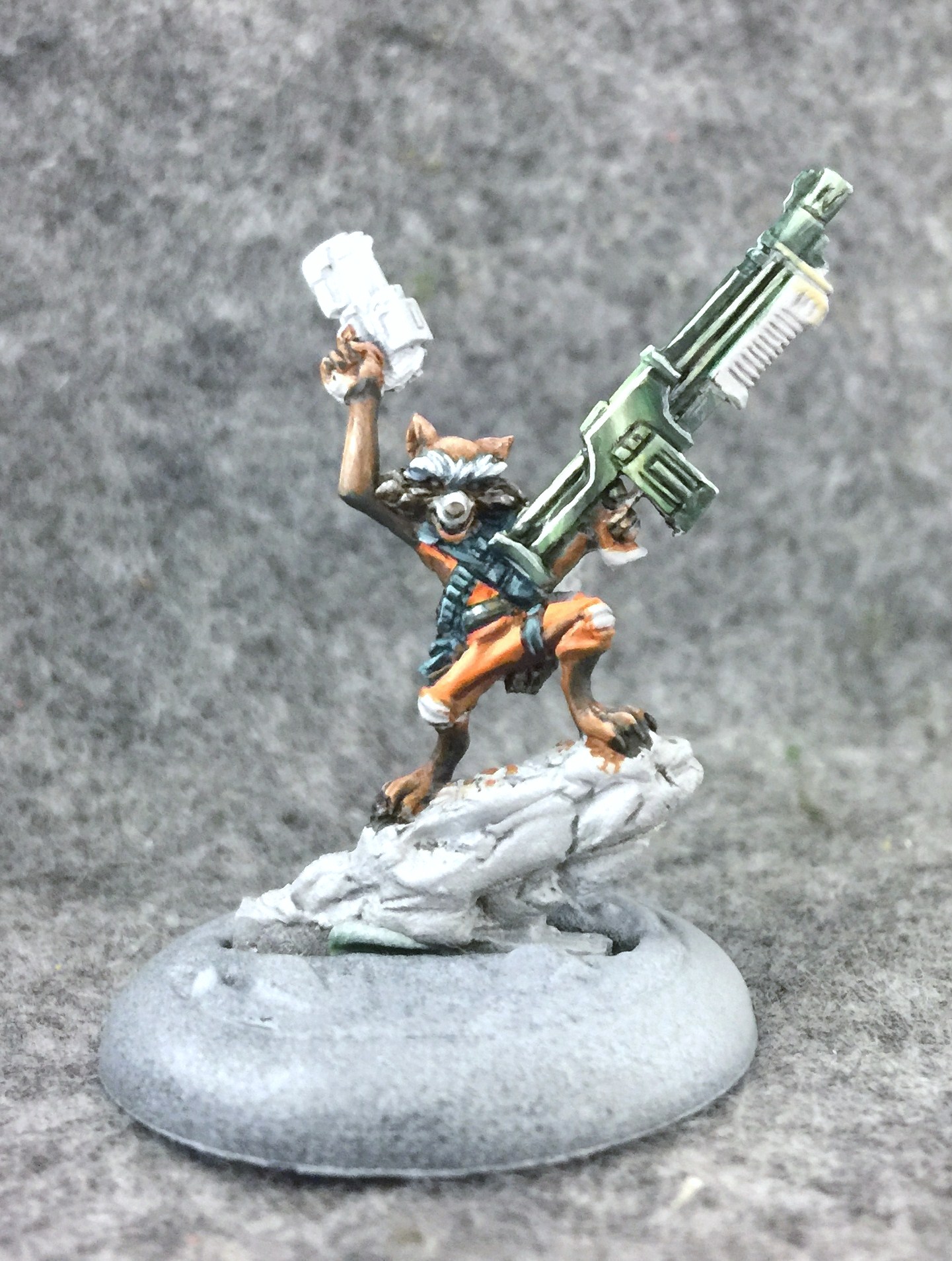 Once I have everything blended on the way I like, I add thin lines of Thrall Flesh along every ridge.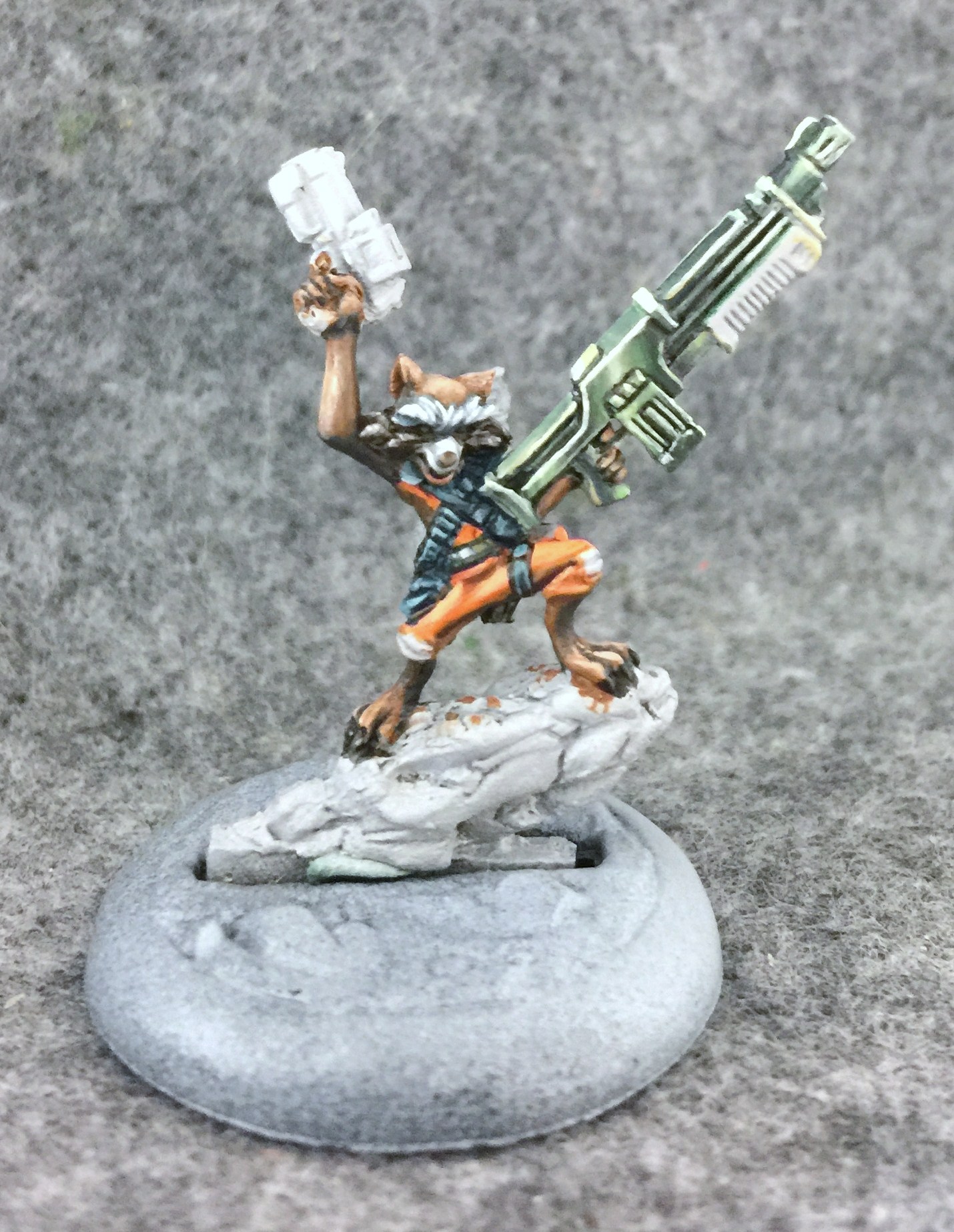 Here it is once everything has been given a little streak of highlight. The clip and muzzle in were the areas I most focused on in this step. I thought the color scheme would end up giving this otherwise fairly modern looking gun a spacey sci-fi look, but in the end it just looks kinda like camo. But I still like it enough not to want to bother to change it.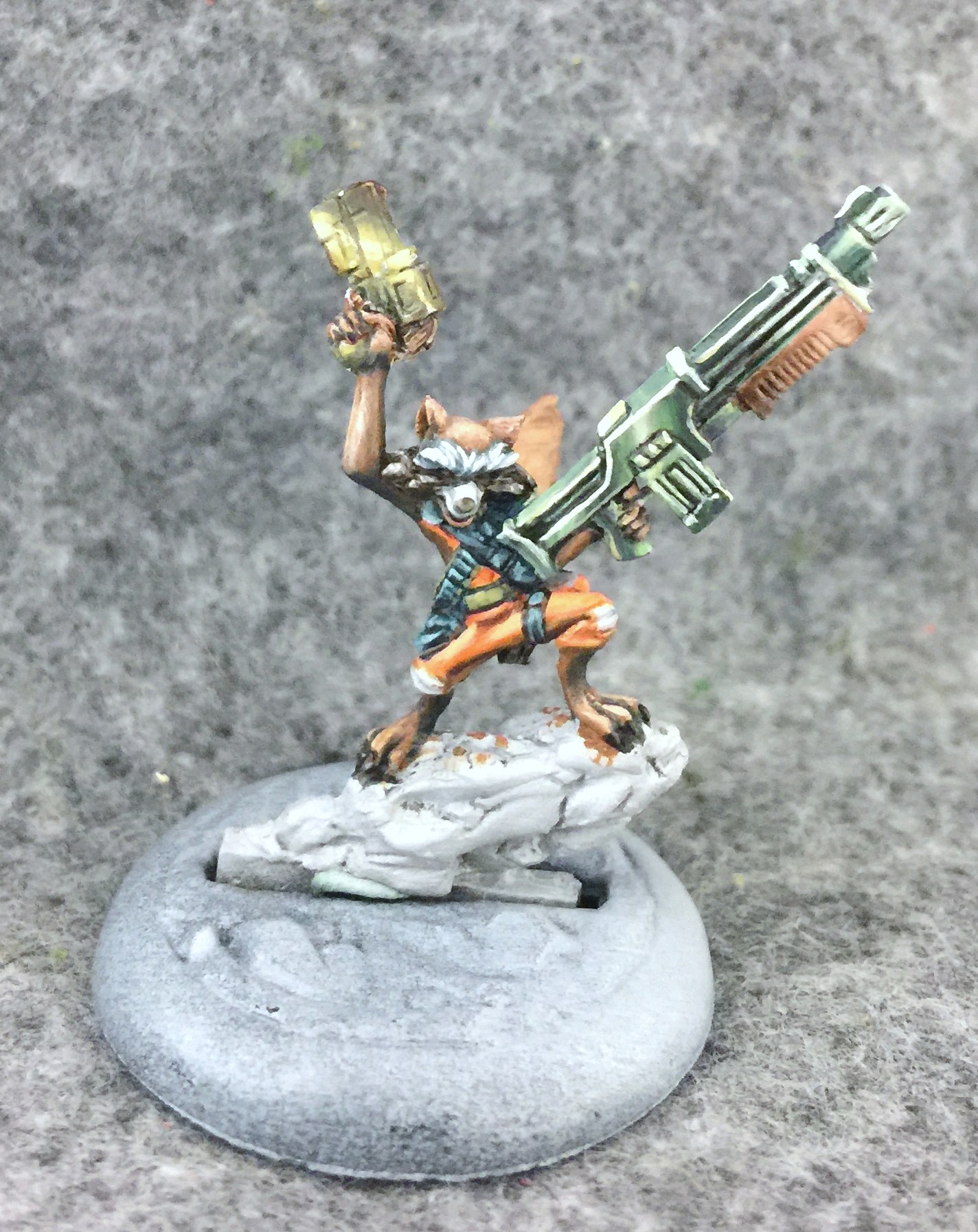 Next I began working on the other gun. This was a go at more of a brassy feel. I started by wet blending on a gradient of Thornwood Green to Sulfuric Yellow to a light central streak of Menoth White Highlight. I also began working on the handguard of the other gun. I was trying to go for a copper with a Bloodtracker Brown basecoat with some Ryn Flesh and Umbral Umber blended in on either. It looks more wood than copper I guess, but like the gun itself I have no real problem with how it turned out.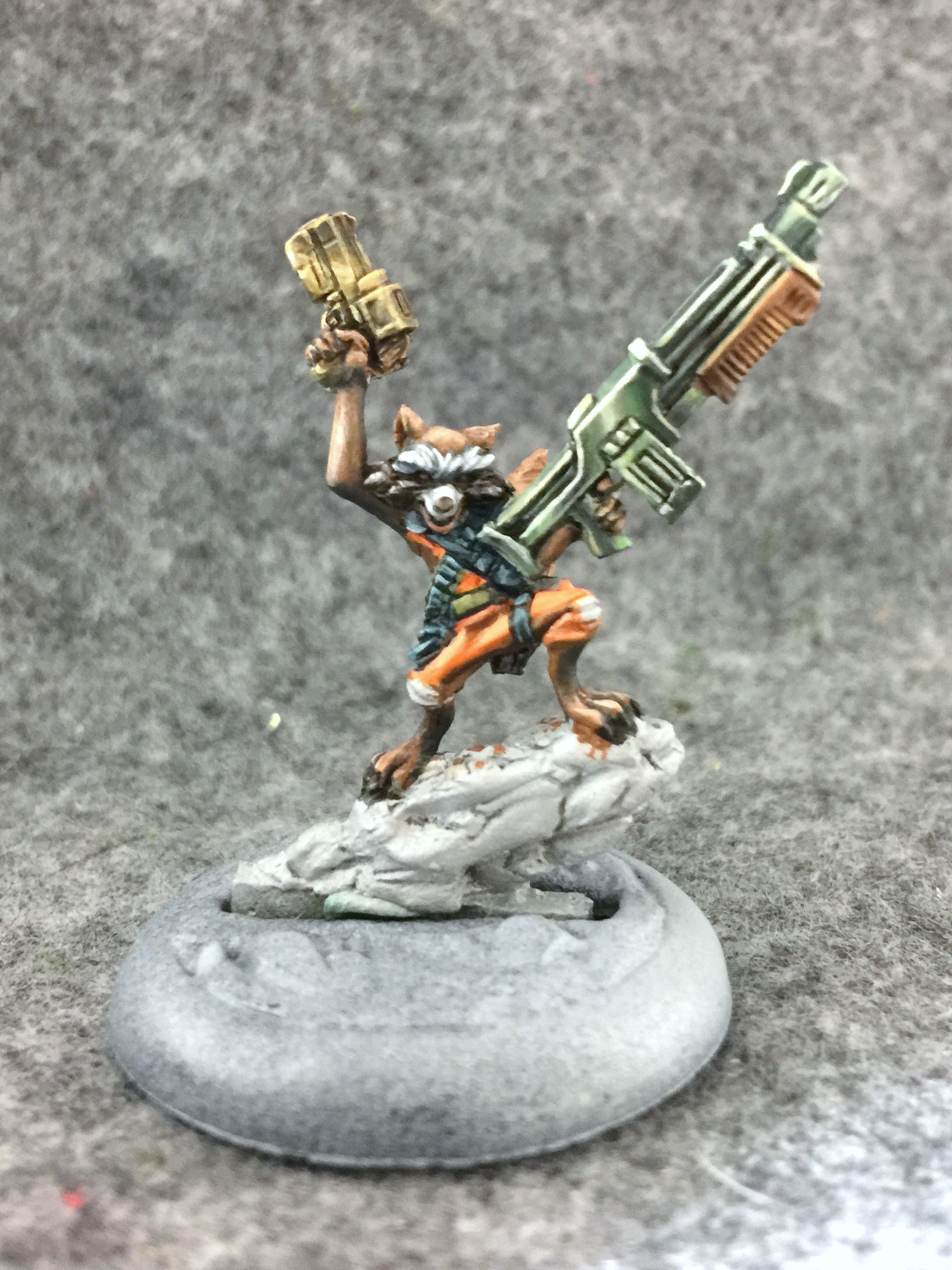 After lining some of the hard edges of the pistol and stock, I wash them both with Agrax Earth.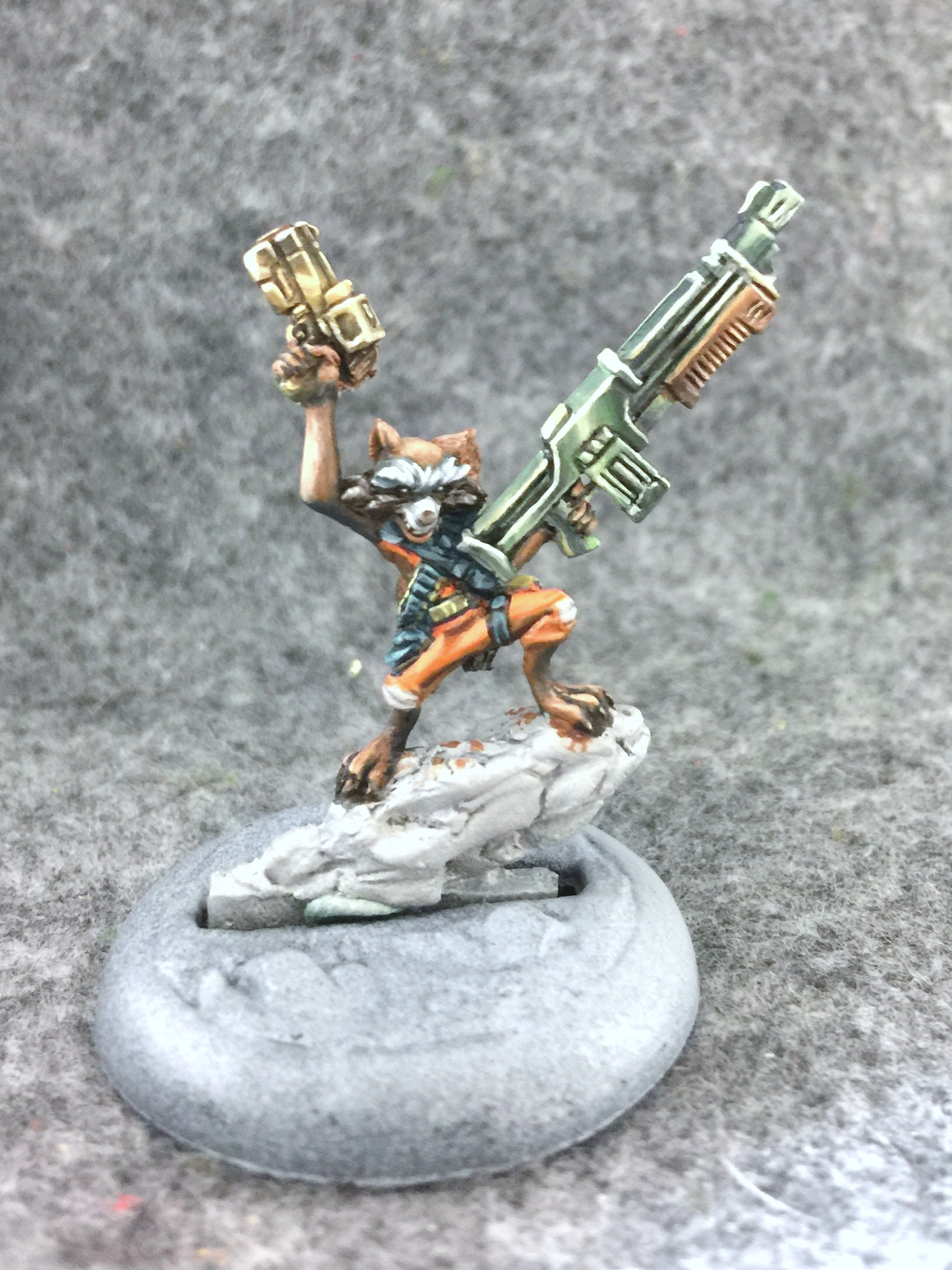 It ended up a little darker than I wanted, so I had to go back and lighten certain parts again.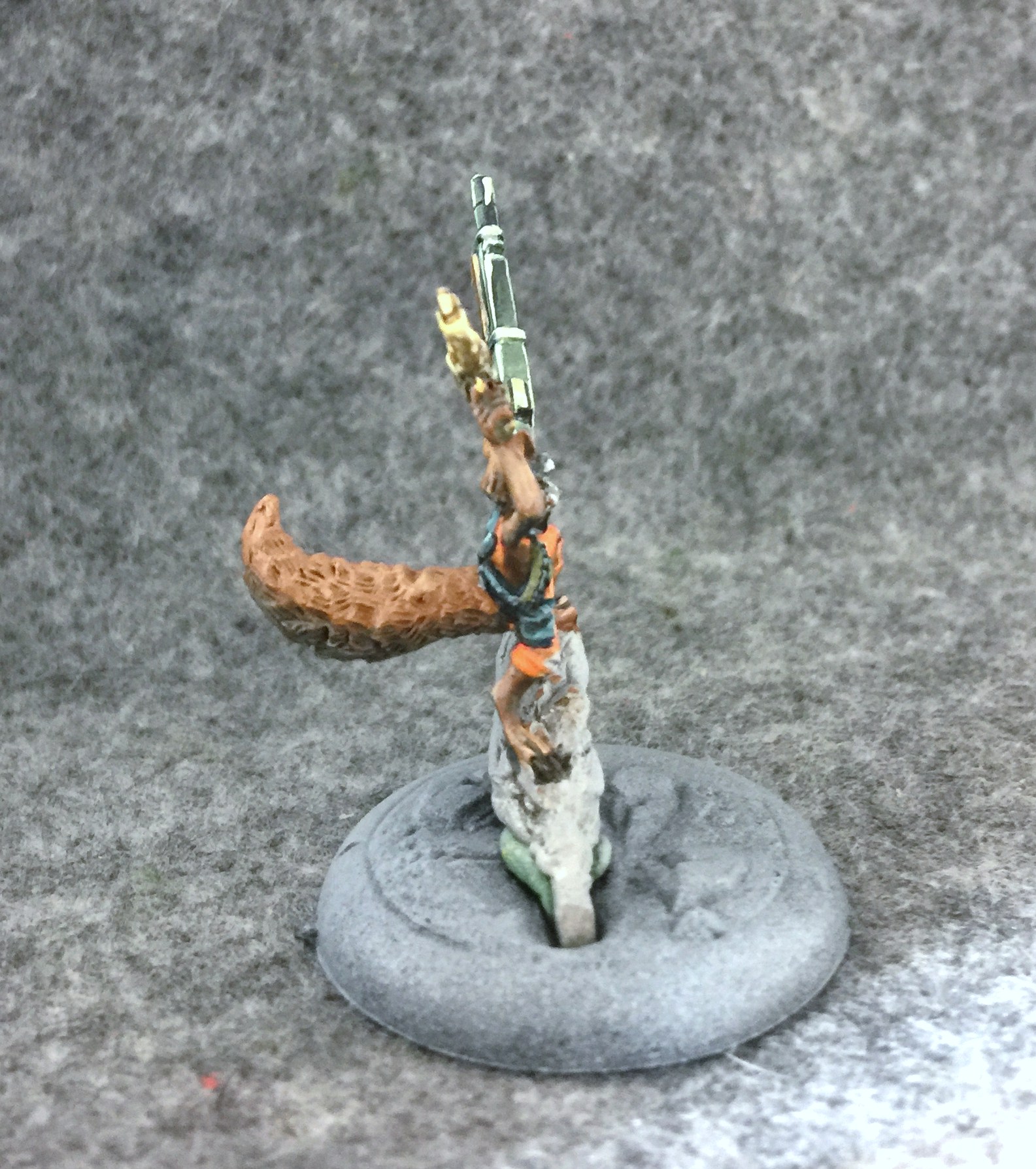 It was about this time I realized I had completely forgotten the tail. It's the same colors from the earlier fur step again here.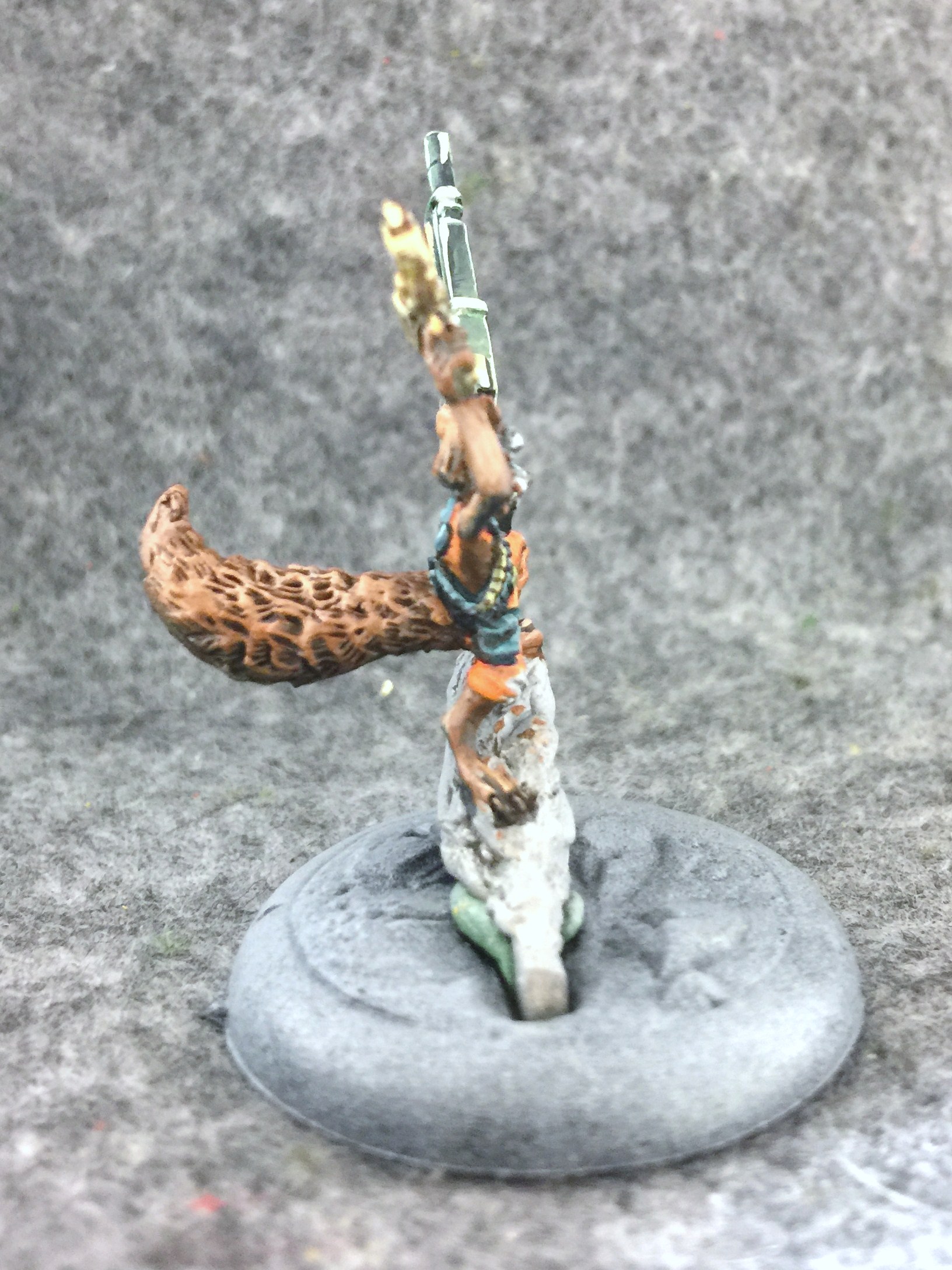 I gave it a wash of agrax earth, then drybrushed it with Bloodtracker Brown, then Bloodtracker Brown mixed with a little Ryn Flesh.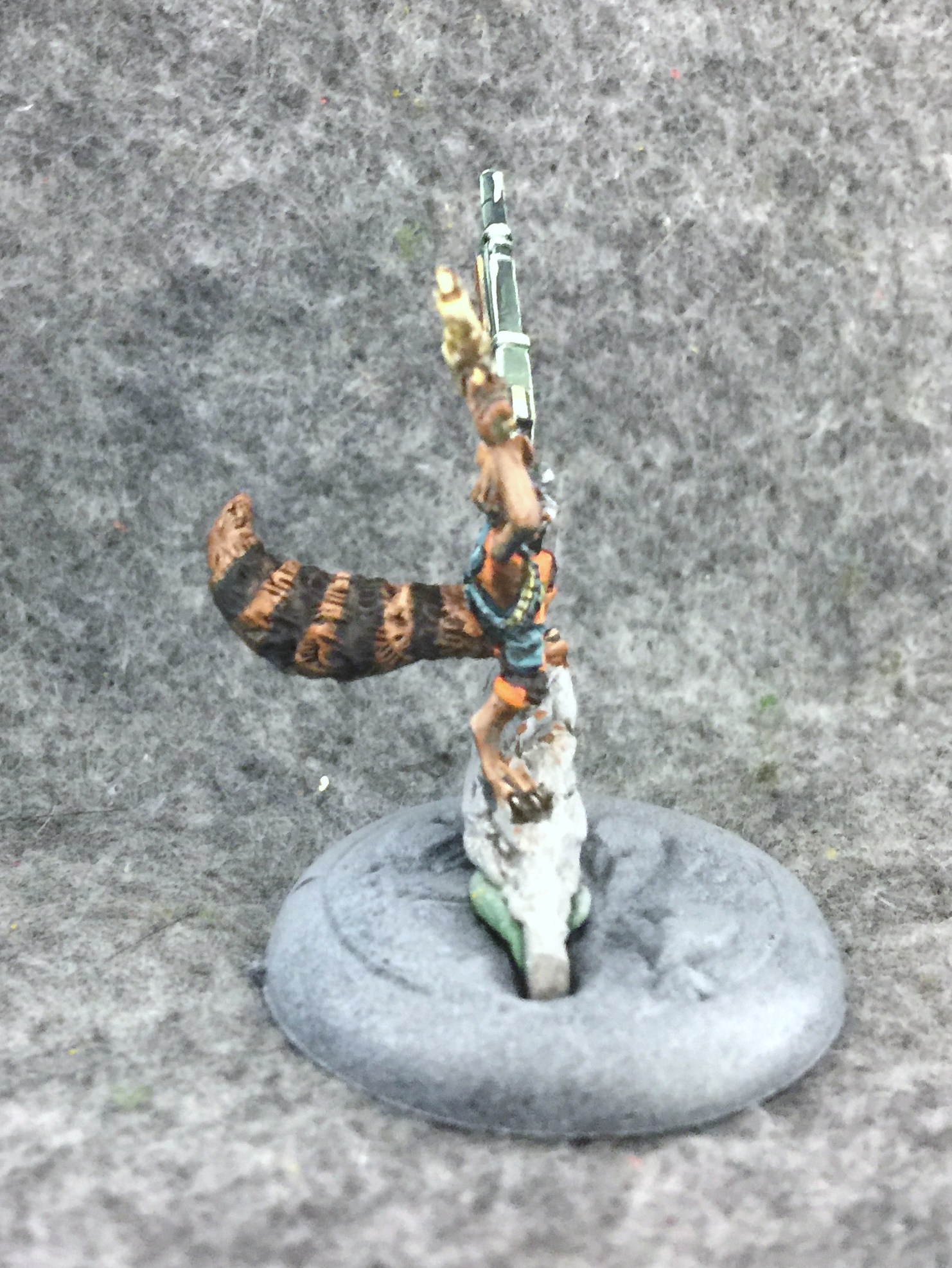 Then it's time for the stripes. They are a mix of Agrax Earth and Thamar Black. I wanted a little of the brown to show through.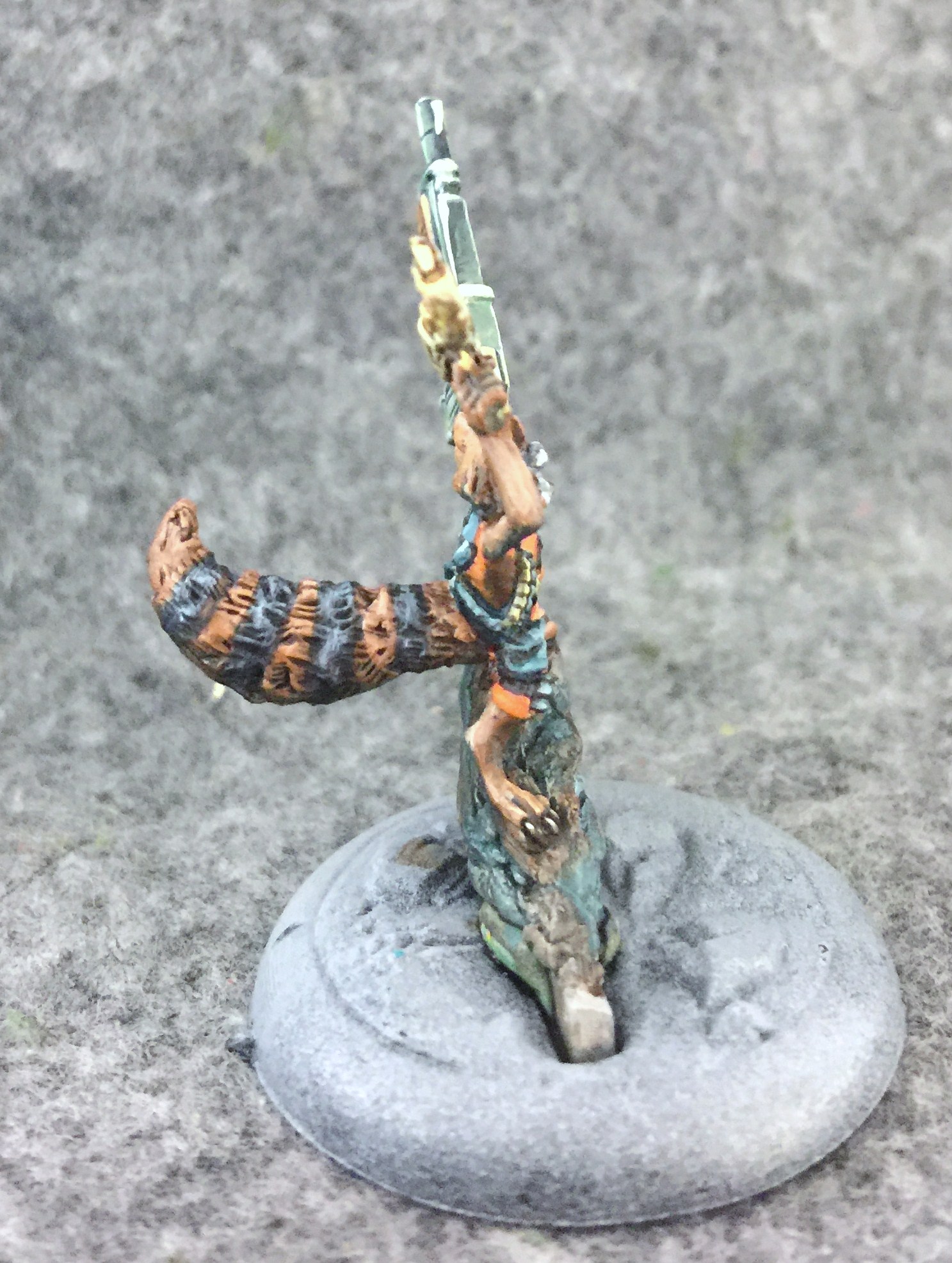 I highlight them by carefully drybrushing on some Coal Black followed by Coal Black with Underbelly Blue mixed in.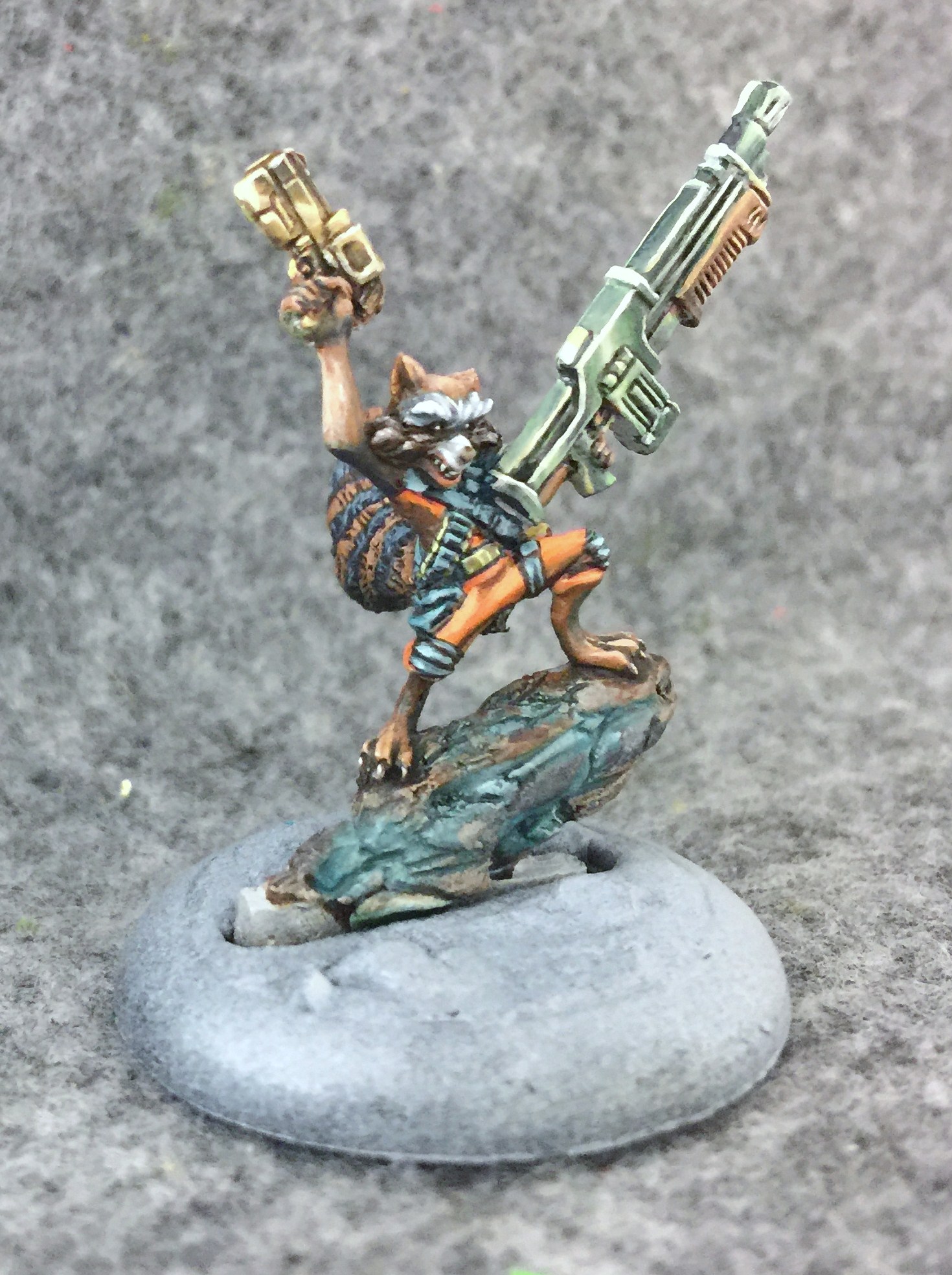 Rocket's little scenic rock didn't seem to mesh well with the futuristic bases I wanted to use with my Guardians, but I decided it would be too difficult to get his tiny feet off of it now that they were painted. I ended up washing on some Trollblood Highlight and Umbral Umber in a few areas.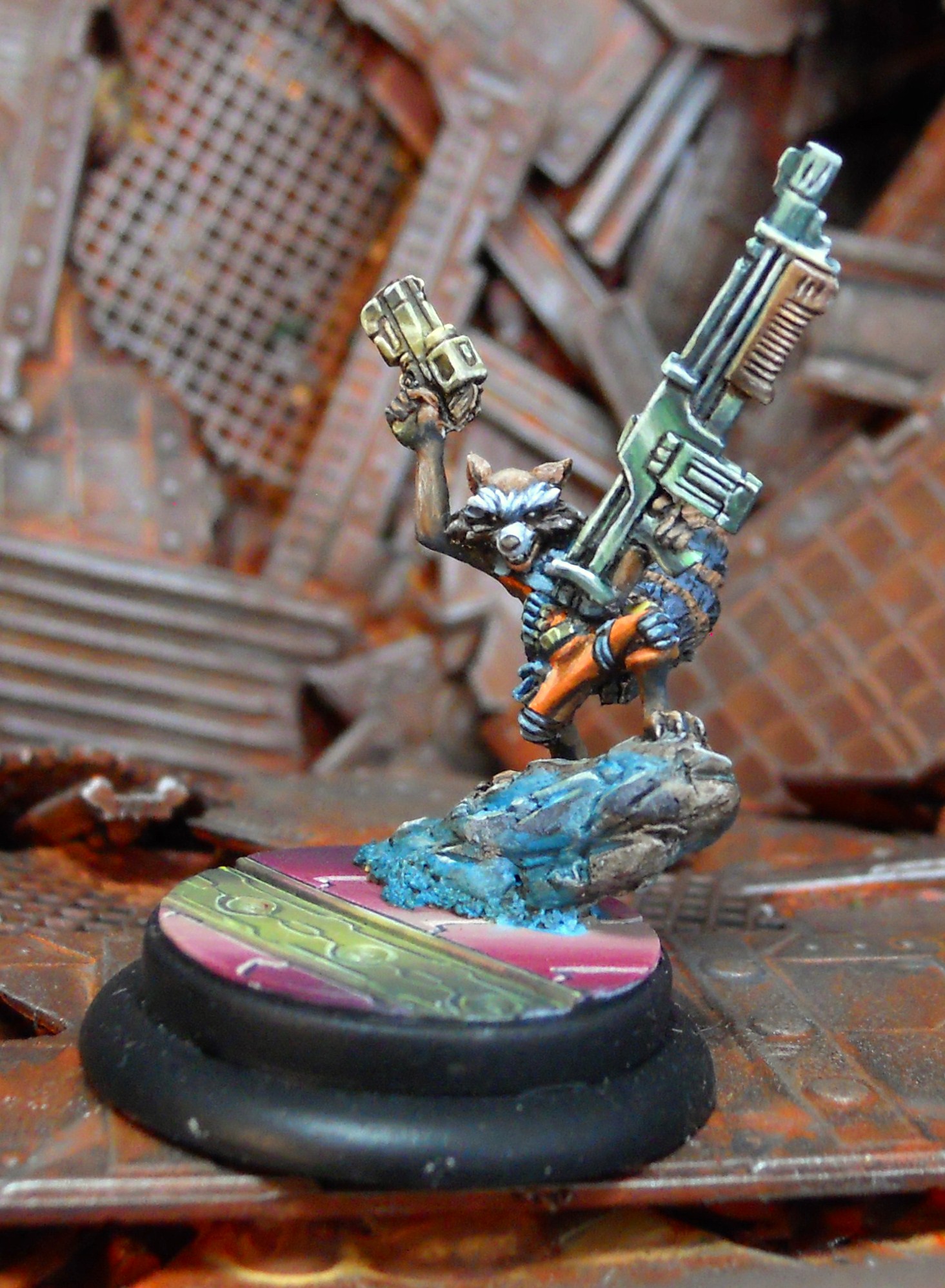 I painted the base in advance. I added a little sand around the rock, and painted on more Trollblood highlight – mixed with a little Underbelly blue this time. This makes it look "space-y" enough that it feels a little less out of place. The best solution would have been to try removing the rock in the first place and replacing it with something that seemed a little less out of place. I probably could have found something in one of these bits boxes I have around.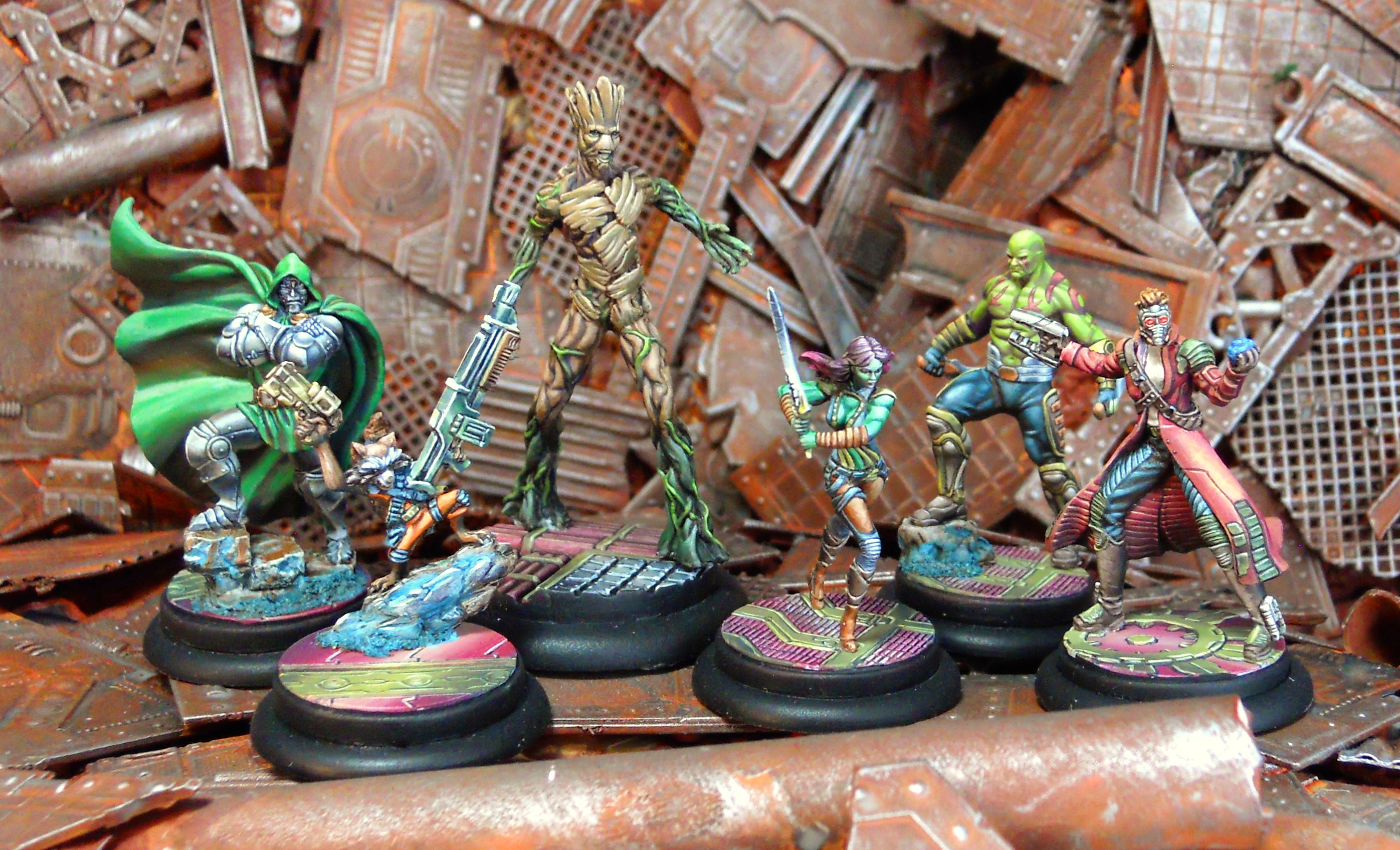 Which painting article would you like to see next?