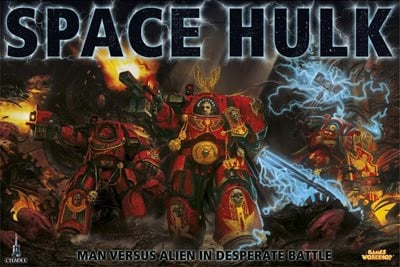 It looks like GW has found some crates in the back of the warehouse. Look what you can buy if you act fast.
You find the oddest things when you clean out the warehouse…  Here's a quick list of some popular GW boxed games that you can grab if you act fast.
NOTE: Not all of these are available in all parts of the world.  We will make notes where we can.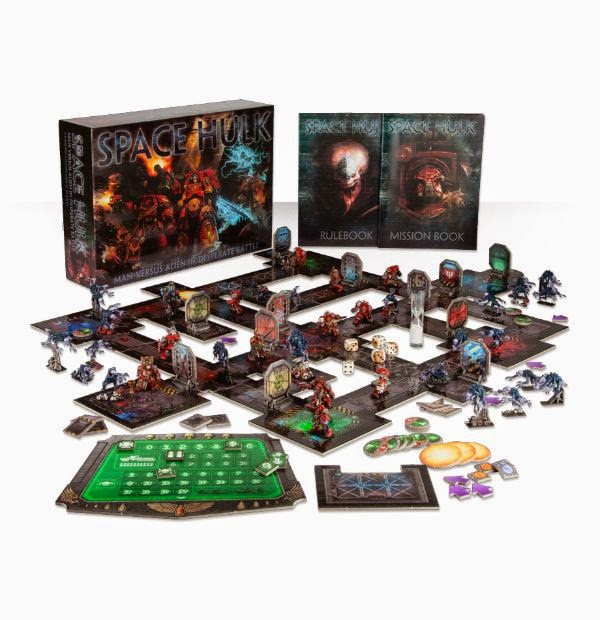 It's BACK, for the 4th time….
The rules to play the game and 16 missions are all contained within two full colour booklets: the Rulebook and Mission Book. There are also 35 plastic Citadel miniatures, including: 11 Blood Angels Space Marine Terminators, 1 Blood Angels Space Marine Librarian in Terminator armour, 22 Genestealers, and 1 Broodlord. Also included are three plastic mission objectives models: a dead Space Marine on throne, a Blood Angels artefact and a Cyber-Altered Task Unit.
In addition to the booklets and miniatures, you will receive a set of high-quality card tiles that make up the gaming board. Included are: 110 gaming counters, 77 corridor and room sections, 2 new boarding torpedoes , a turbo-lift, 20 doors with plastic stands, 1 mission status display, a sand timer and 5 dice.

Still the best way to start your Heresy-era army. After 2 years, it's still available!
Inside the box, you'll find:
An impressive selection of detailed Citadel miniatures, including;
– A Captain in Terminator Armour and a Dark Apostle;
– A Contemptor Dreadnought, armed with a choice of multi-melta or assault cannon;
– Five Cataphractii Terminators, with weapon options including combi bolters, power fists, lightning claws, chain fists, power swords, heavy flamers and grenade harnesses;
– Thirty Legion Tactical Space Marines in MK4 armour, with a huge selection of weapons and custom features, including bolters, missile launchers, heavy bolters, chainswords, power swords, power fists, plasma pistols, lightning claw blades, combi flamer, melta and plasma guns, a melta bomb and a set of combat blades! These miniatures also include ammo packs, holstered bolt pistols and a selection of frag and krak grenades.
– Four double-sided boards, beautifully printed on thick card stock, representing the caverns under Calth where the desperate struggle between the Ultramarines and Word Bearers took place;
– A forty-eight page book, featuring an introduction to the battle on Calth, comprehensive rules and scenarios for playing the game, an overview of the Word Bearers and Ultramarines legions and a showcase of the included miniatures;
– Forty-two command and reference cards, used to introduce effects and events into the game;
– Twelve dice and an array of markers used in-game.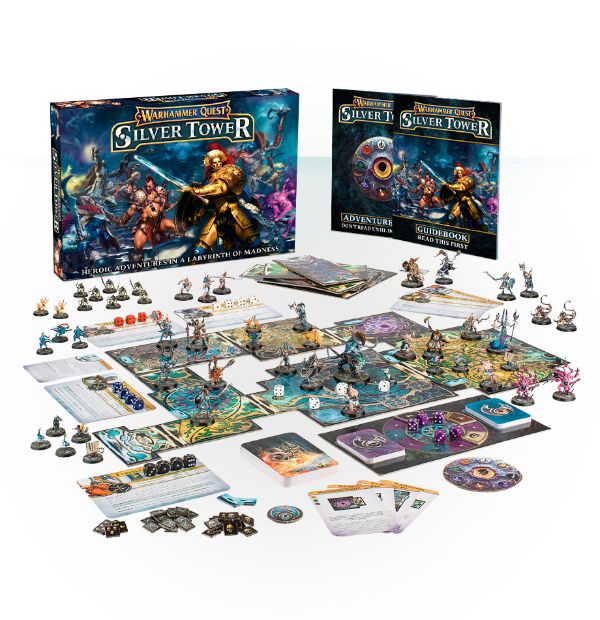 Adventure in the 8 Realms, and get a ton of cool hero models for your armies.
Warhammer Quest Silver Tower is a stunning boxed game for two to four players, set in the shifting, labyrinthine lair of a sinister Gaunt Summoner! Work with your friends to conquer the secrets of the Silver Tower, or take the glory for yourself – characters level up and become stronger with persistent stats kept between games. The thirteen double-sided board tiles mean no two adventures need be the same; a roll of the dice can send your adventurers off on wild tangents, with literally thousands of different dungeon-crawl combinations. Included in the rather packed box:
– 51 (count 'em!) Citadel miniatures: a Fyreslayer Doomseeker, Darkoath Chieftain, Excelsior Warpriest (with loyal Gryph-hound), Knight-Questor, Mistweaver Saih, Tenebrael Shard, Gaunt Summoner of Tzeentch, Ogroid Thaumaturge, 2 Skaven Deathrunners, 2 Pink Horrors, 4 Blue Horrors, 4 pairs of Brimstone Horrors, 6 Tzaangors, 8 Grot Scuttlings, 8 Kairic Acolytes and 8 Chaos Familiars!
– A 40-page guidebook containing the rules, and a 40-page adventure book filled with the trials of the Silver Tower;
– 36 skill & treasure cards, and 40 exploration cards;
– 13 gorgeously-realised double-sided board tiles, bringing the dungeon to your table;
– 6 character cards, allowing you to track your heroes as they level up and grow ever more capable of tackling the Tower.
~Now if GW could just trip over a crate of Assassinorum: Execution Force my life would be complete…